Attard sends out pair in Toronto Cup / Special holiday card of racing on Monday
TORONTO, August 31, 2023 – Kevin Attard trainees Dream Jereem and Love to Shop chase top prize in the $125,000 Toronto Cup Presented by Crown Royal, Sunday at Woodbine. 
Dream Jereem, a son of Austern (AUS)-Lexi Tap, and Love to Shop, a daughter of Violence-Tiffany Case, both arrive at the one-mile event for 3-year-olds over the E.P. Taylor turf in solid form.
Bred in Ontario by Phoenix Rising Farms, Dream Jereem finished second in his most recent test, on August 3, when he tackled six furlongs over "good" going on the E.P. Taylor.
It was the gelding's first race on the grass. One race earlier, the bay was in to run on the turf, but it was shifted to 1 1/16 miles on the Tapeta.
Attard, who has 714 career wins, was buoyed by Dream Jereem's effort on the green.
"I thought his first race on the turf was quite impressive," said Attard. "He showed signs that he would take to the grass and when he finally had the opportunity, he flourished like we had hoped."
Owned by Derek Chin, Dream Jereem was a debut winner when he notched a half-length score in a six-furlong Tapeta race last October.
The Toronto Cup will be his third stakes appearance. He was a troubled seventh, albeit 2 ½ lengths behind winner Velocitor (also an Attard trainee), in last year's Coronation Futurity, and eighth in this May's King Corrie.
"He came out of his last race in great shape and we're hoping he can step up again," said Attard. "The distance is definitely in his wheelhouse and hopefully he gets a good trip and comes with a nice run."
William Lawrence is the groom.
Love to Shop, whose previous starts had all come in the U.S., finished third in her first race at Woodbine on July 22. Sent off at 10-1 in the Ontario Colleen (G3T), the dark bay rallied over "good" going on the E.P. Taylor and missed top prize by 1 ½ lengths.
Attard was pleased with performance by the filly who broke her maiden one race earlier, on June 10, an authoritative 3 ¼-length triumph over six furlongs on the Belmont inner turf.
"She is a very versatile filly," praised Attard. "She's been impressive from day one and continues to get better with each start. Her win at Belmont was extremely nice. In her first race with our barn, she put in a solid rally. A firmer turf seems to suit her best, so hopefully that's what we get on Sunday."
Love to Shop posted consecutive runner-up finishes in her first two starts, one at Saratoga, the other at Belmont.
"She has a really nice turn of foot when she gets rolling, so the more pace she has to run at, the better it is for her," noted Attard. "Both her and Dream Jereem like to come from off the pace and both have a nice late kick."
Owned by Repole Stable and St. Elias Stable, Love to Shop was bred in Kentucky by DJ Stable, LLC.
Chris Escoffery is the groom.
Former rider Todd Kabel, who passed away in 2021, won seven editions of the Toronto Cup, including five straight from 2003-07.
Dual hall of famer trainer Mark Casse has sent out six winners, the most recent coming in 2020 with Proven Strategies. He has Conman, Eyes On the King, and Lifetime of Chance in this year's running.
The Toronto Cup is scheduled as the sixth race on Sunday's 1:05 p.m. card. Live racing continues with a special holiday card on Monday. First post is also 1:05 p.m.
Fans can watch and wager on all the action through HPIbet.com, Bet365 and the Dark Horse Bets app.
$125,000 TORONTO CUP STAKES 
Post – Horse – Jockey – Trainer 
1 – British Artillery – Ryan Munger – Barbara Minshall
2 – Souper Blessing – Jose Campos – Michael Trombetta
3 – Conman – Patrick Husbands – Mark Casse
4 – Dream Jereem – Emma-Jayne Wilson – Kevin Attard
5 – Eyes On the King – Rafael Hernandez – Mark Casse
6 – Love to Shop – Emma-Jayne Wilson – Kevin Attard
7 – Lifetime of Chance – Sahin Civaci – Mark Casse
8 – Sammy Stone – Kazushi Kimura – Catherine Day Phillips
Chris Lomon, Woodbine Communications / @WoodbineComms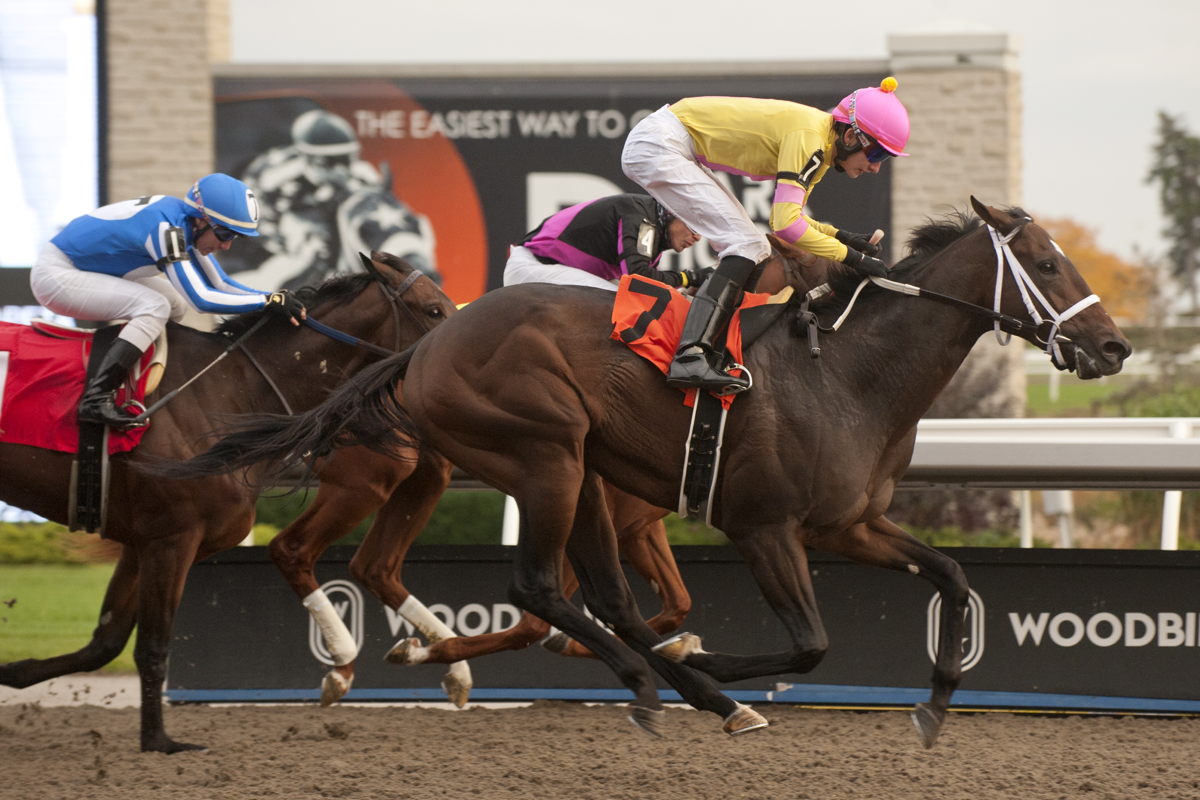 Grace Martin Communications Specialist, Woodbine Entertainment