Big horse, big talent: Greatest Ending set for Somebeachsomewhere test
MILTON, June 2, 2022 – The opening chapter of his racing story wasn't a novel beginning, but life is indeed good these days for Greatest Ending.
Dr. Ian Moore recalls the early days spent with the sizable bay colt, a son of the legendary Somebeachsomewhere blessed with a wealth of natural talent but beset by a myriad of maladies and growing pains.
"When I got him last year as a two-year-old, he was way too big for his age," recalled Moore. "His ankles were all filled up, along with other things. I did say to Reg [owner and co-breeder, Petipas] at the time that it might be hard to keep him sound because he's so big."
Moore's assessment, unfortunately, turned out to be correct.
"It ended up that we did do two surgeries on him, to have six chips taken out," noted Moore. "Two out of each hock and two out of his left hind ankle. He recovered from that and raced a little bit last fall. He trained back just super."
That's where the story takes a significant upturn.
After a rookie campaign that yielded one win and four seconds from five starts, along with $23,000 in earnings, Greatest Ending's sophomore season, albeit only two starts, has been extremely impressive. ​
On May 7, he lined up behind the gate for a $69,578 Pennsylvania Sires Stake race at Hollywood Casino at The Meadows.
Sent off at 16-1, Greatest Ending, with Dave Palone in the sulky, went wire-to-wire in a front-end 1:51.2 masterpiece, capped off by a :27.2 final quarter that resulted in a 1 ½-length win.
Two weeks later, he was back at Mohawk, facing nine foes in the evening's first race.
While his odds were far lower than in his Pennsylvania score – Greatest Ending went off at 1-5 – the end result was very much the same.
With James MacDonald holding the reins, the duo dashed away from the field down the lane for a 4 ½-length triumph in 1:51.3.
"It was an easy mile for him, basically, a training mile," said Moore. "I think the colt has a lot more to offer. We haven't had a chance to see yet, other than what he did in Pennsylvania. It's hard to really evaluate how fast you're going with him because of his gait, the same thing when he's training. We're looking forward to a nice few weeks up here."
Eligible to the $1 million Pepsi North America Cup, set for June 18 at Mohawk, the focus, for now, is on Saturday at the Milton oval, specifically, one of two divisions of the Somebeachsomewhere Stakes (Race 6). ​ ​
Moore likes what he sees ahead of his sophomore star's upcoming test.
Two things, in particular, come to mind for the conditioner who has two Somebeachsomewhere division crowns to his name, in 2015 with Rockin In Heaven and in 2019 with Century Farroh.
"I think Greatest Ending's gait and the size of him stands out for me. He's a huge horse. He seems to have a lot of little bad luck things, but other than that, he's a beautiful colt to be around and he's lovely colt on the track." ​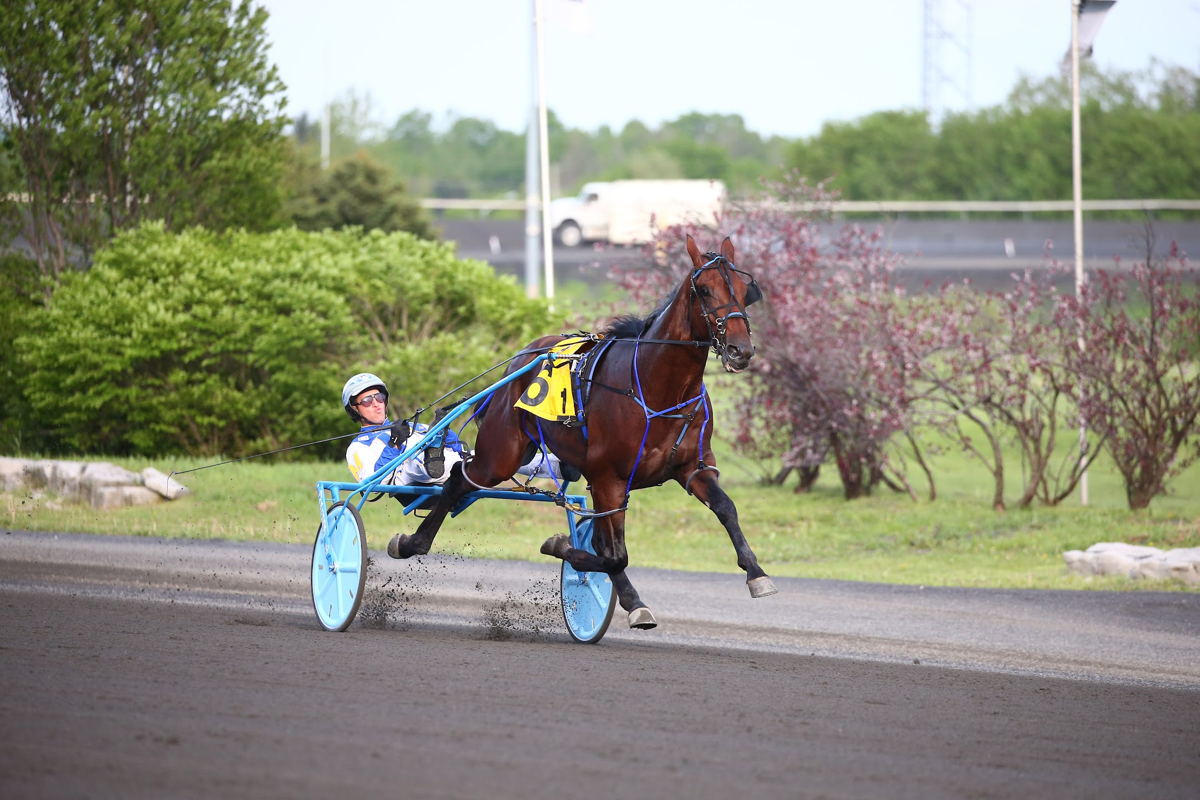 Chris Lomon Sr. Writer, Managing Editor, Woodbine Entertainment