Cool Kiss takes on 12 in Cup & Saucer Stakes
TORONTO, October 7, 2022 – Cool Kiss will chase his second straight win when he goes postward in Sunday's $250,000 Cup & Saucer Stakes, at Woodbine.  
A 1 1/16-mile event for Canadian-bred 2-year-olds run over the E.P. Taylor Turf Course, the 85th running of the Cup & Saucer has drawn 13 hopefuls, including Cool Kiss, an Ontario-bred son of Kantharos-Hot Kiss. 
Bred and owned by Phoenix Racing, the dark bay delivered a dazzling debut effort in a 7-furlong turf race on September 10 at Woodbine. 
Under Sahin Civaci, who'll be aboard again Sunday, Cool Kiss, sent off at 4-1, got away ninth and last over the E.P. Taylor Turf, but then methodically began to pick off his rivals on the way to a convincing 3 ¾-length score in a time of 1:22.20 over firm going.
"He was impressive," said trainer Michael De Paulo. "He actually got close to running once before, but he had a little mishap under the tunnel [leading to the racetrack], so we sent him to get gelded soon after. But he came back and ran like a monster that day. He galloped out super and it was an impressive race, I thought. He came from last. I told the jock to let him get his feet and then come running. And that's how it ended up playing out. He was really running at the wire, and he galloped out super."
The effort didn't come as a total surprise to the veteran conditioner with 942 career wins to his name.
"He'd given me a couple of really good works. But you never know. His brother, Repeat the Heat, trained really well as a 2-year-old, but it took a while for him to come around. So, I was a little disappointed with Repeat the Heat in his rookie year, and I thought there could be a chance that would happen with him. The mother [Hot Kiss], who was also owned by Phoenix Racing, it took a while for her to get going too. Once she figured it out, she went on a roll, but it took five or six starts for her to get there. She was second in the 2016 Maple Leaf, which was a mile and a quarter. So, there's a bit of stamina on that side of the family. For a horse to finish that strong and run so well first time out, it was a very strong performance."
Cool Kiss has had a couple of solid works, including 1:00.40, breezing, on the turf training track on October 2, in preparation for the Cup & Saucer.
De Paulo is no stranger to success in the race, having won the 2007 edition with Deputiformer and the 2014 running with Passion for Action.
"I'm looking forward to this Sunday. He's been great to have in the barn. He's always been a good-feeling horse. You kind of had to watch him coming in and out of the stall, but other than that, he's been really good. Not a lot has changed for him. The first time he was going to race, he jumped on the pony and slipped, and got loose. They noted there was a scratch and I thought, 'Okay, that's good.' Then they said it was the number five and that sounded familiar. I look at the program and that's us."
Hall of Fame trainer Jim Day has won 10 editions of the Cup & Saucer, including seven straight runnings from 1984-1990.
Sunday's card of racing also includes the $100,000 Eternal Search Stakes, for Ontario-sired fillies and mares, 3-year-olds and up, as well as the $100,000 Overskate Stakes, for Ontario-sired 3-year-olds and up. Both races are set for 7 ½ furlongs over the Inner Turf.
The Eternal Search is named after the three-time Canadian champion, purchased at age 2 for $50,000 by Canadian Horse Racing Hall of Fame inductee Mel Lawson, who raced her under his Jim Dandy Stable banner. Eternal Search retired from racing with 15 stakes victories and posted a record of 18-11-2 from 44 starts. 
Overskate enjoyed a brilliant career for owner/breeder Jack Stafford, trainer Gil Rowntree and jockey Robin Platts. He raced a total of 42 times and won 24, 18 of those victories coming in stakes races, including the Grade 2 Stars and Stripes. When Overskate retired at age 5 in 1980, he was the richest Canadian-bred Thoroughbred with earnings of nearly $800,000.
The Cup & Saucer is slated as race seven on Sunday's 11-race card. First post time is 1:20 p.m. Fans can watch and wager on all the action via HPIbet.com and the Dark Horse Bets app.  
$250,000 CUP & SAUCER STAKES 
Post – Horse – Jockey – Trainer 
1 – Sing Dixie – Justin Stein – Breeda Hayes
2 – Sooner Lunar – David Moran – Michael Doyle
3 – Coherence – Steven Bahen – Willie Armata
4 – Gran Spirited – Declan Carroll – Mark Casse
5 – Stayhonor Goodside (S) – Emma-Jayne Wilson – Mark Casse
6 – Big Ransom – Leo Salles – Denyse McClachrie
7 – British Artillery – Omar Moreno – Barbara Minshall
8 – Opposites Attract – Eswan Flores – Michael Trombetta
9 – Mo Tourist – Kazushi Kimura – Kevin Attard
10 – Battle Strike – Rafael Hernandez – Mark Casse
11 – Cadfael – Steven Bahen – Willie Armata
12 – Cool Kiss – Sahin Civaci – Michael De Paulo
13 – Philip My Dear – Kazushi Kimura – Kevin Attard
Chris Lomon, Woodbine Communications / @WoodbineComms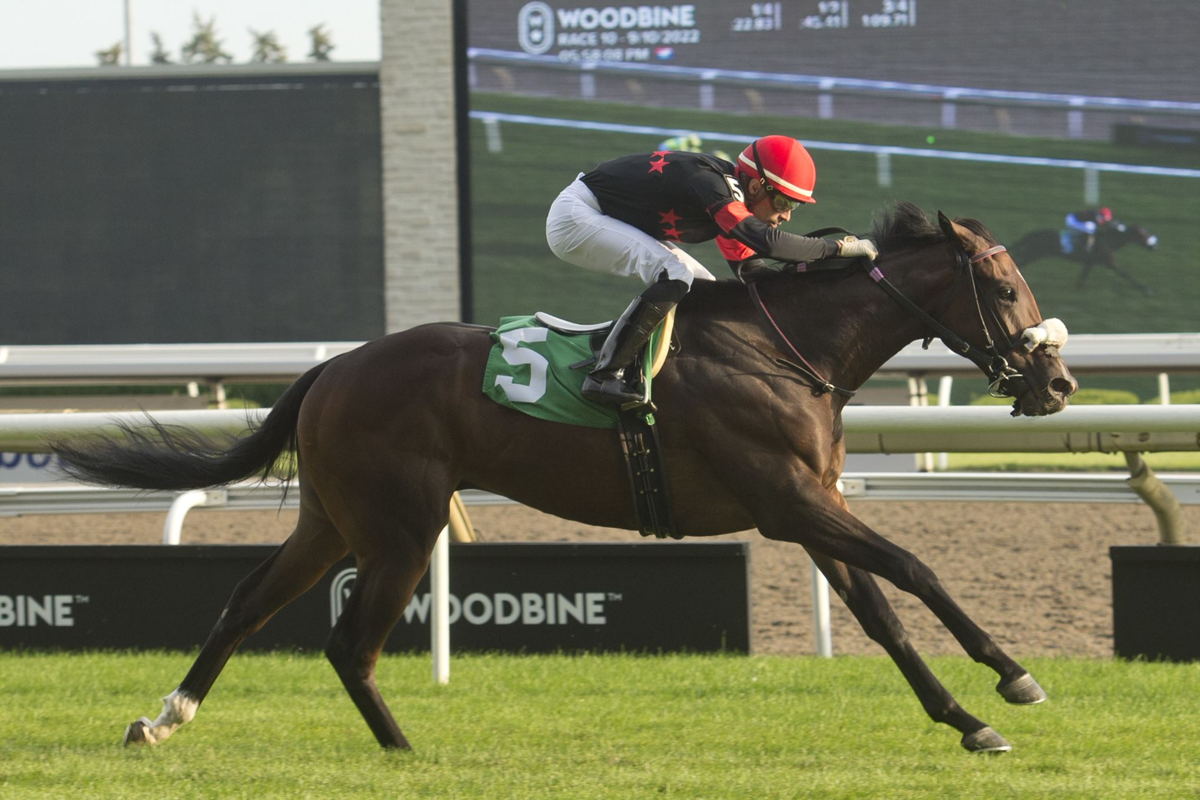 Grace Martin Communications Specialist, Woodbine Entertainment