Cox sends out Sam-Son duo Whimsical Dance, Swoop to Finish in Wonder Where
TORONTO, September 8, 2022 – This year's edition of the Canadian Triple Tiara concludes with Sunday's running of the $250,000 Wonder Where Stakes, at Woodbine.     
Set at 1 ¼ miles on the E.P. Taylor Turf Course, the Wonder Where, for 3-year-old Canadian-bred fillies, drew six sophomores. Moira, who won the Woodbine Oaks Presented by Budweiser, went on to take the 163rd running of the Queen's Plate on August 21. Sister Seagull, in to contest the Wonder Where, captured the second jewel of the Triple Tiara, the Bison City, on August 14.
Whimsical Dance, a daughter of Distorted Humor-Danceforthecause, will make her first appearance in the series.
Trained by Gail Cox, the Sam-Son Farm homebred arrived in style, winning her career bow in impressive fashion on August 21.
Sent off at 20-1 in the 1 1/16-mile journey over the E.P. Taylor, Whimsical Dance, under Declan Carroll, rallied strongly down the lane to secure a 4 ½-length score in a time of 1:43.13 over firm ground.
"She comes from a really nice family," noted Cox. "She's a half to Say the Word and Rideforthecause, so she's related to some very nice horses, who I was also lucky to have trained. I had taken a very long time to run her because I didn't think she was ready. She was quite immature, mentally and physically. I just didn't want to run her until I thought she had a good chance to win or at least run really well. She just started to work better and better and learned how to be more independent. I wouldn't say that I thought she was definitely going to win, but I did think she would run well just based off pedigree. David said that down the lane she was just gawking at everything. But she ran great and she's pretty talented."
Now, the filly, unraced at 2, will step up to the stakes ranks and tackle a longer distance of ground.
Cox, seeking her first Oaks crown, expects Whimsical Dance to be up for the challenge.
"She came out of the race really well. Three weeks is a short time between races, but she had a nice breeze on Sunday [, 4 furlongs, breezing, in :50.00 on the dirt training track] and I think we have to take a shot at this race. I think it's the perfect race for her. Distance isn't going to be an issue and I don't think she'd care what kind of turf it is on Sunday."
Swoop to Finish, a daughter of American-Pharoah-Swoop and Strike, will return to the turf after a sixth-place finish in the Woodbine Oaks.
Also a Sam-Son homebred, the dark bay has a career record of 1-1-0 from five starts, including a 1-1-0 record from three turf appearances.
She made her debut last July, finishing second in a 6-furlong E.P. Taylor Turf Course maiden special weight event, putting in a strong rally down the lane to secure the runner-up spot. Swoop to Finish closed out her rookie year with a fifth in a 7-furlong race over the E.P. Taylor one month later.
Finishing seventh in her sophomore curtain raiser, Swoop to Finish broke her maiden next time out, a 2 ¼-length win over 1 1/16 miles on the Woodbine Inner Turf.
"She won on the turf this year and then we made the decision to run her in the Oaks. She just doesn't like the main track as much as she does the turf. She's not the same on it. She ran not so great on it [Tapeta] once, but the race she won, we put blinkers on and thought that might really help her out. So, we had to try the Oaks, but she's not the same on the Tapeta. She's been working along since that race and she's doing really well. She's very nice and she's a more aggressive filly than Whimsical Dance. When she won, she was close to the lead. She's a big filly with a huge, long stride, and came to hand very quickly."
A win by Whimsical Dance or Swoop to Finish would give leading Oaks' owner Sam-Son Farm its ninth victory in the preeminent race for Canadian-bred 3-year-old fillies.
"Having two chances to win – they both have different running styles – is a nice position to be in," said Cox.
The race has also attracted the aforementioned Sister Seagull, who brings a record of 2-1-1 from seven starts, the two victories coming in her past three starts, which also includes the runner-up performance in the Oaks. The daughter of Hard Spun-Sweet Kitten, trained by Catherine Day Phillips, is a homebred for Sean and Dorothy Fitzhenry.
The race is named after champion filly Wonder Where, Canada's 1959 Horse of the Year and Canadian Horse Racing Hall of Fame inductee.   
Sealy Hill, Canada's Horse of the Year in 2007, took all three Triple Tiara races in that same year.  
First post on Sunday's 10-race card is 1:00 p.m. The Wonder Where goes as the eighth race. The second leg of the Woodbine Turf Endurance Series is slated as race seven. Fans can watch and wager on all the action via HPIbet.com and the Dark Horse Bets app.
FIELD FOR THE $250,000 WONDER WHERE STAKES  
Post – Horse – Jockey – Trainer  
1 – Swoop to Finish – Emma-Jayne Wilson – Gail Cox
2 – Strega – Rafael Hernandez – Kevin Attard
3 – Sister Seagull – Antonio Gallardo – Catherine Day Phillips
4 – Devil's Bit – David Moran – Roger Attfield
5 – Whimsical Dance – David Carroll – Gail Cox
6 – Keep It Neat – Kazushi Kimura – Barbara Minshall
Chris Lomon, Woodbine Communications / @WoodbineComms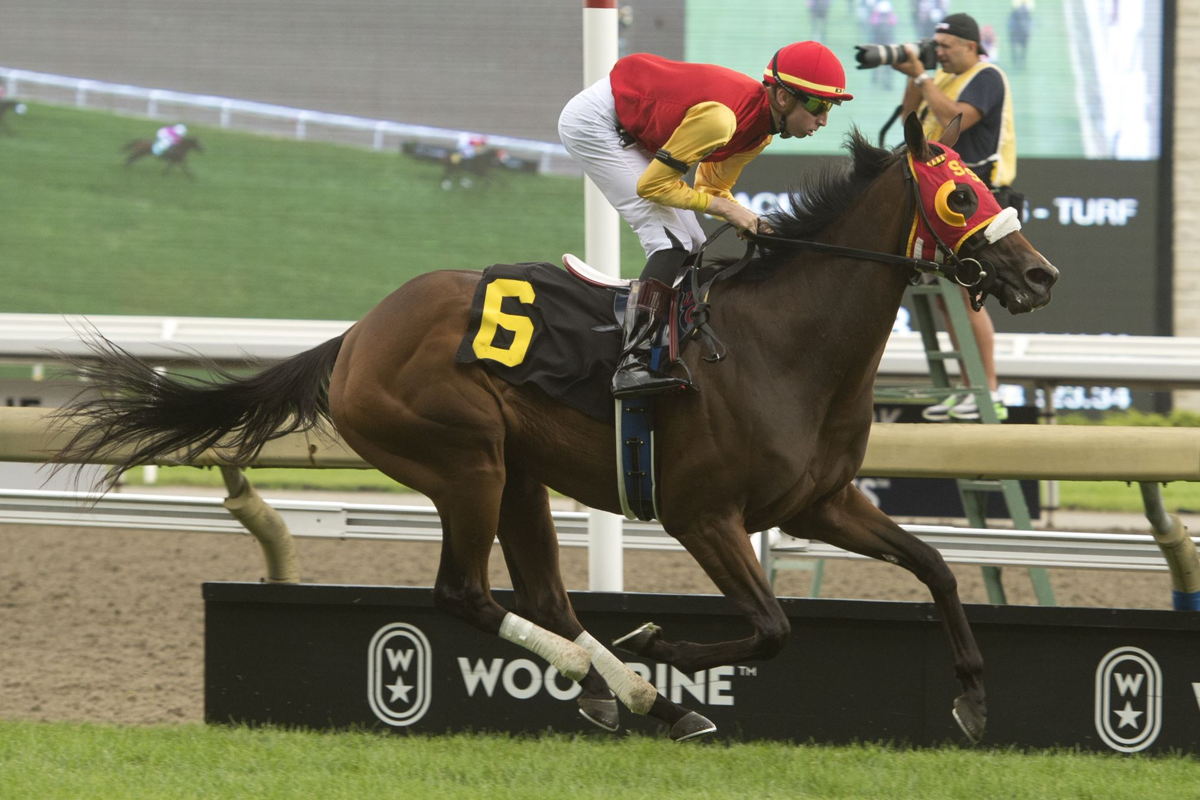 Grace Martin Communications Specialist, Woodbine Entertainment