Curtain closes on Ontario Sire Heritage Series with pair of primetime performances
TORONTO, November 19, 2021 – The Ontario Sire Heritage Series concluded Friday at Woodbine with Lorena capturing the $100,000 Ashbridges Bay Stakes and Artie's Storm winning the $100,000 Lake Ontario Stakes, both Presented by Ontario Racing.
​
​The 1 1/16-mile main track events, the Lake Ontario for Ontario Sired three-year-olds, and the Ashbridges Bay, for Ontario Sired three-year-old fillies, completed the bonus-laden eight-leg stakes series of events that were held at Woodbine and Fort Erie racetracks. Ontario Racing and its Thoroughbred Improvement Program (TIP) Committee unveiled the series in March.
​
​Sent off as the 1-5 choice in the Ashbridges Bay, Lorena, under Gary Boulanger, broke sharply and quickly assumed command, as the daughter of Souper Speedy took her four rivals through an opening quarter in :26.17.
​
​Lorena continued to call the shots through a half-mile reached in :50.98, one-length ahead of Jilli Marie, who was two-length lengths in front of longshot Practical Gizmo.
​
​After three-quarters in 1:15.23. Lorena was still running comfortably as Jilli Marie, with Steven Bahen in the irons, began to turn up the pressure on the outside. As the field rounded the turn for home, Boulanger called on his filly and she responded in kind, converting a two-length advantage at the stretch call into a 3 ½-length score. Jolene Jolene rallied to be second and Jilli Marie was third.
​
​The final time was 1:46.61.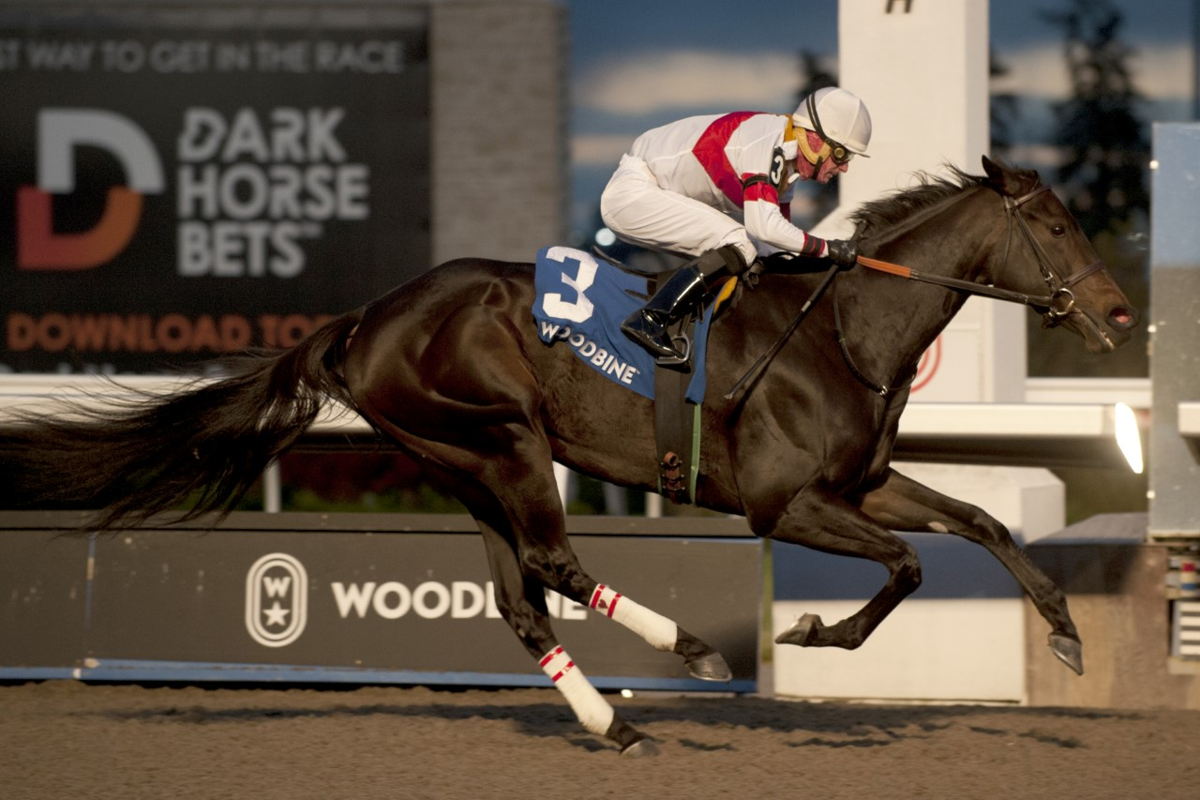 "She's always such a great gate horse," said Boulanger, who was celebrating a birthday. "The big thing with her was getting her to shut off and learn her lessons about not always having to go so hard, not trying to run through the bridle so much. The few times we've taken her back, she's really starting to learn how to relax and do what I ask her to do, instead of what she wants to do. She got the lead so easy and I think we got a half in :50, and it's just game over. There was no one coming to me today." ​
​
​It was the fifth win from seven starts on the year for the dark bay, trained by Stuart Simon, who co-owns with Brent and Russell McLellan, and Kai Olguin. With the Ashbridges Bay win, she also delivered her owners a $20,000 bonus as the top points earner in her Ontario Sire Heritage Series' division.
Now a four-time stakes winner, Lorena has a lifetime mark of 6-0-0 from eight starts.
​
​"It's really satisfying to get that [two-turn win] done," said Simon. "I did always think she would when she got the right circumstance and the right prep up to the race. She's just been another gift."
​
​Bred by Dr. Liam Gannon, she'll head to the Sunshine State for the winter.
​
​"She'll be breathing in Ocala air soon, have a nice break and get ready for a nice campaign for next year," said Simon.
​
​Lorena paid $2.70 for the win.
​
​***
​
​In the Lake Ontario, Artie's Storm thundered home to earn his first career stakes crown.
​
​It was 2-5 choice Secret Reserve, working on a three-race win streak, who was quickest out of the gate, leading Perfect Crime and Artie's Storm through an opening quarter-mile clocked in :23.64.
​
​Secret Reserve continued to lead through a half-mile reached in :47.35, as David Moran, aboard Artie's Storm, kept close tabs on the pacesetter from along the rail.
​
​As the field came off the turn for home, Artie's Storm engaged Secret Reserve, and the duo dug in for a long stretch battle, leaving their rivals to settle third place honours.
​
​At the wire, Artie's Storm, trained and owned by Paul Buttigieg, fended off a game Secret Reserve to win by a half-length in a time of 1:42.47. Dragon's Brew rallied to net the show award, eight lengths back of the runner-up.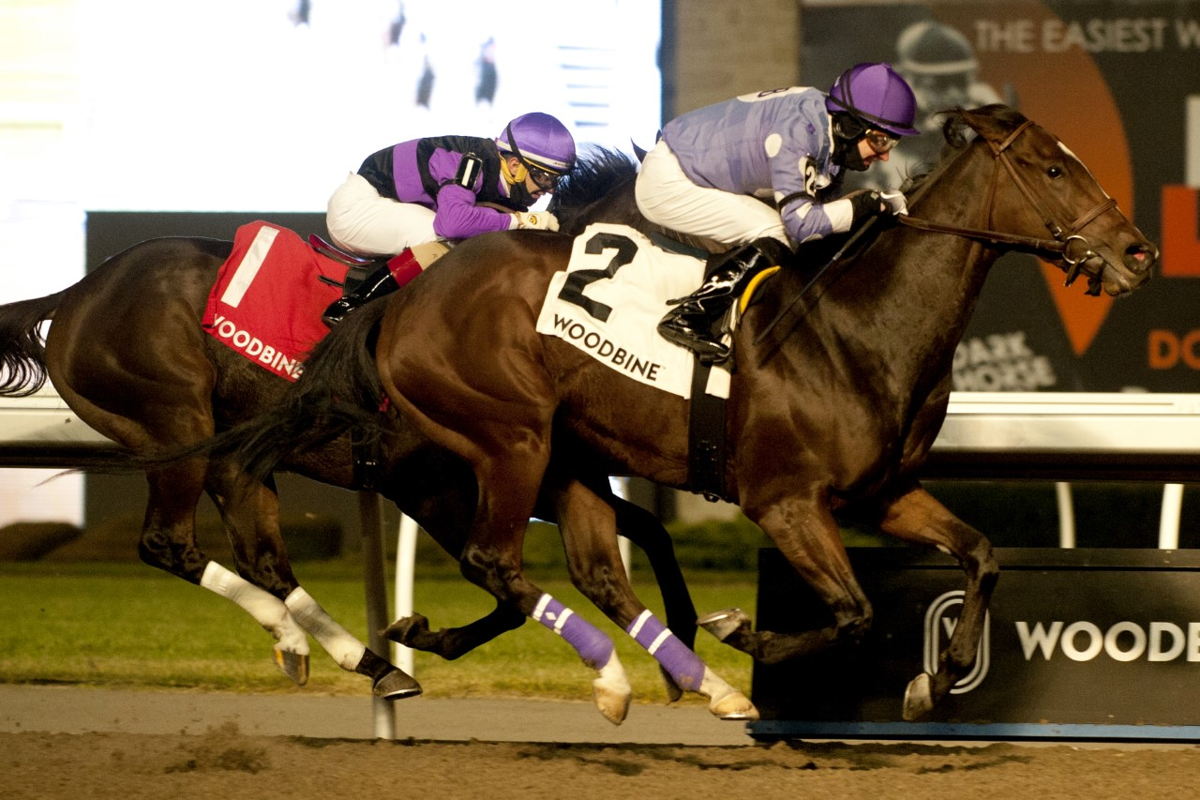 "I had a great trip," said Moran. "I was worried before the race that there might not be any pace. Raffi [jockey, Rafael Hernandez, aboard Secret Reserve] broke pretty well and it seemed like a sensible pace. My guy was very relaxed where he was and when I asked him, he kicked on and did the job."
​
​A dark bay son of We Miss Artie, Artie's Storm waded into the Lake Ontario with a pair of seconds and two thirds from five stakes appearances.
​
​On Friday night at Woodbine, the gelding finally broke his added-money maiden.
​
​"He was sitting on that win," offered Moran. "All year long, he's won a couple of nice races and been second and third in some tough stakes. He ran once last year as a maiden and probably should have won and came back this year and has done nothing wrong. He's just a sweet horse to be around."
With the Lake Ontario victory, Artie's Storm, bred by Sunrise Farm, is now 3-2-3 from nine starts.
​
​He paid $8.20 for the victory.
​
​Secret Reserve, winner of the Lake Superior Stakes on October 22, netted his owners a $20,000 bonus as the top points earner in his Ontario Sire Heritage Series' division.
​
​Woodbine Communications / @WoodbineComms