Forester's Fortune hunts Vice Regent gold
TORONTO, August 31, 2022 – Multiple stakes placed Forester's Fortune, a 5-year-old son of Old Forester-Nursery Song, takes on six rivals in Saturday's $150,000 Vice Regent Stakes at Woodbine.
Trained by Rodney Barrow, the chestnut arrives at his latest engagement, a race for Ontario-bred 3-year-olds and up at 5 panels on the Toronto oval's Inner Turf, sporting a record of 4-2-4 from 22 starts and a 2-2-1 mark from nine turf races.
In his last two races, Forester's Fortune posted a second on July 17, and was most recently third in a 5-furlong dash over the Inner Turf on August 11.
"He's doing really well," said Barrow. "He just needs a little luck. The last two races, he's had bad trips. But this horse, he always tries. The thing with him is that he needs the trip. Usually, when he kicks, he's coming from off the pace. The way he kicks in, if he gets stopped, then it's tough for him to get started again."
Forester's Fortune launched his career in 2019 with a pair of third-place finishes, including in his second appearance, the Victoria Stakes.
Owned by Claudia Evelyn Silvera and Archie Lee, he broke his maiden in his first start of 2020, following that effort up with another trip to the winner's circle next time out.
Bred in Ontario by John Carey, the gelding was sixth in last year's Vice Regent.
A lifetime earner of $249,997 (U.S.), Forester's Fortune will look to strike stakes gold for the first time.
Barrow likes what he sees from his hard-knocking horse ahead of Saturday's race.
"Hopefully, it's a better result this time around. He's coming into the race in good order. I've always liked him. He's cool. He's older and he's wiser now. He has a good head on his body. As a baby, he was pretty crazy. Now, he's matured and he's good."
Good enough, Barrow hopes, to break his stakes maiden.
"There is a lot I like about him, but the one thing that stands out for me is that he tries every race. Like I said, he just needs the trip. If he can get that, then I think he'll have a very good race."
The Barbados-born Barrow, who won his first race with Pierian on June 11, 2020, will have friends and family back home cheering for Forester's Fortune on Saturday.
He's appreciative of the widespread support.
"I'm very lucky to have so many people back home and here in Canada who want to see me succeed. It would be nice to get a stakes win with this guy. He deserves it."
Other starters include multiple graded stakes winner Silent Poet, along with five-time winner and Ontario Jockey Club Stakes victor Mason's Gamble.
The Vice Regent goes as race four. First post is 1:00 p.m. Fans can watch and wager on all the action through HPIbet.com and the Dark Horse Bets app.
$150,000 VICE REGENT STAKES
Post – Horse – Jockey – Trainer
1 – Mason's Gamble – Rafael Hernandez – Josie Carroll
2 – Forester's Fortune – Daisuke Fukumoto – Rodney Barrow
3 – Silent Poet – Justin Stein – Nicholas Gonzalez
4 – Warp Ride – Eswan Flores – Andrew Smith
5 – Four Aces High (S) – Emma-Jayne Wilson – James Smith
6 – Wedgewood – Jason Hoyte – Mike Keogh
7 – Rockcrest – Keveh Nicholls – Nigel Burke
Chris Lomon, Woodbine Communications / @WoodbineComms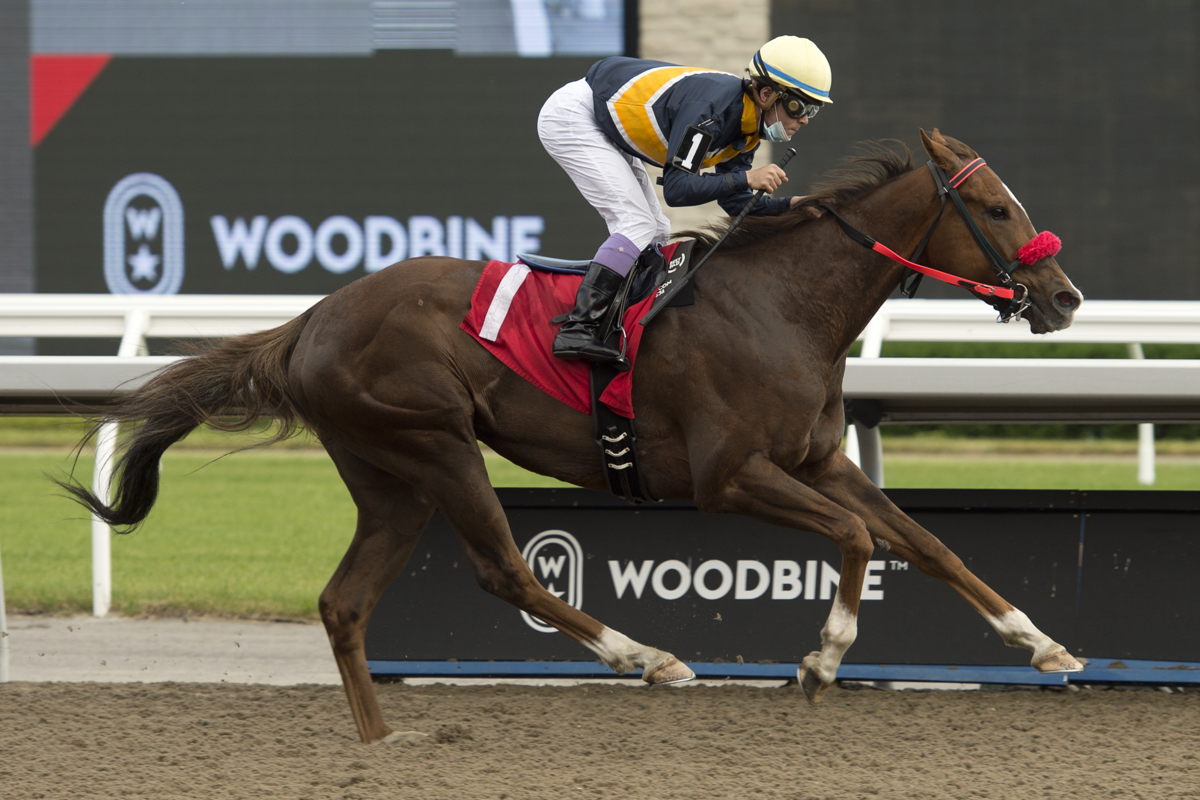 Grace Martin Communications Specialist, Woodbine Entertainment