Grade 2 Kennedy Road: Patches O'Houlihan chases seventh straight score
TORONTO, November 15, 2023 – Sprint star Patches O'Houlihan will face nine rivals in Saturday's $175,000 Kennedy Road Stakes (G2) at Woodbine.
A 3-year-old son of Reload-Maythefourthbwithu, Patches O'Houlihan arrives at the six-furlong main track race for 3-year-olds and up riding a six-race win streak after securing a gritty nose victory in the Vigil Stakes (G3) on September 16.
Bred and owned by Frank Di Giuilio, Jr. and trained by Canadian Horse Racing Hall of Fame inductee Robert Tiller, Patches O'Houlihan sports a 7-0-0 career mark from eight starts.
"He's doing absolutely fantastic," said Tiller. "He's as happy as a bumblebee. What I have come to like about him is that he has won those seven races. That's a good thing to like about him. He's obviously a very talented horse."
The Vigil was the fourth stakes triumph and second straight graded win for the Ontario-bred, who arrived at the race off a 1 ¼-length victory in the Bold Venture (G3) on August 20.
"If he isn't sprinter of the year, I'll eat your hat," said Tiller. "If he doesn't get more awards than the sprinter, I'll be very surprised. He's shown tremendous gameness along the way in his races. He's a fighter, a street fighter. He doesn't give up. The only time he did was when he hurt himself in the Bull Page last year and finished sixth. He had an issue after the race that we had to take care of."
Tiller is looking for another strong showing from his sprint star on Saturday.
"He's doing very good right now. It's a horse race and anything can happen. He's as good as I have ever seen him. He's a happy horse." ​
Canadian Horse Racing Hall of Fame inductee Pink Lloyd, also trained by Tiller, won three runnings (2017, 2019 and 2021) of the Kennedy Road. Tiller also won the race with Blitzer in 1994, Cheap Talk in 2002 and Are You Serious in 2005. Stacked Deck (2015, 2016) and Blitzer (1994, 1995) have both won the race twice. Mr. Hot Shot won the inaugural edition in 1989.
"I try not to look at yesterday," said Tiller. "I didn't know that I had won the race that many times. Honestly, I am glad to hear that."
Other starters include multiple graded stakes winner War Bomber (IRE), graded stakes winners Dream Shake and Ironstone, multiple graded stakes placed Ice Chocolat (BRZ), graded stakes placed Rockcrest, and stakes winner Sky's Not Falling.
First post on Saturday's 10-race card is 1:05 p.m. Fans can watch and wager on all the action through HPIbet.com, bet365, and the Dark Horse Bets app. ​
Field for the Kennedy Road (G2)
Post – Horse – Jockey – Trainer
1 – Jazz Hands – Shane Ellis – Harold Ladouceur
2 – Flag of Honour (AUS) – Kazushi Kimura – Julie Carey
3 – Dream Shake – Rafael Hernandez – Michael Stidham
4 – War Bomber (IRE) – Juan Crawford – Norm McKnight
5 – Maclean's Posse – Patrick Husbands – Josie Carroll
6 – Sky's Not Falling – Jose Campos – Michael Trombetta
7 – Rockcrest – Jason Hoyte – Nigel Burke
8 – Ironstone – Ryan Munger – William Armata
9 – Patches O'Houlihan – Daisuke Fukumoto – Robert Tiller
10 – Ice Chocolat (BRZ) – Sahin Civaci – Mark Casse
-30-
Chris Lomon, Woodbine Communications / @WoodbineComms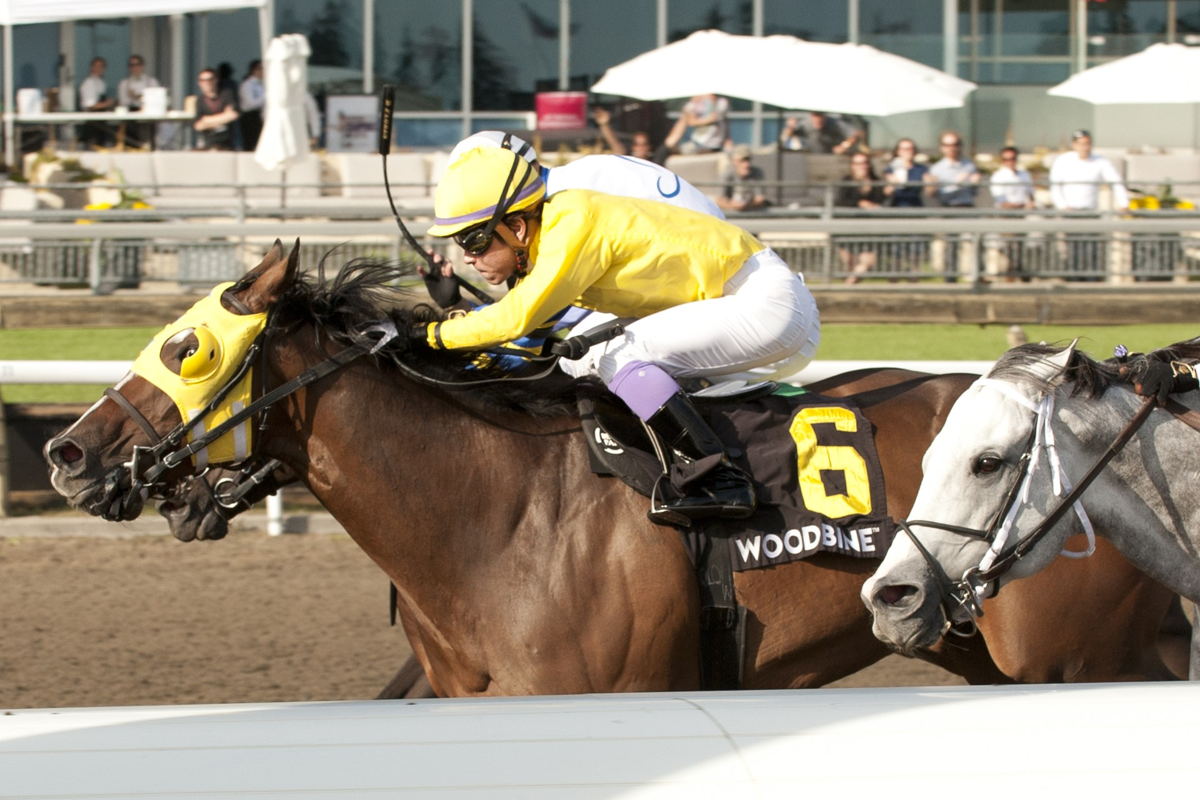 Chris Lomon Sr. Writer, Managing Editor, Woodbine Entertainment