Miller hopes French Wine pours it on in William Wellwood Memorial
MILTON, August 24, 2022 – A vintage French Wine performance Saturday night at Woodbine Mohawk Park could turn into a champagne celebration for conditioner Julie Miller in less than a month's time.
Two years ago, Miller sent out Venerate to take the inaugural Mohawk Million. This weekend, the multiple stakes winning trainer could get another shot at capturing the high profile, unique event for two-year-old trotters.
The William Wellwood Memorial winner will not only take home the lion's share of the $665,000 purse but also receive a slot, for free, in the prestigious $1 million (USD) Mohawk Million. 
For Miller, the first order of business is punching the ticket to the big race by winning another important one.
French Wine, a son of Bar Hopping-Creamy Mimi, will take on nine rivals in the William Wellwood. He's co-owned by her husband, driver Andy Miller, Daniel and Jean-Christopher Plouffe, and One Legend Stable Inc.
"We liked Bar Hoppings because we've had success with them. Andy actually drove Creamy Mimi to her Hambletonian Oaks win, so there's a nice connection there too. We went and saw the horse at Kentuckiana and he was gorgeous. He had a really nice look about him. We liked him a lot. Luckily, so did the other owners, and a partnership was born that night."
Sporting a record of 3-1-1 from five starts, accompanied by $126,508 in purse earnings, the colt, to be driven by Andy Miller, arrives at Saturday evening's race off a third in a Wellwood elimination on August 20.
Sent off as the even-money choice, French Wine, departing from post seven, rallied strongly down the lane to secure the show spot in the 1:55.2 race won by Oh Look Magic.
"It was new surroundings and a new surface for the horse. I thought it was a really nice effort. It seems like once a horse has a start over a new surface, they find their footing a little better the next time."
Bred by Marvin Katz and Al Libfeld, French Wine made his debut on July 15 at The Meadowlands, finishing second, a neck back of winner and Wellwood final foe International Man. The $120,000 purchase at the 2021 Lexington Select Sale then launched a three-race win streak, the last two victories coming at The Red Mile.
Miller is hopeful her rising star rookie, leaving from post one, can produce a veteran-like performance on Saturday night.
"Venerate won the Million out of the 10-hole, so I'm not post-prejudice anymore," she said with a laugh. "French Wine is a good-feeling horse, very social, and nice to be around. On the track, he tries every time, and he has a lot of heart. He's a real pleasure."
Miller isn't just a big fan of French Wine, the horse.
"I like French wines, U.S. wines, and Spanish wines too. Hopefully, we have something to toast to after Saturday night and next week. We just have a lot of gratitude to be in this race with a chance to be in the Mohawk Million. Hopefully, we can get there."
The other nine slots in the Mohawk Million were sold earlier this year for $100,000 (CAD) each. 
The nine slot owners are not required to declare a two-year-old trotter for the race until entry time on September 19. Each slot is an entity that may be sold, traded or subject to lease. 
Four of the owners will be represented in the Wellwood Memorial. Glengate Farms are co-owners of Oh Look Magic, and Southwind Coors. Determination owns Tuscan Prince, Brad Grant co-owns Snowpiercer, and Gino Toscani owns Dahlquist Hanover.
The original announcement of the Mohawk Million and slot-deciding Wellwood Memorial was made on September 26, 2019, one year to the date since the inaugural Mohawk Million was contested.  
The Mohawk Million on September 24 is the feature event on one of harness racing's richest cards of the year. More than $3.3 million in purses will be up for grabs on the 'Million' card with the $825,000 Metro Pace, $600,000 Canadian Trotting Classic, $500,000 Shes A Great Lady and $400,000 Elegantimage also in the spotlight.
The William Wellwood Memorial is carded as Race 10 (10:45 p.m.) on Saturday's $1.7 million stakes-filled card at Woodbine Mohawk Park. Post time for the 12-race card is 7 p.m. 
The field for the William Wellwood Memorial is listed below.
1 / French Wine / Andrew Miller / Julie Miller
2 / Ghostly Casper / Sylvain Filion / Benoit Baillargeon
3 / Gaines Hanover / Louis-Philippe Roy / Richard Moreau
4 / Winners Bet / Dexter Dunn / Domenico Cecere
5 / Oh Look Magic / James MacDonald / John Bax
6 / International Man / Yannick Gingras / Domenico Cecere
7 / Tuscan Prince / Bob McClure / Luc Blais
8 / Southwind Coors / Mike Saftic / John Bax
9 / Snowpiercer / Paul MacDonell / John Bax
10 / Dahlquist Hanover / Trevor Henry / Dustin Jones
AE1 / Hasty Bid / James MacDonald / Paige Austin
AE2 / Nothingbutadreamer / Doug McNair / Harry Poulton
Chris Lomon, Woodbine Communications / @WoodbineComms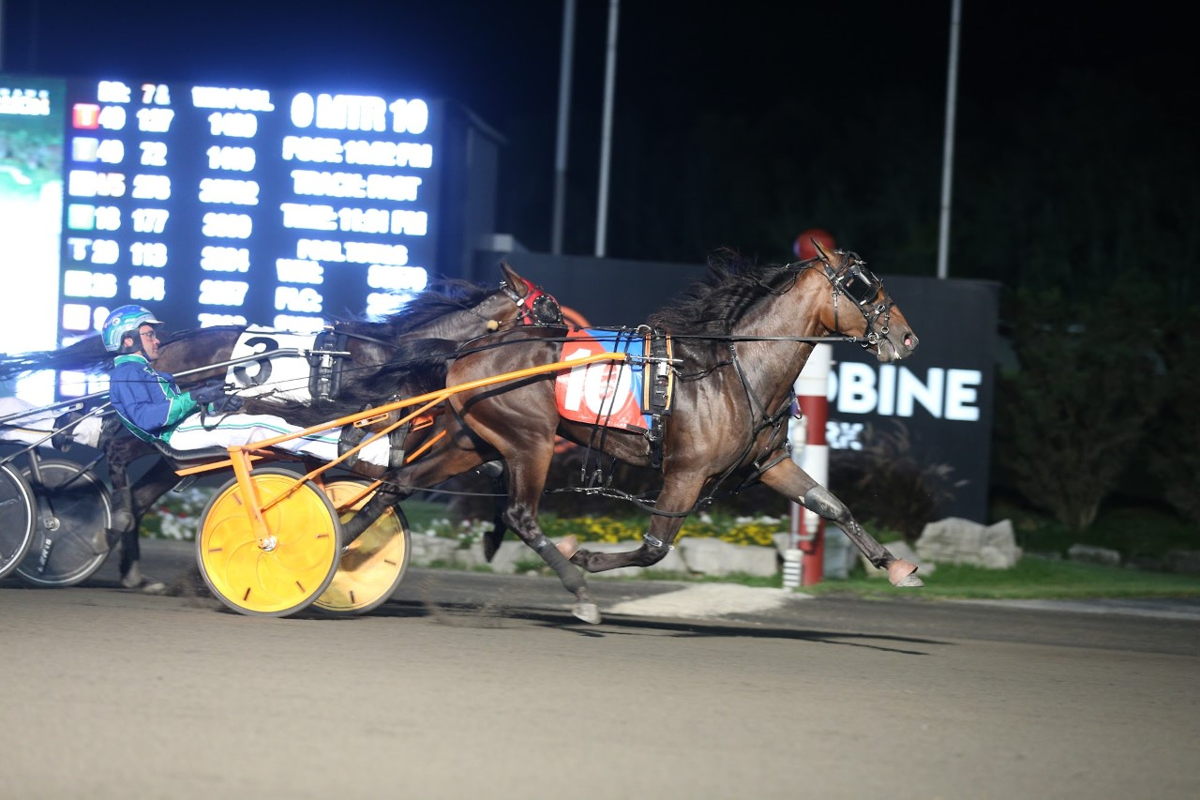 Mark McKelvie Sr. Manager Communications, Woodbine Entertainment