Oh Well gives Hunterton a Mohawk Million hat trick
MILTON, September 24, 2022 – Oh Well strolled to a sparkling score in Saturday's $1 million Mohawk Million, at Woodbine Mohawk Park.
After breeding the first two Mohawk Million winners, Venerate in 2020, and Venerable in 2021, Hunterton Farm's Steve and Cindy Stewart decided to purchase one of nine $100,000 slots (the final slot goes to the winner of the William Wellwood Memorial) with a few partners for this year's edition of the unique two-year-old trotting event.
It proved to be a winning idea.
Dws Point Man was on-point early, blasting from post eight to take the early lead, as Oh Look Magic couldn't find a seat and sat second, while Hasty Bid and Oh Well were next in line through an opening panel of :27.3.
Oh Look Magic, still travelling on the outside, wrested the lead away from a stubborn Dws Point Man, as Oh Well, with Tim Tetrick in the race bike, popped out and set sail for the front after a half reached in :56.1.
Sent on his way as the 3-5 choice, Oh Well, on top by a head after three-quarters in 1:24.4, braced for the bid of a hard-charging Winners Bet, who had begun to circle his way into connection before making a break and leaving his rival an open-length leader with the finish line drawing ever closer.
At the wire, Oh Well, trained by Marcus Melander, and owned by S R F Stable, was a 2 ½-length victor in a stakes record-equalling 1:53.4. Silly Me Hanover, at 42-1, was second. Proud To Be Lindy, 96-1, was third, and 60-1 Hasty Bid was fourth.
"I just had to be careful on the rail, you just don't want to get pinned, and then not get out," said Tetrick, of his rail post. "I don't think the size of the track even bothers him at all. He's a big strong colt, he's great gaited, and mainly just keep him focused because he'll look at butterflies if you let him. He's got a big engine, he never gets tired, and he's a really nice colt."
Fashioning a record of 4-2-0 from six starts, Oh Well, a son of Muscle Hill-Fine Tuned Lady, was a $530,000 purchase at the 2021 Harrisburg Yearling Sale.
He was second in his first race, just a nose behind, in a New Jersey Sires Stakes race at The Meadowlands in June that went in 1:53.4.
A maiden-breaking score on July 8 was followed by a three-quarter length triumph in his $240,000 New Jersey Sires Stakes division final two weeks later.
Finishing second in the Peter Haughton on August 6, Oh Well took the $275,000 New Jersey Classic for New Jersey-sired horses on September 16.
"Right from the start, he was a beautiful colt," praised Melander. "He cost a lot of money. If you buy a high-price yearling, it doesn't mean they're going to be good. He's covered a lot of ground and he's a great horse."
A horse that delivered Hunterton, the largest Standardbred farm in the world that does not stand stallions,with another memorable Mohawk Million moment.
It's a good bet one of Standardbred racing's most successful breeding operations, based in Paris, Kentucky, will be back for a shot at a Mohawk Million grand slam in 2023.
"I think that it was more of an opportunity for us to give back to the race and we have benefited tremendously, the guys and us that had the mares and bred the horses," said Stewart. "It's a great opportunity. I think it's a wonderful race. It's really important I think to have a race like this for the breeders to have."
Oh Well paid $3.40 for his Mohawk Million win.
Chris Lomon, Woodbine Communications / @WoodbineComms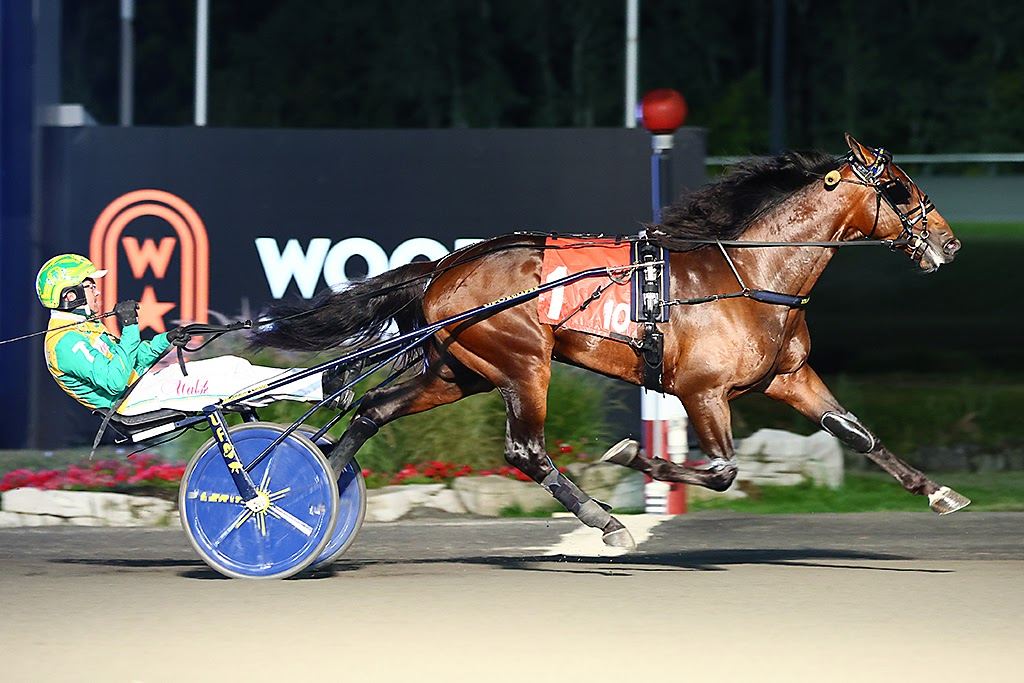 Grace Martin Communications Specialist, Woodbine Entertainment