Old-fashioned work ethic leads Awesome Bourbon to Bull Page Stakes
TORONTO, September 21, 2022 – Fresh off a maiden-breaking score, Awesome Bourbon, a bay son of Not Bourbon-Sea The Awesome (IRE), goes after his first stakes win in Saturday's $100,000 Bull Page at Woodbine.
An 'about' 7-furlong E.P. Taylor Turf test for Ontario-sired 2-year-olds, the Bull Page will see six starters vie for top prize on a card that also includes the running of the filly companion Victorian Queen.
Trained by Ricky Griffith for owners Racing Canada Inc., Awesome Bourbon notched a 1 ¾-length win at 6 panels on the Woodbine Tapeta on August 14, crossing the wire in 1:11.76.
The chestnut had a rough start to his career after he was vanned off in a 5-furlong trek over the Tapeta on May 29. Sent off at 11-1, Awesome Bourbon was pulled up at the three-eighths.
"In his first start, the rider thought he grabbed his quarter out of the gate and thought it best to be safe with the horse," said Griffith.
A month later, the colt, bred by Charles Fipke, was back in the starting gate, taking on six rivals in another 5-furlong race on the Toronto oval main.
It was a far more memorable result as Awesome Bourbon finished second, albeit 7 ½ lengths behind Velocitor.
After another runner-up performance at the same distance and over the same surface on July 10, he tested out the E.P. Taylor Turf Course on July 24.
A determined stretch bid left him one length shy of top spot in the 6 ½-furlong race over firm going.
"He's a versatile horse," praised Griffith. "He has run well on the Tapeta and the turf and you can't ask for anything more than that." 
Now, he'll look for a repeat effort from Awesome Bourbon who will step into the stakes spotlight for the first time.
"What's impressive about him is that he is still growing physically and mentally," said Griffith. "And he has a strong will to compete. He's like a big kid around the barn, playful most days, but he's coming around."
Eight starters, including two-for-two Anam Cara, will take to the E.P. Taylor for the Victorian Queen. A daughter of Frac Daddy-Me Love, Anam Cara won her debut on July 30 for trainer-owner Sarah Ritchie and followed it up with an impressive victory in the Muskoka Stakes on August 28.
First race post time on Saturday is set for 1:10 p.m. Fans can wager on all the action via HPIbet.com and the Dark Horse Bets app.
FIELD FOR THE $100,000 BULL PAGE STAKES (RACE 8)
POST – HORSE – JOCKEY – TRAINER
1 – Silent Fortune – Keveh Nicholls – Gail Cox
2 – Patches O'Houlihan (S) – Kazushi Kimura – Robert Tiller
3 – Half to Reload – Sahin Civaci – Philip Hall
4 – Poulin in O T – Patrick Husbands – Steve Owens
5 – Awesome Bourbon – Juan Crawford – Ricky Griffith
6 – One Bay Hemingway – Justin Stein – Sid Attard
FIELD FOR THE $100,000 VICTORIAN QUEEN STAKES (RACE 6)
POST – HORSE – JOCKEY – TRAINER
1 – Cara Cara – Kazushi Kimura – John Mattine
2 – Anam Cara – Patrick Husbands – Sarah Ritchie
3 – Friends for Life – Gary Boulanger – Stuart Simon
4 – Tamana – Simon Husbands – Nigel Burke
5 – Danish Dynamite – Sahin Civaci – Michael De Paulo
6 – Ancient Spirit – Rafael Hernandez – Sid Attard
7 – Tito's Calling – Emma-Jayne Wilson – Michael De Paulo
8 – Silver Sign – Justin Stein – Sid Attard
Chris Lomon, Woodbine Communications / @WoodbineComms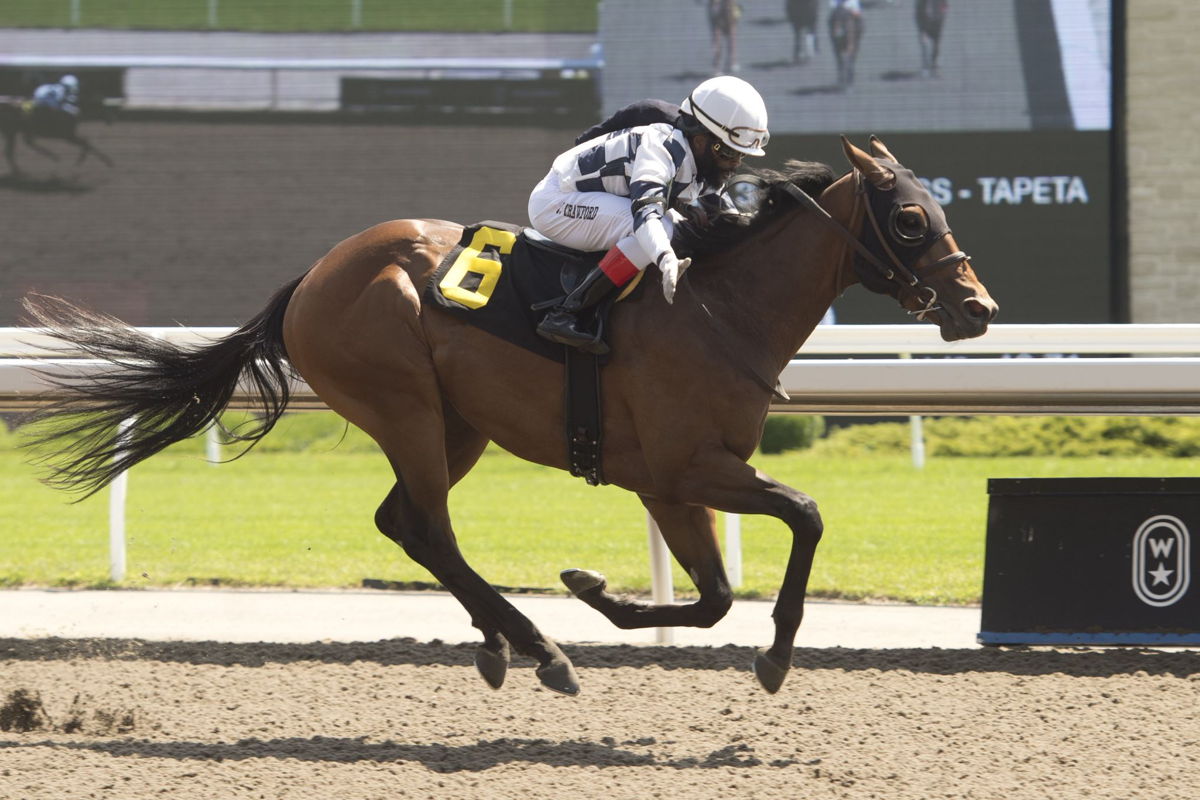 Grace Martin Communications Specialist, Woodbine Entertainment