Plate Trial: The Minkster takes on eight rivals, looks to stay undefeated
TORONTO, July 21, 2022 – The $150,000 Plate Trial Stakes, a key prep on the road to this year's Queen's Plate (August 21), has drawn nine hopefuls, including three-for-three The Minkster, Sunday at Woodbine. ​ ​
The 1 1/8-mile Plate Trial, for three-year-olds, foaled in Canada, has attracted notable contenders looking for a spot in the Queen's Plate starting gate.
Pegged as the 7-1 fourth choice in the Queen's Plate Winterbook, The Minkster, trained by Dan Vella for owner Sea Glass Stables LLC, will contest the second race of his three-year-old season in the main track tilt scheduled as race 7 on the 11-race card.
The son of English Channel-Cabriole, bred in Ontario by Dr. Tan Hyka, arrives at his fourth lifetime start off a head score over Rondure, another Plate heavyweight, in the Queenston Stakes on June 12.
"Three things didn't go the way we expected, and he still won," offered Vella. "I ran him a bit short, we may have moved a bit early, and he got to the front and thought, 'Okay, we've won, the race is over.' So, three things that weren't what we wanted, and he still managed to get the win. That's very impressive. You forget that it was only the third start of his life, and they can still run green at that point."
The Minkster launched his career last October with a 6 ¼-length triumph at 6 ½ panels over a E.P. Taylor Course listed as good.
Two lengths in front at the stretch call, the bay dashed away from his rivals down the lane to notch the milestone victory in a time of 1:17.19.
The Minkster then moved up to the stakes ranks on October 30, where he took on 13 foes in the $250,000 Coronation Futurity Stakes, a 1 1/8-mile test on the Tapeta.
Ignored at 13-1, The Minkster, despite lugging in during the stretch drive, posted a 1 ¼-length win in 1:52.51.
Now, Vella, who has 864 career wins, will look to have his sophomore standout ready to fire in the colt's final race before the Plate.
"There are a lot of fast horses, but what really defines the better ones – I've had great horses with great personalities and great horses with bad personalities – is that they have an unbelievable tolerance for training and an unbelievable cardio system. I guess it's like great athletes. That's what I appreciate about these types of horses, that they seem to have a great capacity for training, a great capacity for recovering and a great capacity for competing. He is all of that. Sometimes you can't find the bottom… he just keeps on going.
"He worked Sunday morning and he went brilliant," continued Vella. "I got him in a minute and four-fifths. We just wanted an easy work after his work the week before (6 furlongs, in 1:10.60, handily), which was a tougher one. We just wanted to blow him out a little bit and put the final touches on him. We schooled him in the starting gate, we schooled him in the paddock, and we're ready to run."
Vella, who has two Plate trophies to his name, in 1994 with Basqueian, and in 2012 with Strait of Dover, sees a few similarities between the trio.
"Certainly, he's in the same league as them. He has that great cardio system and endurance. He trains like them. You never know until you get to that final eighth of a mile whether he's that good or not, but he definitely trains like them."
Having been down the Plate road several times, Vella's outlook on the race and life in general has changed significantly over the years.
"Life changes as you get older, right? Some little things stress you more and some bigger things stress you less. As I've gotten older, I've come to realize I understand horses a little more and people a little less."
Other Plate Trial starters include the Mark Casse duo of Hall of Dreams and Sir for Sure, Gail Cox trainees Guard of Honour and Dancin in Da'nile, and Causin' Mayhem, sent out by Todd Pletcher. ​
First post time for Sunday's card, which includes the $500,000 Woodbine Oaks presented by Budweiser, and two other stakes, is 1:00 p.m. Fans can also watch and wager on all the action via HPIbet.com and the Dark Horse Bets app.
FIELD FOR THE $150,000 PLATE TRIAL
Post – Horse – Jockey – Trainer
1 – Guard of Honour – Rafael Hernandez – Gail Cox
2 – Hall of Dreams – Patrick Husbands – Mark Casse
3 – Bill Needle (S) – Antonio Gallardo – Catherine Day Phillips
4 – Duke of Love – Justin Stein – Josie Carroll
5 – Causin' Mayhem – Kazushi Kimura – Todd Pletcher
6 – Lac Macaza (S) – Luis Contreras – Julia Carey
7 – Dancin in Da'nile – Rafael Hernandez – Gail Cox
8 – The Minkster – David Moran – Daniel Vella
9 – Sir for Sure – Declan Carroll – Mark Casse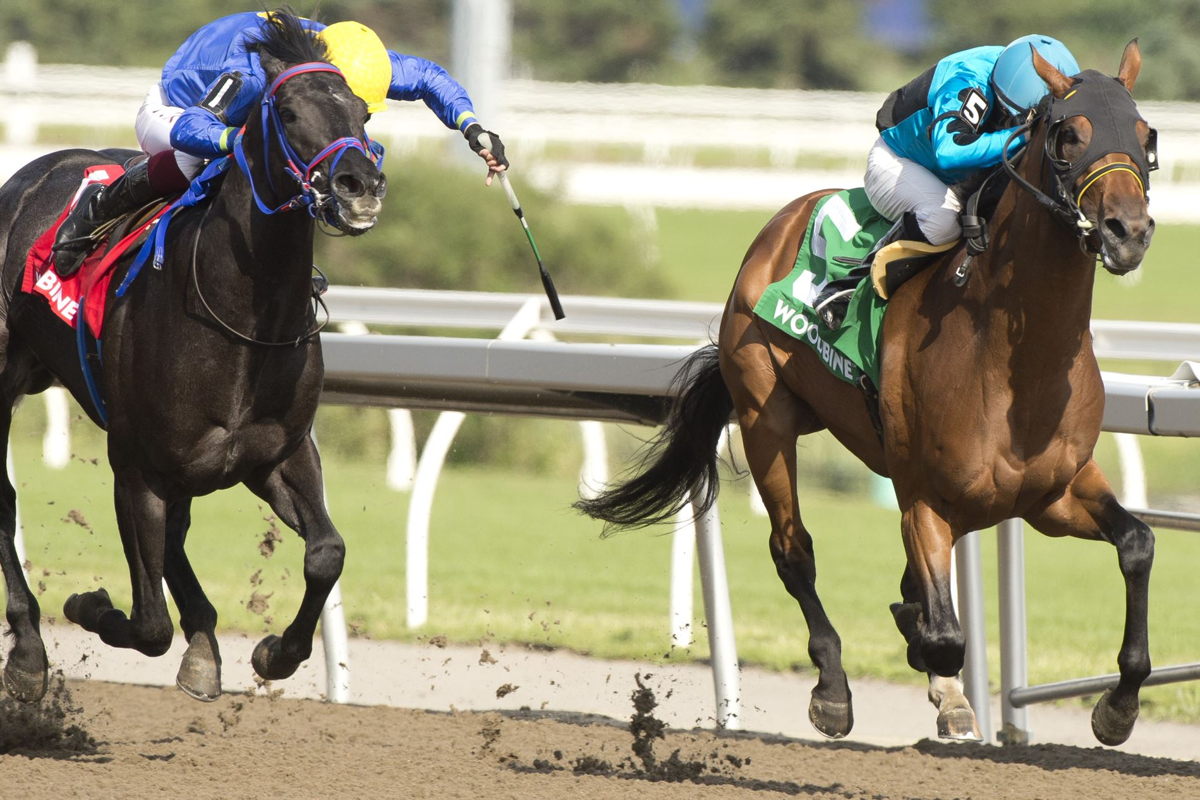 Chris Lomon Sr. Writer, Managing Editor, Woodbine Entertainment

Mark McKelvie Sr. Manager Communications, Woodbine Entertainment