Poulin in O T goes for natural hat trick in Soaring Free
TORONTO, August 18, 2022 – After a pair of top-shelf efforts, undefeated Poulin in O T goes for his third straight score in the $125,000 Soaring Free Stakes, Saturday at Woodbine.
The Soaring Free, a 6 ½ furlong turf sprint that's the colt companion event to Catch a Glimpse Stakes (also on Saturday) for juvenile fillies, has drawn 10 hopefuls.
Trained by Steve Owens, who co-owns with Empress Stable, and co-bred with Beverly Lewis-Owens, Poulin in O T is named for Canadian hockey superstar Marie-Philip Poulin.
Debuting on June 24, Poulin in O T romped to a 5 ¼-length win in a 4 ½ furlong main track race.
The chestnut son of Reload-Town Dance then stepped up to the stakes stage on July 17, facing five rivals in the 5 ½ furlong Victoria Stakes.
Sent off at 3-1, the gelding glided to the lead at the 3/8ths pole and went on to notch a 3 ¼-length triumph in a time of 1:04.71.
"We worked him really hard to get into the Victoria and put him in a position for the win," said Owens. "We had a little more time to gather him back and give him a little more energy for the Soaring Free. He's very laid back and he's very well put together. He has a very muscular physique. You couldn't ask for a nicer athlete. He's young, he's developing, and he's very laid back. If he keeps putting that together, he'll move forward."
Now, Poulin in O T will test out the turf and 6 ½ panels. Owens has faith his rookie can handle both scenarios.
"The longer distance won't be a problem. Luis [jockey, Contreras] breezed him and said he'll run a lot further. The surface, we gave him a little breeze over it on Friday. He handled it quite well. He worked in company with a filly named Stolen, who is trained by Matt Douglas. They worked head-and-head. She worked her half in :47 and 3/5, so he did that time as well. But he was on a 5/8ths mission, so he worked in a minute and 4/5 and galloped out in [1:]14. Luis thinks he really wants to stretch out, so the 6 ½ furlongs is the next step. He'll have to put on his running shoes and step up to the plate."
Other starters include trainer Mark Casse foursome Battle Strike, Ninetyfour Expos, One for Chap, and Stayhonor Goodside, and Timothy Hamm trainee Camino de Santiago.
The Soaring Free is named for the standout Sam-Son Farm homebred, who was inducted into the Canadian Horse Racing Hall of Fame in 2013. Trained by Mark Frostad, Soaring Free's 2004 Horse of the Year season was highlighted by a triumph in Woodbine's Grade 1, $1 million Atto Mile Stakes.
A dozen fillies will chase top prize in the $125,000 Catch a Glimpse, also at 6 ½ furlongs on the E.P. Taylor Turf Course.
Hopefuls include Collecting Flatter, an Ivan Dalos homebred who tries for her third win in as many starts, first-time out winner Wickenheiser, and last-time out winner Helluva Holiday.
The Soaring Free is slated as race eight on Saturday's 10-race card. The Catch a Glimpse goes as race six. First post is 1:00 p.m. Fans can also watch and wager on all the action via HPIbet.com and the Dark Horse Bets app.
$125,000 SOARING FREE STAKES
Post – Horse – Jockey – Trainer
1 – Battle Strike – Rafael Hernandez – Mark Casse
2 – One for Chap – Declan Carroll – Mark Casse
3 – Poulin in O T – Luis Contreras – Steve Owens
4 – Smoke Lightening – Antonio Gallardo – Ron Potts
5 – Ninetyfour Expos – Emma-Jayne Wilson – Mark Casse
6 – Stayhonor Goodside – Emma-Jayne Wilson – Mark Casse
7 – Phillip My Dear – Kazushi Kimura – Kevin Attard
8 – Chiseler – Patrick Husbands – Barbara Minshall
9 – Camino de Santiago – Pablo Morales – Timothy Hamm
10 – Bart's Dream – Justin Stein – Jose Francisco D'Angelo
$125,000 CATCH A GLIMPSE STAKES
Post – Horse – Jockey – Trainer
1 – Cahira's Blessing – Declan Carroll – Mark Casse
2 – Cairo Consort – Leo Salles – Nathan Squires
3 – Worldly Beauty – Sahin Civaci – Timothy Hamm
4 – Grand Oak (IRE) – David Moran – Graham Motion
5 – Collecting Flatter – Kazushi Kimura – Josie Carroll
6 – A Nite in Cairo – Pablo Morales – Timothy Hamm
7 – Helluva Holiday – Skye Chernetz – David Cotey
8 – Happy Valentine – Justin Stein – Josie Carroll
9 – Ranting – Emma-Jayne Wilson – Christophe Clement
10 – Adora – Patrick Husbands – Mark Casse
11 – Wickenheiser – Luis Contreras – Kevin Attard
12 – Alternate Rock – Rafael Hernandez – Jose Francisco D'Angelo
Chris Lomon, Woodbine Communications / @WoodbineComms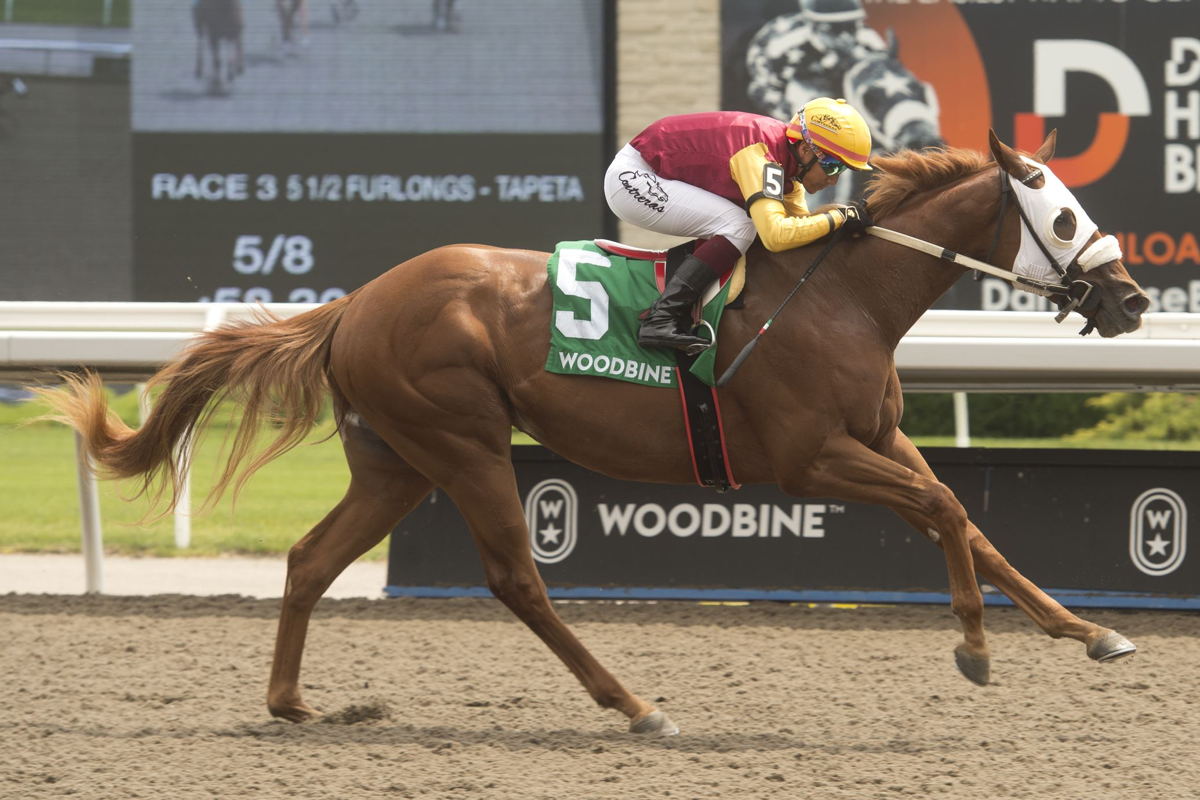 Mark McKelvie Sr. Manager Communications, Woodbine Entertainment