Return of King's Plate generates largest handle in Woodbine history
TORONTO, August 22, 2023 – The 164th King's Plate generated the largest single-card handle in Woodbine Racetrack history on Sunday afternoon.
A total of $18,127,049.67 was wagered on Sunday's 13-race King's Plate card, eclipsing the previous record of $18,005,973.60 from the 2019 Queen's Plate. The record handle is also a significant increase from last year's Queen's Plate handle of $13.6 million.
"It's exciting to have ushered in a new era for the Plate in record-breaking fashion," said Jim Lawson, CEO of Woodbine Entertainment. "We felt good about the buzz surrounding the first King's Plate in over 70 years and that was clearly backed up on Sunday through the energy of our sold-out crowd and the wagering support."
The King's Plate race, won by Paramount Prince, brought in $4,455,176.26 in wagering, including a new record Win Pool of $1,179,172.71. The 17-horse field for the Plate was the largest since 2011.
The strong wagering numbers for the King's Plate card can be attributed to many areas across the board.
The on-track handle spiked 17.6 per cent, while Woodbine's entire "Home Market Area" brought in just shy of $3 million in wagering, an 8.6 per cent increase over 2022. The "Foreign Market" wagered $14.5 million, up significantly from $10.3 million in 2022.
"Our Racing Team did a great job putting together a competitive and appealing Plate card for horseplayers," noted Lawson. "I'm very proud of our entire team behind the scenes at Woodbine for their efforts. Now we aim to carry this momentum through the remainder of the season and the upcoming major stakes in September and October."
Here are the key wagering highlights from the 164th King's Plate.
New Woodbine single-card handle record of $18.1 million, surpasses $18.0 million from 2019 Queen's Plate.

Foreign wagering total of $14.5 million, up from $10.3 million last year.

King's Plate race handle of $4.4 million, including new record Win Pool of $1.1 million.

Home Market Area wagering total of $2.9 million, up from $2.7 million last year.

Jackpot Hi-5 Mandatory Payout generated $1.2 million in "new money".

Early Pick-5 pool of $492,521, Middle Pick-5 pool of $496,788 and Late Pick-5 pool $415,173.

Late Pick-4 pool of $477,809.

Average field size of 9.6.
The 2023 Thoroughbred meet at Woodbine Racetrack continues through December 17 with several marquee dates remaining.
Saturday, September 16 – Grade 1 Ricoh Woodbine Mile, Grade 1 Johnnie Walker Natalma Stakes, Grade 1 Summer Stakes (All Breeders' Cup "Win and You're In" races).
Sunday, October 1 – Breeders' Stakes (3rd Leg of OLG Canadian Triple Crown).
Sunday, October 8 – Grade 1 Canadian International, Grade 1 E.P. Taylor Stakes
For the latest news and information on Woodbine, visit Woodbine.com or follow @WoodbineTB and @WoodbineComms on Twitter.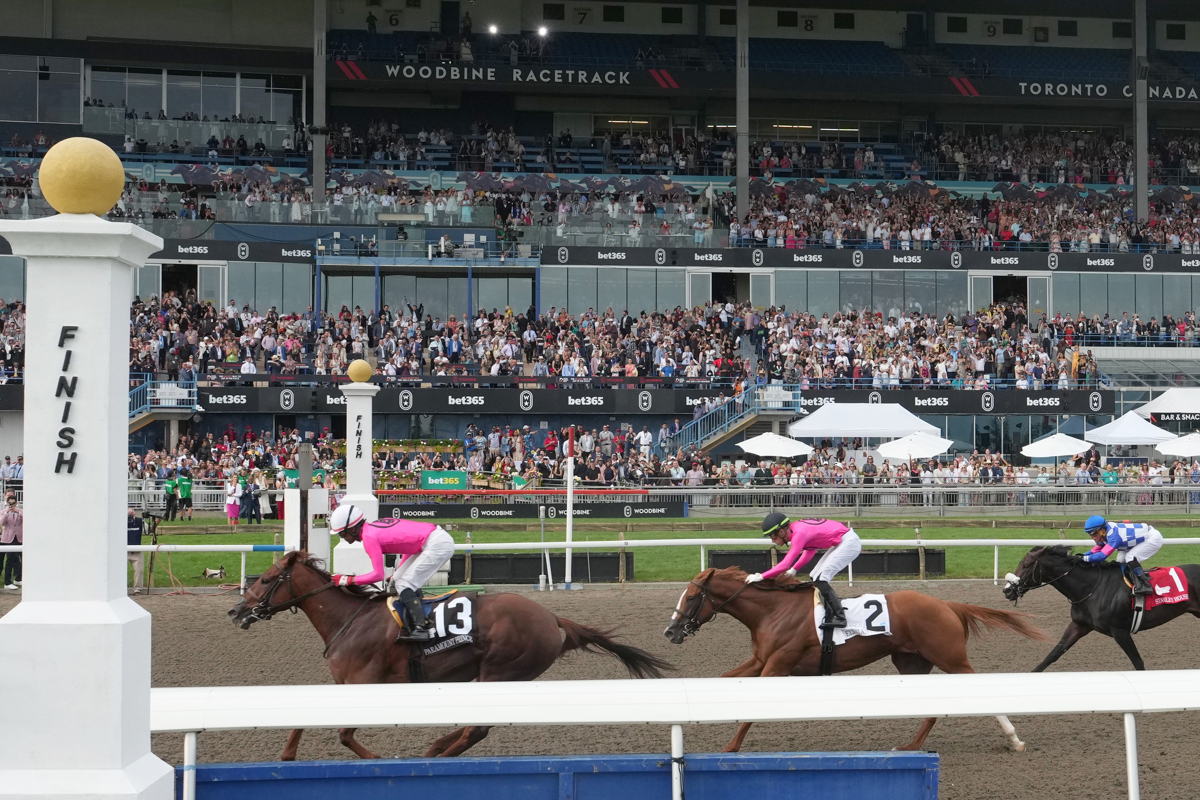 Grace Martin Communications Specialist, Woodbine Entertainment