Righteous Resolve crushes stakes record in Champlain
MILTON, September 15, 2022 – Righteous Resolve posted a stakes record time of 1:53.1 to lead a quartet of Champlain Stakes divisions for two-year-old trotters on Thursday evening at Woodbine Mohawk Park.
Both the open and filly events saw two divisions contested for Thursday's Champlain
John Bax trainee Righteous Resolve continued her winning ways with a stakes record clocking of 1:53.1 in a $83,098 Champlain division for trotting fillies.
Driver Paul MacDonell took his time with Righteous Resolve in the opening stages, as the pair got away fourth before making a move in the second-quarter. The three rivals ahead of the heavy favourite took turns on the lead with Shiny New Penny getting the top spot at the half in :57.1.
Righteous Resolve was in full flight entering the final turn to clear a sprinting Shiny New Penny, who eventually made a break after being overtaken. The Bax trainee reached three-quarters in an eye-catching 1:24.2 to lead by several lengths into the stretch. With the victory sealed, Righteous Resolve coasted home to win by 6 ½ lengths.
Proud To Be Lindy finished second, while Silly Me Hanover was third.
A daughter of Resolve, Righteous Resolve is now six for seven in her rookie campaign and his victories in the rich Peaceful Way, Ontario Sires Stakes Gold and now Champlain. Her latest score boosts her earnings over $370,000 for owners Bet Max Stables Inc. and Benenati Inc.
The Mohawk Million for two-year-old trotters is next Saturday (September 24) and trainer Bax noted he will be directing any slot offer to the filly's owners while offering high praise.
"Based on tonight I don't see anyone she can't go with."
Driver MacDonell also offered his thoughts on a potential appearance in the Mohawk Million.
"When you're up against boys you always got to be a little bit cautious," said MacDonell. "I think she deserves it, she's got power and strength and just about as much as any boy does now, so why not."
The clocking of 1:53.1 broke the previous Champlain Filly Trot record of 1:54.2, which was set by the Bax trained and MacDonell driven Stubborn Belle in 2014.
Righteous Resolve paid $2.40 to win.
The evening's $82,097 first division for fillies saw Milliondollarwall rally late to track down leader Quite Fast for a 1:56.1 victory.
Making her Grand Circuit debut, Milliondollarwall got a winning steer from driver Yannick Gingras. The pair sat second-over, four-lengths off the lead turning from home, before powering by rivals for the victory. Quite Fast finished second, beat a length, after posting fractions of :28.2, :58.2 and 1:27.2. Its Your Choice was third.
A daughter of Walner, Milliondollarwall was making just her second career start on Thursday. The Domenico Cecere trainee won her career debut at Plainridge on August 25 before her Champlain appearance. Thursday's victory boosts her earnings from $3,750 to $44,798 for owners Moni Maker Stable.
A $2 win ticket on Milliondollarwall returned $11.50.
The Champlain Open Trot saw a pair of intriguing winners, including another Bax trainee.
Oh Look Magic flashed early speed, retook the lead in the second-quarter and trotted home in :28.4 to secure a 1:54.4 victory. James MacDonald guided the Bax student to the career-best score in the $95,353 stakes contest.
Jokic rallied up the inside from sixth to finish second, beat two-lengths. Favourite International Man finished third.
A gelded son of Lookslikeachpndale, Oh Look Magic came into the Champlain after a rough trip in the Wellwood, finishing sixth. The Bax trainee had won his Wellwood elimination and is now four for seven on the season with $124,748 earned for owners Bax Stable, Glengate Farms and The Cavalier Stable.
Oh Look Magic paid $9.80 to win.
The $95,352 first Champlain Open division saw Wellwood winner Winners Bet upended late by Gaines Hanover.
Driver Louis-Philippe Roy used an aggressive approach to grab the victory with Gaines Hanover. The pair left hard and cleared to command in the second-quarter before handing the lead over at the half to Winners Bet, who had been parked out after a post-ten start.
After three-quarters in 1:25.2, Gaines Hanover angled out late and muscled by Winners Bet for a career-best 1:54.1 victory. The Wellwood winner settled for second, beat a length. What An Angel was third, while Osceola was fourth.
A son of Cantab Hall, Gaines Hanover came into the Champlain off a maiden-breaking score in an overnight on September 6. The Richard Moreau trainee is now two for five and has only missed the top-three once. The Champlain score moves the rookie trotting colt to $70,926 earned for owner Gestion J Y Blais Inc.
A $2 win ticket on Gaines Hanover returned $16.40.
Live racing continues Friday evening at Woodbine Mohawk Park. Post time is 7 p.m.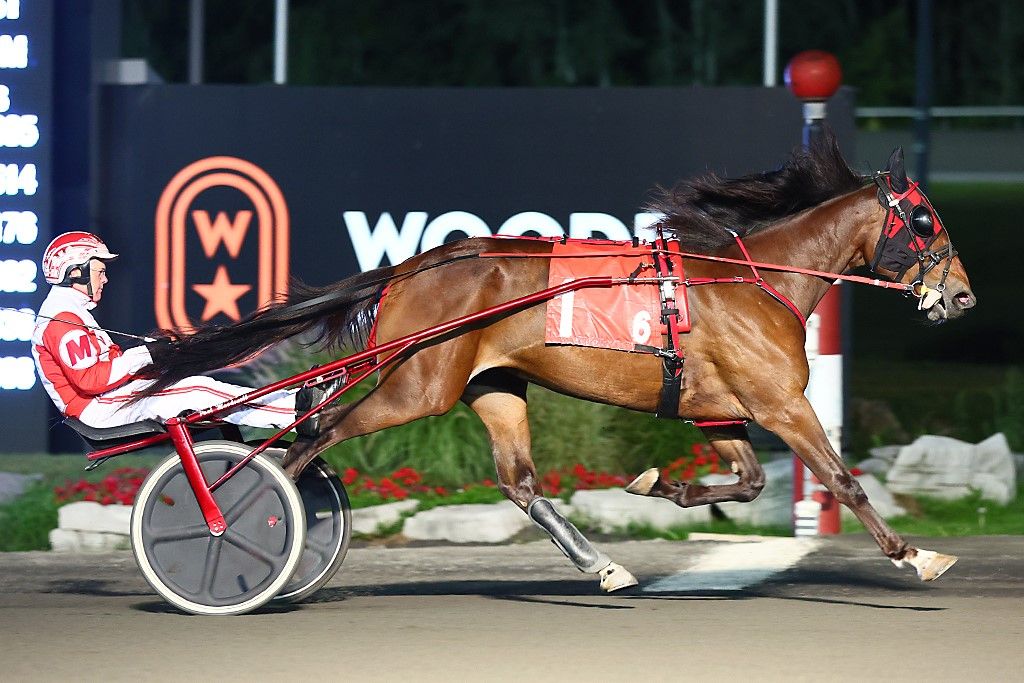 ALL REPLAYS CAN BE FOUND AT YOUTUBE.COM/WOODBINEREPLAYS.

Mark McKelvie Sr. Manager Communications, Woodbine Entertainment