SBOA Finals set in three of four divisions
MILTON, May 9, 2023 – The entry box for the SBOA Stakes for Ontario sired three-year-olds closed Tuesday morning with only one of four divisions needing eliminations.
The events for pacing colts and geldings, pacing fillies and trotting fillies did not require eliminations, while a total of 19 trotting colts and geldings entered to set up two $25,000 eliminations this Friday.
O'Brien and Dan Patch Award winner Stockade Seelster was one of 11 three-year-old pacing colts and geldings to enter for the SBOA. The Dr. Ian Moore trainee, who qualified twice in Florida before shipping back to Ontario, will have to wait another week before making his season debut on May 20.
The full field, in alphabetical order, for the SBOA three-year-old colt and gelding pace is listed below:
Bettor B Sirius
​Ikes Dream
​Joker On Jack
​Moment Is Here
​Reign Supreme
​Santana Hanover
​Sounds Good
​Stockade Seelster
​The Golden Jet
​Whatchulookin At
​Write Me A Rose
A total of nine three-year-old pacing fillies were entered for their SBOA event. Ontario Sires Stakes Super Final winner Cheesy Smile and runner-up Big Big Plans are the top earners of the group.
The John Pentland trained Cheesy Smile, along with SBOA finalists Bankers Luck, Lyons Bettorday and Freshen Up, will compete in an overnight contest on Friday.
The full field, in alphabetical order, for the SBOA three-year-old filly pace is listed below:
Bankers Luck
​Big Big Plans
​Cheesy Smile
​Freshen Up
​Grandeur Seelster
​Illusion Seelster
​Lyons Bettorday
​Savethelastdance
​Shake It Twice
The SBOA for three-year-old trotting fillies attracted 11 entrants. From those entered, eight will compete this Friday in a $25,000 prep race. The three to sit out are Baroness Hill, Enola and Northern Magenta.
The full field, in alphabetical order, for the SBOA three-year-old filly trot is listed below:
Baroness Hill
​Climb The Pole
​Enola
​Hp Extra Ice
​Its Your Choice
​Muscling Vegas
​Northern Magenta
​Shiny New Penny
​Stonebridge Bravo
​Sweet Carrie T
​Wedding Dancer
The SBOA for three-year-old colt and gelding trotters features a deep group of 19 competing this Friday. The top-five finishers from each $25,000 elimination will advance to the final on May 20.
The first elimination is led by Gregg McNair trainee Osceola (PP9, Doug McNair) and Paige Austin trainee Hasty Bid (PP3, James MacDonald). Osceola captured three OSS Gold divisions last season, earning $175,778 in 10 starts. Hasty Bid won the Wellwood Memorial Consolation and was fourth in the Mohawk Million as part of $152,821 rookie campaign.
The second elimination features a pair of standouts from the Matt Bax barn. Super Final runner-up Snowpiercer (PP4, James MacDonald) earned $178,843 in 11 starts, while stablemate Oh Look Magic (PP10, James MacDonald) made $149,370 in 10 starts.
Friday's eliminations are carded as Races 3 and 5. The full fields are listed below:
SBOA – 3-Year-Old Colt & Gelding Trot – Elimination 1
1 – Floyd The Freak (Ed Hensley/Ashleigh Hensley)
​2 – What An Angel (Louis-Philippe Roy/Desiree Jones)
​3 – Hasty Bid (James MacDonald/Paige Austin)
​4 – Zip Me Up (Phil Hudon/Mark Goddard)
​5 – Lava Field (Eddie Green/Keelan Green)
​6 – Darbyshire (TBA/Matt Bax)
​7 – Deadline Hall (Chris Christoforou/Matt Bax)
​8 – Ghostly Casper (Sylvain Filion/Ben Baillargeon)
​9 – Osceola (Doug McNair/Gregg McNair)
SBOA – 3-Year-Old Colt & Gelding Trot – Elimination 2
1 – Rough Tuff Tested (Doug McNair/Blake MacIntosh)
​2 – Musical Ride (Louis-Philippe Roy/Shane Weber)
​3 – Knowitallwes (James MacDonald/Martin Lachance)
​4 – Snowpiercer (James MacDonald/Matt Bax)
​5 – Lite The Candles (Bob McClure/Shawn Steacy)
​6 – Passarino (Jody Jamieson/Ted MacDonnell)
​7 – Nothingbutadreamer (James MacDonald/Harry Poulton)
​8 – Tuscan Prince (Louis-Philippe Roy/Luc Blais)
​9 – Crystal Baller (Eddie Green/Keelan Green)
​10 – Oh Look Magic (James MacDonald/Matt Bax)
Post time for this Friday and Saturday's cards is 7 p.m.
For more information and updates, visit Woodbine.com/Mohawk or follow @WoodbineSB and @WoodbineComms on Twitter.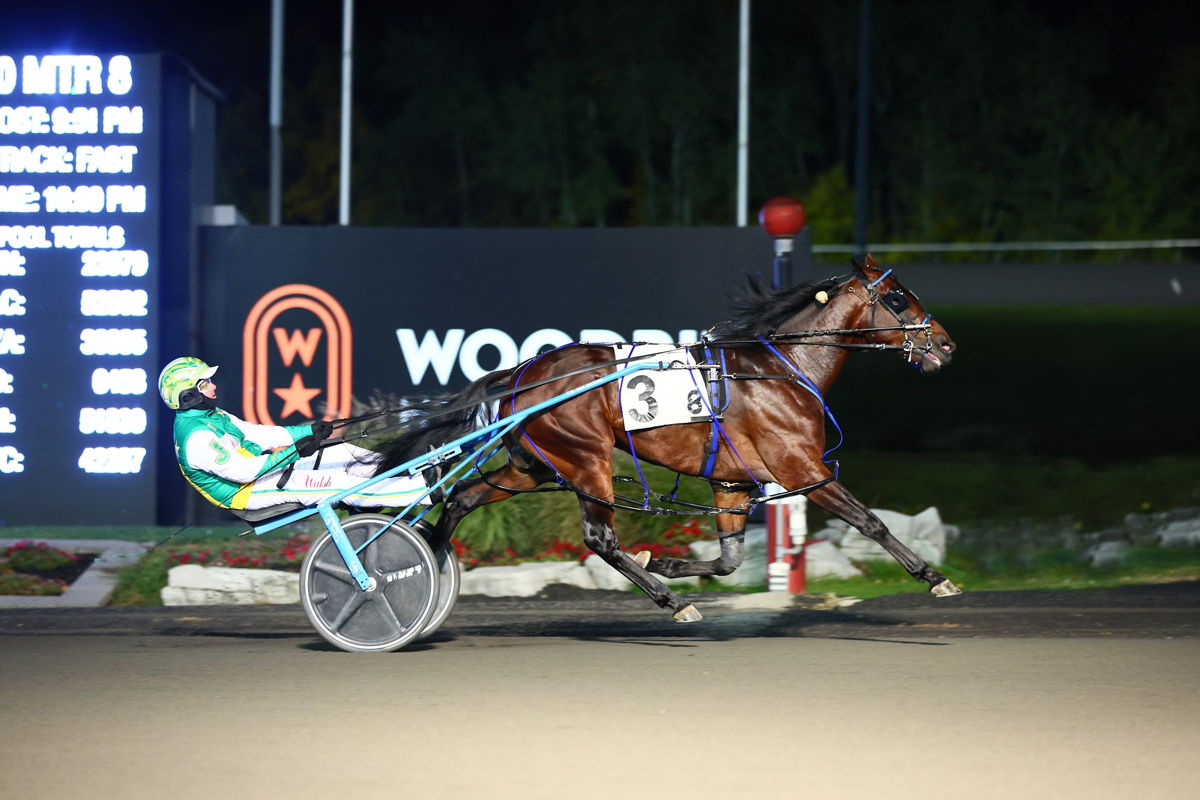 Mark McKelvie Sr. Manager Communications, Woodbine Entertainment