Secret Reserve looks for smoother trip in Grade 2 Kennedy Road
TORONTO, November 17, 2022 – Secret Reserve will chase his second graded stakes crown when he goes postward in Sunday's Grade 2, $175,000 Kennedy Road, at Woodbine.
Trained by Mike Mattine for Carlo D'Amato and Stacey Van Camp, Secret Reserve will take on 10 rivals in the 6-furlong main track race for 3-year-olds and up.
The Ontario-bred heads into the Kennedy Road with a 5-1-2 mark from 11 starts. This season, the 4-year-old son of Giant Gizmo is 1-0-2 from four starts.
In his most recent effort, in the Grade 3 Vigil on September 25, Secret Reserve endured a difficult trip, where he was blocked and then steadied at the 3/16th pole, winding up third, 1 ½ lengths behind the winner, Lucky Score, who is also set to contest the Kennedy Road.
"It was just a tough trip, but it's racing, and that happens," said Mattine. "He's been training well since the race. He loves to train. He's a happy horse and he's looking to run. He's very eager to race again. He's a very honest horse and he puts it all out there. He gives you an honest effort every time you bring him over."
Secret Reserve wasted no time in breaking his maiden, recording a 2 ½-length triumph in a 5-furlong Tapeta race in his debut on September 12, 2020.
After a fifth next time out, he then rattled off three straight wins, including back-to-back stakes victories in the Elgin and Lake Superior.
The bay notched his first graded stakes success in this year's edition of the Grade 3 Bold Venture in August.
"It was a really nice effort," praised Mattine, of the 10-1 score in the 6 ½-furlong main track race. "Everything went according to plan. It was a perfect trip, and he was very impressive in how he was able to win. The whole key is to get a good position for this race. There are going to be some tough horses in there, so hopefully he can get a good trip again and we'll see what happens. The one sure thing is that he'll show up like he always does."
After the Kennedy Road, Secret Reserve will head to a farm in Orangeville, a little less than an hour's drive northwest of Woodbine.
"He's just a really nice horse to have in the barn. He's just a normal racehorse. But when it's time to breeze, he knows what's happening. He gets aggressive and pumped up. He's just a happy horse. He eats his mints and carrots, and he loves honey-dipped donuts. He definitely enjoys those."
Other starters include multiple graded stakes winner Silent Poet, and graded stakes winner Arzak (KY).
Pink Lloyd won three runnings (2017, 2019 and 2021) of the Kennedy Road. Stacked Deck (2015, 2016) and Blitzer (1994, 1995) have both won the race twice. Mr. Hot Shot won the inaugural edition in 1989.
First post on Sunday's 10-race card is 1:20 p.m. Fans can watch and wager on all the action through HPIbet.com and the Dark Horse Bets app.
GRADE 2 KENNEDY ROAD STAKES
Post – Horse – Jockey – Trainer
1 – Lucky Score – Leo Salles – William Armata
2 – Roaring Forties – Declan Carroll – Katerina Vassilieva
3 – Mason's Gamble – Patrick Husbands – Josie Carroll
4 – Rockcrest – Keveh Nicholls – Nigel Burke
5 – Candy Overload – Sahin Civaci – Mark Casse
6 – Red River Rebel – David Moran – Kevin Attard
7 – Striker – Luis Contreras – Josie Carroll
8 – Secret Reserve – Rafael Hernandez – Mike Mattine
9 – Ice Chocolat (BRZ) – Sahin Civaci – Mark Casse
10 – Silent Poet – Justin Stein – Nick Gonzalez
11 – Arzak – Kazushi Kimura – Michael Trombetta
Chris Lomon, Woodbine Communications / @WoodbineComms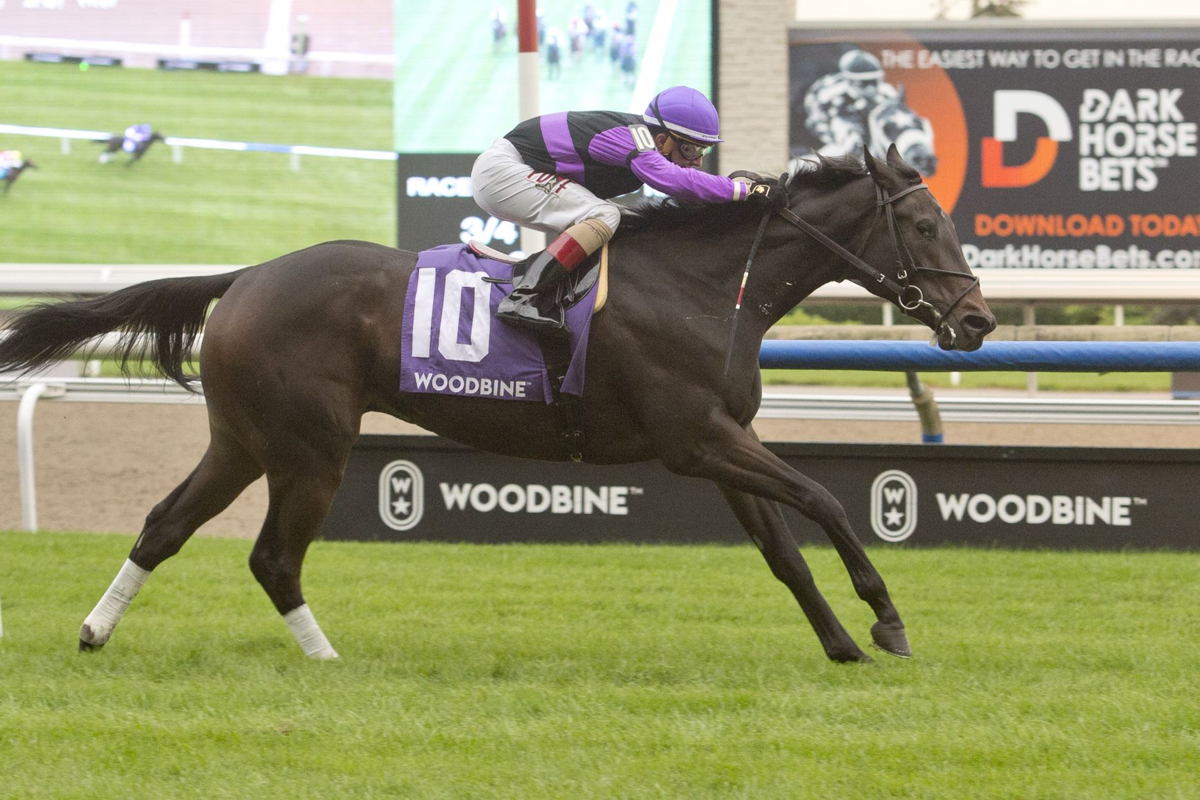 Grace Martin Communications Specialist, Woodbine Entertainment