Slay recovers for dramatic Canadian Trotting Classic win
MILTON, September 24, 2022 – Despite making a break in the late going, Slay quickly reset and was able to rally and haul down leader Pretender to win the $615,000 Canadian Trotting Classic for three-year-old trotting colts a main feature of Woodbine Mohawk Park's richest night of racing.
The Chapter Seven colt was following in the hoof prints of his older brother who won this same event last year.
The race was marred by several of the sophomores making uncharacteristic breaks including last year's O'Brien Award winner Duly Resolved who made a costly miscue (the first of his career) as the gate left. Not long afterwards another top Ontario Sires Stakes colt, Twin B Archie, went on a gallop.
Pretender took the overland route to grab the lead from post nine for Andrew McCarthy and hit the opening quarter in :27.1 and was by the half in :56 flat. As they headed towards the third panel race favourite Branded by Lindy looked to be grabbing a perfect second up trip but suddenly broke stride.
Pretender took the field by the three-quarters in 1:23.3 with Slay in second but that colt, driven by Joe Bongiorno, suddenly went offstride but quickly got back on gait and was able to get up the inside to win in 1:52.1. Pretender had to be content to take second with Fast As The Wind third and King Of The North fourth.
There were several anxious moments for the winner's connections as the judges studied the video of the final quarter to ensure Slay lost ground while on a break which they agreed he did and the results stood.
"We just got a little bit jammed up in there, he caught a boot. It was surprising to me as it probably was to everyone else, it was very uncharacteristic for him. Like a great horse does, he got back really quick. I figured going for this kind of money I just had to drive him through the wire and let the judges make their decision," explained Bongiorno.
"I was worried but after speaking with the judges I was pretty confident. Me and Tony (trainer Alagna) we've had a lot of success here, that's for sure. This is a great and I'm just really happy for the connections."
"He got out of there good, he's a real tactical horse. He's pretty handy. I was as shocked as anyone (when he broke), it made sense he caught a boot the way his head dropped. We just had to wait and see that hopefully he didn't interfere with anybody," said Alagna.
"He showed determination, this horse really likes to win. It's kind of fun because we brought his brother up here last year, Ahundreddollarbill, and he won the Canadian Trotting Classic so to have to full brothers win it back to back years, both owned by the Crawfords, it's special," added Alagna whose stable also took third place.
"Fast As The Wind raced phenomenal tonight, he came out of the 10 hole to be third," he said adding that the pair will leave tomorrow for Lexington and likely both be entered into the Kentucky Futurity.
For Slay, owned by Crawford Farms Racing and James Crawford, it was the fifth win in 12 attempts this season. The colt upped his 2022 bankroll to $594,000 this year and over $700,000 lifetime. Bred by Jonas Schlabach, Slay is the second foal of his dam, Swinging Royalty, and remarkably both have now won the coveted Canadian Trotting Classic.
Heather MacKay for Woodbine Communications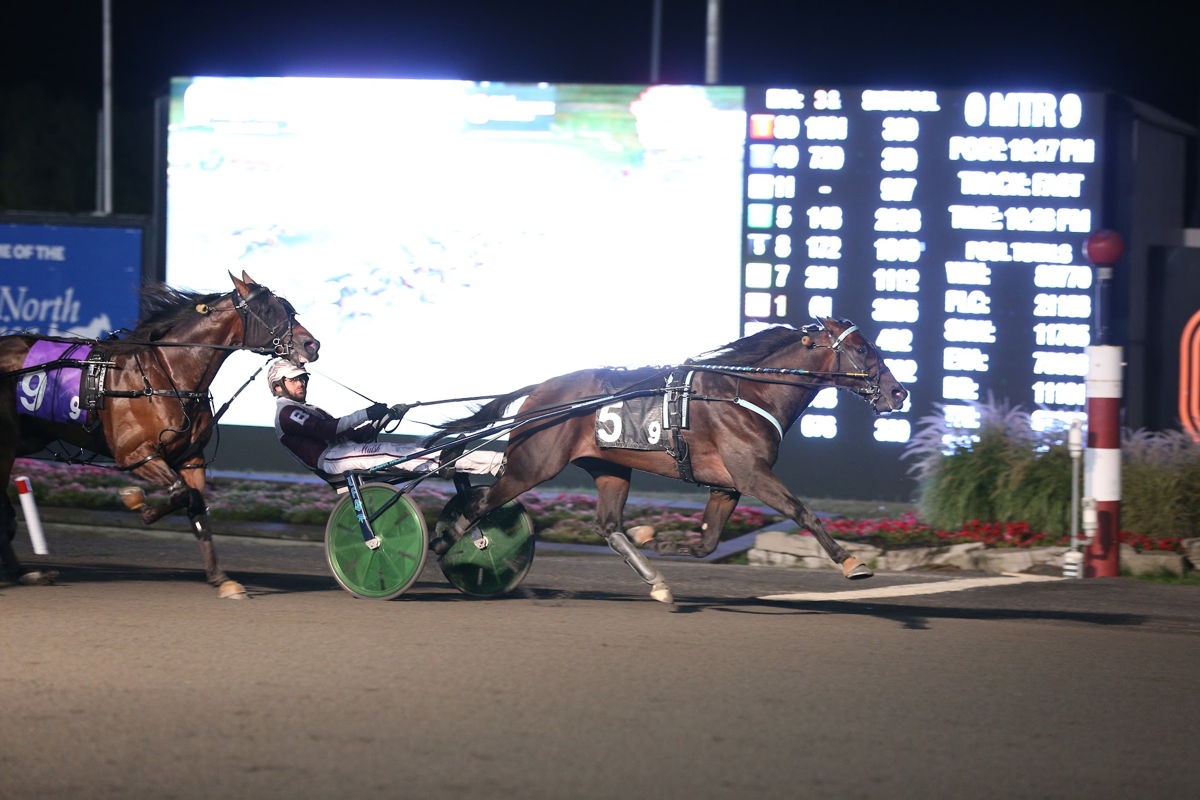 Mark McKelvie Sr. Manager Communications, Woodbine Entertainment