Stormy Silence zips into Zadracarta
TORONTO, September 1, 2022 – Stormy Silence, trained, co-bred and co-owned by Shelley Fitzgerald, will test out the stakes ranks for the first time in Sunday's $100,000 Zadracarta at Woodbine.
With two wins in as many starts, Stormy Silence, a daughter of Silent Name (JPN)-Endless Approval, will go for the natural hat trick when she faces 11 rivals in the 5-furlong event for Ontario-bred fillies, 3-year-olds and up, to be contested over the Inner Turf.
Fitzgerald, who co-bred and co-owns the filly with Martin Wickins, is hopeful her 4-year-old, unraced both as a rookie and sophomore, can keep her winning form intact.
"We always really liked her," said Fitzgerald. "By the time she was born, she looked beautiful. By four months, she had developed really nicely behind. She had a lovely attitude. She's a lot like her mother, but she has a better hip on her, so she should be a little faster than her mom, who was a good horse too. We've been really happy with her all along."
The dark bay debuted on June 18, pulling off a 25-1 upset in a 5-furlong sprint on the Inner Turf.
"We knew she was good, and we knew she was fast. I hadn't really been aiming for that race, but she was ready. There were other races that didn't end up going, so we thought we'd put her into that race and see what happened. She just handled it like it was a morning gallop. She really impressed us. It was very exciting."
As was the next start for Stormy Silence.
There were a few notable differences from her career bow, namely, an extra furlong, a different turf course, and a much lower number on the tote board.
The end result, however, was quite similar.
Sent on her way as the even-money choice, Stormy Silence crossed the line a 2 ¾-length winner in the 6-panel trek over the E.P. Taylor Turf Course.
"The second time, it's a different turf course, so you don't know how they are going to handle that. But she's handled everything. She acts very professional. When we paddock-schooled her, she was a little wound up for about 10 minutes and then she completely settled down as if to say, 'Wow, this is okay. I can handle this.' As soon as she understands a situation, it's no problem. She's got it. She's feisty, but she's a sweetheart. We love her."
Fitzgerald has saddled six stakes starters, by design, over her career. Her top finish came with Bold Thing in the 2007 New Providence when the son of Bold n' Flashy was third, at 25-1, just a neck back of the runner-up, in the 6-furlong main track race at Woodbine.
The long-time conditioner is hoping the seventh time is the charm.
"It's new territory for me. I try to steer away from stakes if I can and stay realistic and try to find somewhere where they can run well. She's already proven herself at five-eighths on the Inner. I was aiming for a race two weeks ago, but it didn't fill, so this was the next appropriate spot to run her in. It just landed that way, so we're going to give it a shot and see what happens."
Sahin Civaci, aboard for both wins, will once again be in the saddle.
"He liked her right from the start," said Fitzgerald. "He's very happy to be partnered with her and he rides her so well."
The Zadracarta is race six on Sunday's 10-race card. First post time is 1:00 p.m. Fans can watch and wager on all the action through HPIbet.com and the Dark Horse Bets app.
FIELD FOR THE $100,000 ZADRACARTA
Post - Horse - Jockey - Trainer
1 – She's a Dream (S) – Luis Contreras – Josie Carroll
2 – Hell N Wild – Kazushi Kimura – Lorne Richards
3 – Amalfi Sky – Antonio Gallardo – Kevin Attard
4 – Green Gables – Jason Hoyte – Tedston Holder
5 – Forest Drift – Daisuke Fukumoto – Robert Tiller
6 – Millennium Force – Rafael Hernandez – Martin Drexler
7 – Jill – Emma-Jayne Wilson – Barbara Minshall
8 – Stormy Silence – Sahin Civaci – Shelley Fitzgerald
9 – Spanish Ballerina – David Moran – Frank Huarte
10 – Marie MacKay – Justin Stein – Danny Vella
11 – Lorena – Gary Boulanger – Stuart Simon
12 – Owen's Tour Guide – Leo Salles – William Armata
Chris Lomon, Woodbine Communications / @WoodbineComms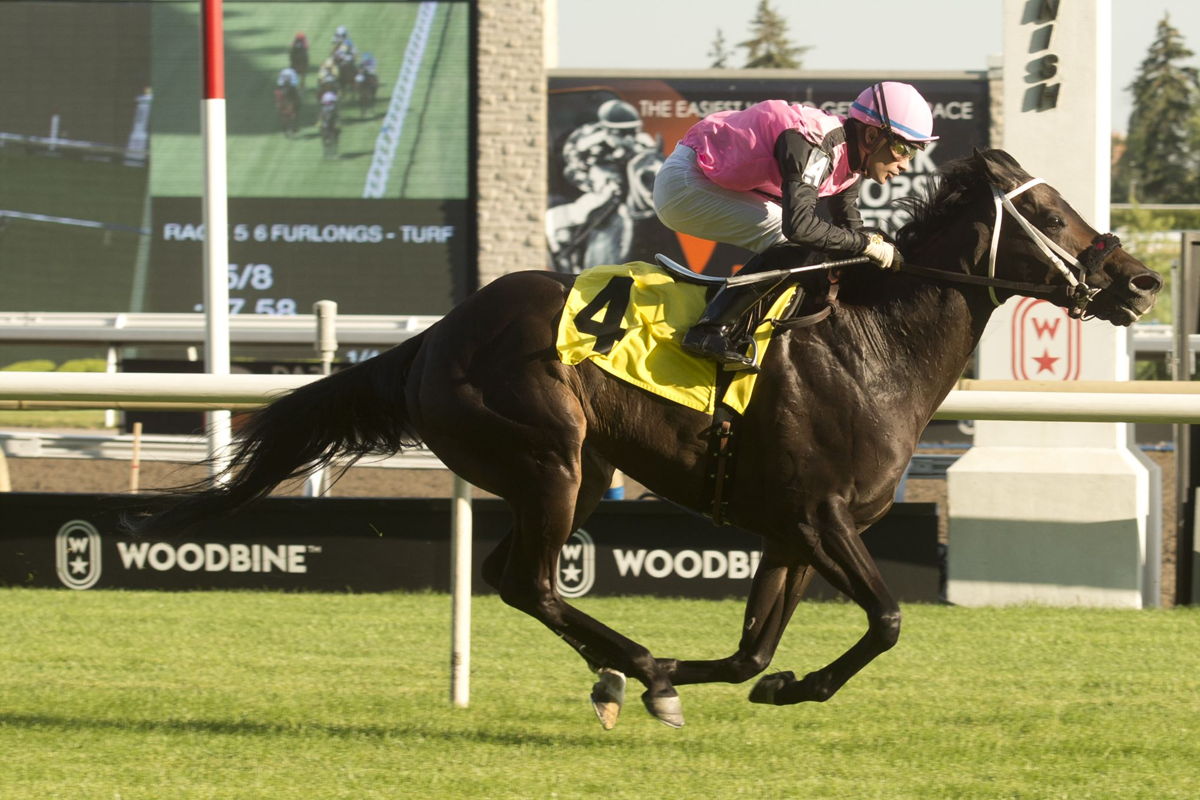 Grace Martin Communications Specialist, Woodbine Entertainment