Sunrise Therapeutic: The Horse Path To Brighter Days
Chris Lomon, Woodbine Communications
Whenever the horses stride out of the mounting area on the scenic 102-acre property, fears and tears are replaced by a sense of calm and wide-eyed smiles.
​
​The beautiful bond, the one between horse and human, is a daily occurrence at Sunrise Therapeutic Riding & Learning Centre. In this place, children and adults with special needs come to take part in a wealth of programs, including therapy, recreation, horse riding, life skills, farm related activities and education.
​
​Lynne O'Brien, Executive Director with Sunrise, has seen, first-hand, the life-changing moments that happen for those who visit the sprawling home of Sunrise, namely, Puslinch, a picturesque township located about a 15-minute drive from Guelph and Cambridge.
​
​"When our riders arrive, the first day is a 'get to know each other' session, an assessment process," O'Brien started. "We have a therapist here working with our instructor, as well as occupational or physical therapists who are also here to help. After that initial session, the rider is mounted. More often than not, these clients have never ridden a horse. Sometimes, there is a little upset and emotion, maybe even a little fear."
​
​One glimpse of the horses usually calms those feelings.
​
​"Once they are on the horse and the horse walks out of the mounting area, it's immediate – the calming effect and the excitement. Almost right away, it's a feeling of 'This is my horse.' That's the powerful motivator in our therapy." ​
​
​Founded in 1982 by Ann Caine, who remains part of Sunrise as one of its board members, Sunrise went from a nomadic, seasonally-operated existence in its infancy to their permanent farm home in Puslinch, starting in 1996.
​
​"When we moved to Puslinch, we really started to grow, to expand our scope and what we were able to offer to those who come to the property," said O'Brien. "We moved around a lot, and the weather affected a lot of what we could and couldn't do. Having the indoor arena has made a huge difference for us."
​
​The farm has become a haven for those with special needs, a serene spot offering a wealth of programs and opportunities to interact with the 25 horses residing on the property.
​
​Connections with the horses is almost always immediate.
​
​"You never get tired of it, seeing those smiles," said O'Brien. "And that's what Sunrise is all about. Those smiles and those bonds they are always so inspiring and so moving. Our therapy horses, which are donated to Sunrise, are so wonderful. They come to us on a trial basis where we establish if they are suited to this work. Each therapy lesson involves a volunteer, a horse on a lead line, and two side walkers, possibly, on either side of the horse. We have music during lessons, lots of singing, games, props – just lots going on. Our therapy horses can deal with all of that noise and movement, and it enables them to make that bond with our riders."
​
​It's not only the riders who take away something from the experience.
​
​Parents and family members of those taking part in the programs are afforded a bird's-eye view of the various activities.
​
​"It's a special time for the families too," noted O'Brien. "We have a viewing lounge upstairs where parents can watch the riding lessons – there are never more than four riders for group lessons – and it's a nice time for them, a social time where they can have conversations and share information with each other. But it's also a chance to see the connections their children are making with the horses." ​ ​ ​
​
​The horses at Sunrise are sponsored by various individuals and companies, including Woodbine Entertainment, through its Woodbine Cares Community Investment Program, a micro-grant for charitable organizations that create vibrant and connected communities and foster a love of horses and/or address the environment and sustainability.
​
​The program supports Cadbury, a six-year-old bay Clydesdale/Hackney cross.
​
​"Cadbury is just a wonderful horse, very compatible with many of our clients and is able to have that therapeutic relationship with people who use assisted devices or have cognitive issues," said O'Brien. "Cadbury has only been with us a few years, but he's fit into the programs so nicely. He's participating in a new program with Sunrise called Equine Assisted Learning. It isn't riding but working with horses on the ground. It's a program that we developed after COVID affected a lot of what we were doing. He's an amazing horse and we love him."
​
​O'Brien is grateful for the widespread backing Sunrise continues to receive.
​
​"It's our 40th anniversary. For a small non-profit, that's a pretty wonderful milestone to reach. We're very established in our communities and we're so grateful for their support, as individuals, corporate, other non-profits, service clubs, foundations – so many people have got behind therapeutic riding, including Woodbine. We have clients that come in from Guelph, Hamilton, Burlington, Elmira, Toronto, Mississauga, and many other places. It's not just our local community that supports us, but the broader communities as well. All of that help; it really makes a huge difference in what we do."
​
​Which is something staff at Sunrise hear often, that they are making an impact on the lives of many.
​
​"Riding horses at Sunrise is the only activity that she has participated in on a happy, regular basis in her whole life," read a letter to Sunrise. "Her love of horses and her understanding and interest in their care has been an anchor in her life."
​
​Words staff at Sunrise have heard on countless occasions.
​
​Those who make their way to Sunrise will discover the road leading into the property isn't a short drive.
Instead, it is a tranquil path designed to take thoughts to a happier place.
​
​"We have a long laneway, so we try to make it where during that drive in, people leave behind all the problems associated with disability," offered O'Brien. "Once they arrive at the arena and barn area, it's all about their abilities and positivity. It is their place, somewhere we want them to feel completely comfortable, and not focused on what they cannot do, but what they are going to learn and the wonderful things they can look forward to."
​
​To learn more about Sunrise Therapeutic and their programs click here. ​ ​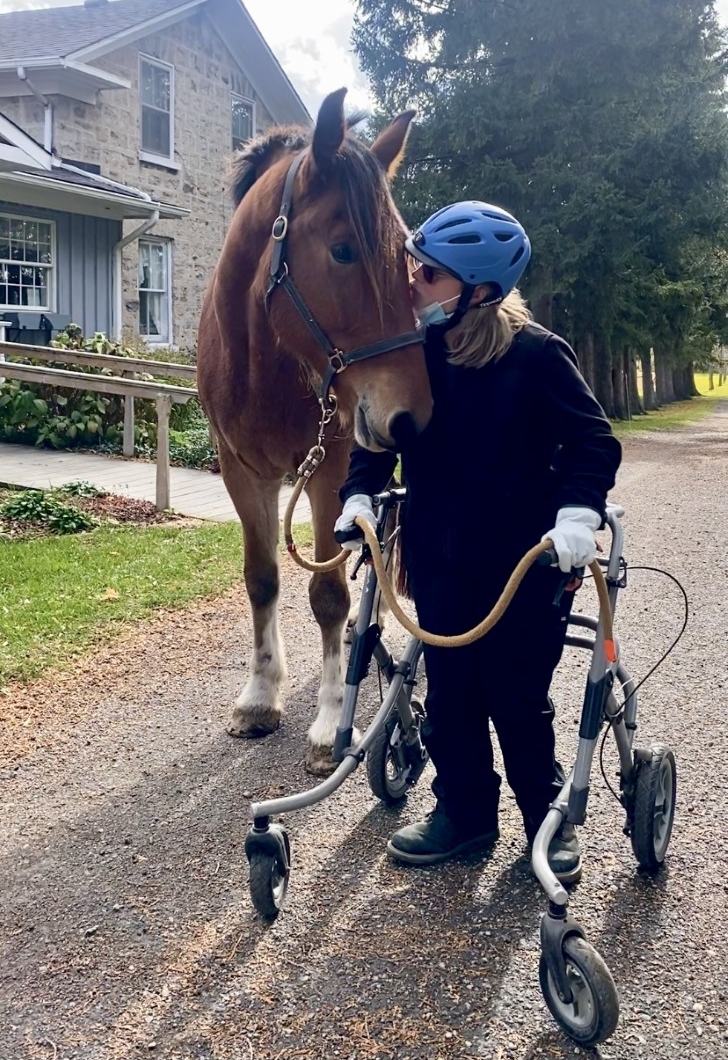 Chris Lomon Sr. Writer, Managing Editor, Woodbine Entertainment