Test Of Faith passes Milton Stakes test with flying colours
MILTON, September 17, 2022 – Test Of Faith didn't have the easiest of trips, but she somehow found a way to make it look easy in taking the $230,000 Milton Stakes, Saturday night at Woodbine Mohawk Park.
The journey to the winner's circle didn't play out as her connections envisioned, but one of the sport's top pacing mares navigated her way to yet another dominant triumph against a talented group of rivals.
It was Watch Me Now N who sprang to the front soon after the field of 10 was sent on its way under the Milton oval's lights, with Amazing Dream and Grace Hill lining up second and third, respectively. David Miller, in rein to Test Of Faith, wasn't able to find a spot along the rail, and powered on into the first turn.
Watch Me Now N set the tone through an opening quarter in :26.3, but Grace Hill, who won her Milton elimination last week, was soon on the march and wrested the lead away from the pacesetter. Miller then called upon the 4-year-old daughter of Art Major-Cannae Cammie and ushered her to the front just prior to the :54.2 half.
Now in charge, Test Of Faith, last year's U.S. Horse of the Year, took the field through three-quarters in 1:21.1.
After an action-filled trip, the bay mare was then tasked with holding off her foes down the lane.
Test Of Faith, under the tutelage of trainer Brett Pelling, was up for the challenge.
Holding a 2 ½-length advantage at the stretch call, she crossed the wire a 2 ¼-length winner, stopping the teletimer in a stakes-record time of 1:48.1, just one-fifth of a second off the track and Canadian record.
"She was very sharp tonight," praised Miller. "I didn't want to be first-up tonight, and I didn't want to be coming from fourth, so I thought I'd go ahead and try to get her around a few, and a couple from the outside left. She was getting away fourth again, liked I kind of figured, and when Doug [McNair, driving Grace Hill] moved, I went with him. She takes care of herself, she takes her time. But tonight, when she crossed over, she usually just relaxes, but she actually took of hold of me, and I felt pretty confident."
It was the 30th career victory in 39 starts for the superstar who swept the pair of mare hardware offered by Woodbine Mohawk Park after coming up roses in the Roses Are Red earlier this year.
Pelling continues to marvel at his uber-talented superstar.
What is it that makes Test Of Faith, who recently eclipsed $2 million in lifetime earnings, so great?
"She just does nothing wrong. Like David said, you can't really drive her bad. You just do anything you want with her and that's what makes her special. There's no real trick to her. She is just absolutely a total professional. That was probably one of her better runs tonight just because of the action in the race, and the way race set up. It ended up being a great race. She really looked like she was toying with them which was pretty awesome for me to see."
Owned by Melvin Segal, Kentuckiana Racing Stable and Eddie Gran, Test of Faith was bred by Frederick Hertrich.
She paid $2.70 for the win.
The trophy presentation was made by Gord Krantz, Mayor of Milton, a post he has held since 1980.
Chris Lomon, Woodbine Communications / @WoodbineComms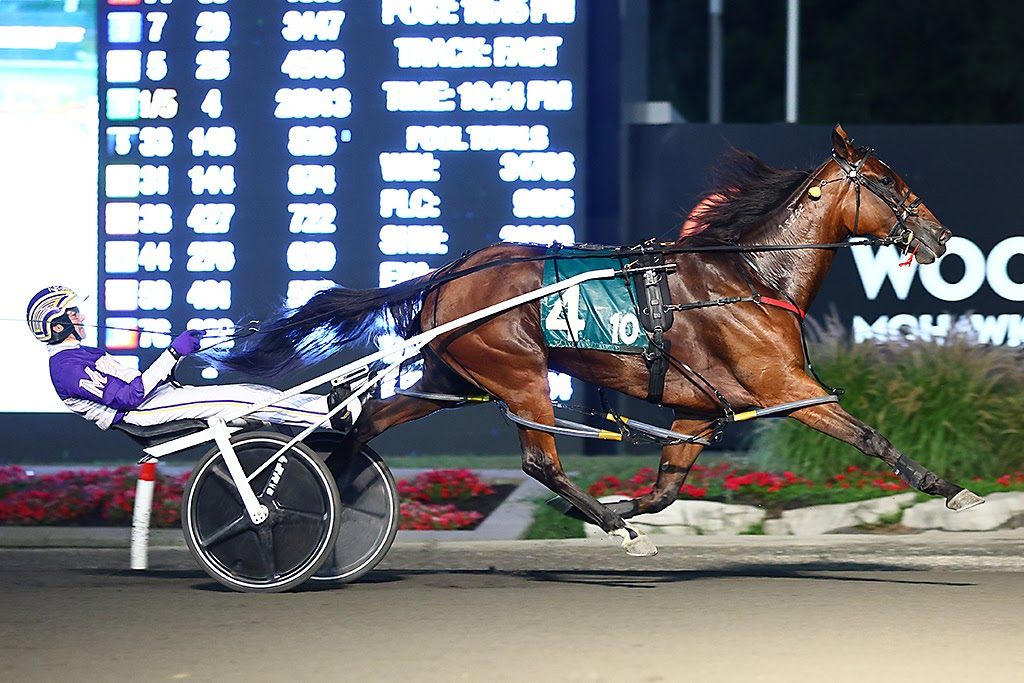 Mark McKelvie Sr. Manager Communications, Woodbine Entertainment