Told It All looks to claim Crimson crown
TORONTO, November 26, 2021 – Suzanne Drake is seeing grey ahead of the $50,000 Crimson Handicap, Saturday at Woodbine.
​
​Nine hopefuls, including Told It All, a grey son of Big Screen, are set to go postward in the Crimson, a seven-furlong Tapeta race for three-year-olds and upward, who have started for $20,000 or less since January 1, 2020, and started three times at the 2021 Woodbine meet.
​
​Drake, who trains and co-owns with Joseph Pollard and Paul McLean, claimed Told It All – the price tag was a mere $9,500 – for the partnership in his second start of the 2021 campaign, on July 11.
​
​The conditioner deflects praise for the astute claim of the now four-year-old, who won the Elgin Stakes last year, but endured a rough patch last fall.
​
​"It was one of the owners of the group we have that came up with the idea to make the claim," said Drake. "Our horse, Benlion, finished second (at 73-1) to Told It All when he won the Elgin."
​
​A change in scenery has led to a change in fortunes for Told It All. After winning his first start, at 27-1, for Drake and co. on August 27, he finished sixth in another turf race on September 19.
​
​Soon after, the Spring Farm-bred gelding hit his best stride.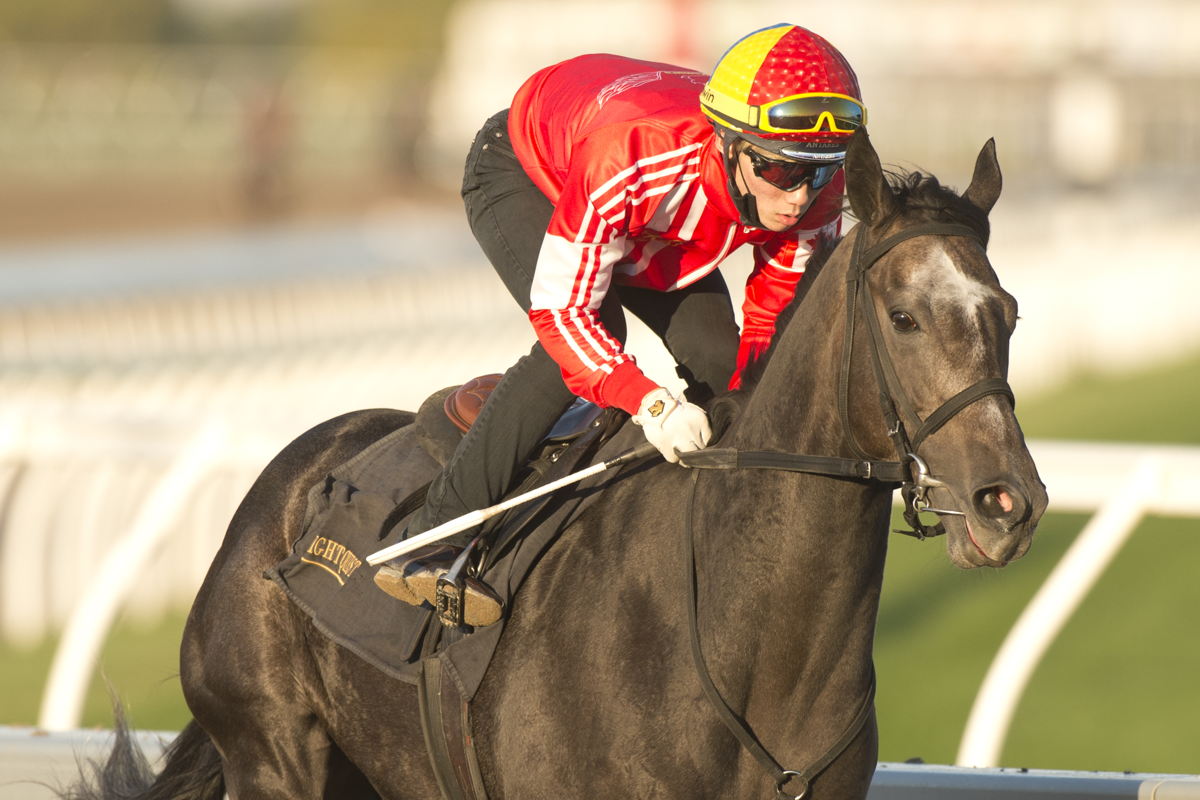 Three weeks after his off-the-board finish, Told It All stepped up to the stakes ranks to tussle with some of the Toronto oval's most decorated competitors.
​
​He finished third to multiple stakes winner Not So Quiet in the Overskate on October 9 and second to Canadian sprint superstar Pink Lloyd (who will contest his final race in the Grade 2 Kennedy Road, also on Saturday) in the Ontario Jockey Club Stakes on November 7.
​
​"Isn't that something?" offered Drake. "They were both really great efforts. He's just been great, a very honest, hard-trying horse and a really fun horse too. I can't say anything ill about him. He's just a very nice horse."
​
​Now, Told It All will travel seven panels on the Tapeta and go after his fifth win in his 16th lifetime start.
​
​"I'm really looking forward to the Crimson Handicap," said Drake. "When he gets the trip he kind of needs, you're going to get a really nice run from him. He really tries. I can't say enough good things about him. He's marvelous. He's a real crowd-pleaser. He's a bit of ham and he knows when people are looking at him. He's really, really cool."
​
​The Crimson is complemented by the $50,000 Scarlet Handicap, mirroring the same conditions, but for fillies and mares, three-year-olds and upward.
​
​First post is 12:55 p.m. The Crimson is slated as race seven and the Scarlet as race nine. Fans can watch and wager on all the action through HPIbet.com and the Dark Horse Bets app.
​
​
​FIELD FOR THE $50,000 CRIMSON
Post – Horse – Jockey – Trainer
1 – Sunspear – Keveh Nicholls – Ian Black
​2 – Lapochka – Shaun Bridgmohan – Willie Armata
​3 – Told It All – Daisuke Fukumoto – Suzanne Drake
​4 – Kitten's Solution – Rafael Hernandez – Steven Chircop
​5 – Shangassah – Luis Contreras – Alison Crook
​6 – Sir Seamus – Gary Boulanger – Alexander McPherson
​7 – Selfmade – Emma-Jayne Wilson – Zeljko Krcmar
​8 – Brass Compass – Mauricio Malvaez – Harold Ladouceur
​9 – Sandy Bay – Sahin Civaci – Martin Drexler ​

​FIELD FOR THE $50,000 SCARLET
Post – Horse – Jockey – Trainer
1 – A Little Voodoo – Luis Contreras – Denyse McClachrie
​2 – Leon Azul – Kirk Johnson – Alison Jennings
​3 – Mopolka – Emma-Jayne Wilson – Steven Chircop
​4 – Cool Society – Gary Boulanger – Steven Chircop
​5 – I'll Take the Gold – Skye Chernetz – Bonnie Eshelman
​6 – A Broken Breeze – Rafael Hernandez – Norman McKnight
​7 – Marais – Sahin Civaci – Don Pleterski
​8 – Antigone – Kazushi Kimura – Martin Drexler
Woodbine Communications / @WoodbineComms
Lindsay Bax Assoc. Manager Marketing - Wagering, Woodbine Entertainment