Valedictory Stakes part of 14 races on final card of 2021 Woodbine Thoroughbred season
Woodbine Communications / @WoodbineComms
TORONTO, December 2, 2021 – The Grade 3 $150,000 Valedictory Stakes, set for 1 ½-miles on the Tapeta, has attracted 14 starters, including Theregoesjojo, Sunday at Woodbine.
​
​The marathon test, for three-year-olds and up, is the final added-money event on the 2021 Woodbine Thoroughbred calendar, and one of 14 races featured on the last card of the season at the Toronto oval.
​
​Theregoesjojo, trained by Michael De Paulo for owner Samotowka Stables, will look to make it back to the winner's circle for the first time since last October.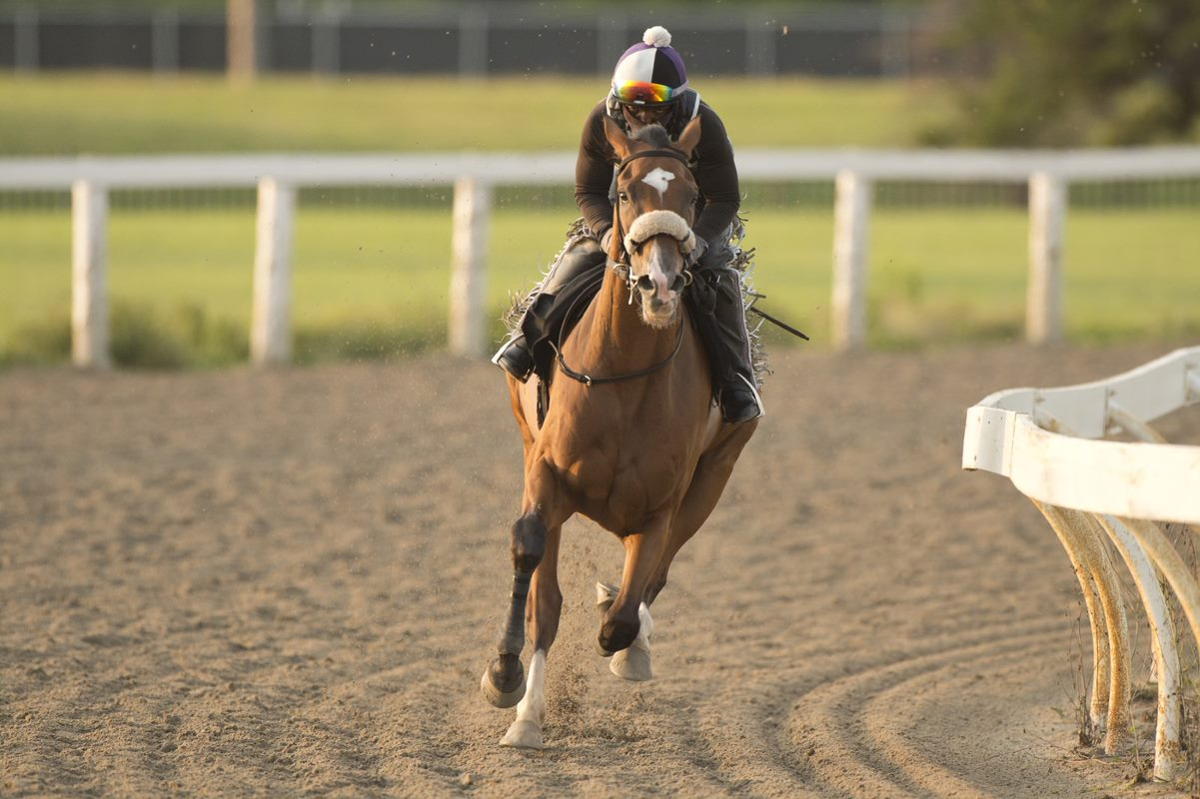 The six-year-old son of English Channel-Operetta brings a record of 6-6-5 from 29 starts into the Valedictory, a race he finished third in two years ago.
​
​"We've been a little unlucky with him this year, that he hasn't won a race," said De Paulo. "He's a hard-trying horse and he loves a distance of ground. He just keeps coming. Those races sometimes get paceless, which is always a concern because it's hard to close against nothing. Hopefully, there will be some pace in there. He's pretty much an off-the-pace horse."
​
​Bred by Liam Gannon, Theregoesjojo launched his career on September 29, 2017, at Woodbine, finishing second in a maiden special weight race, the only start of his rookie campaign.
​
​It would take the Ontario-bred 12 starts before recording his first win, the victory coming at 1 1/16-miles on the Toronto oval main track on June 23, 2019.
​
​The milestone score was also the start of four straight trips to the winner's circle.
​
​After two wins and a second from four starts in 2020, Theregoesjojo has assembled a record of 0-2-3 from eight starts this year.
​
​De Paulo is hoping the Ontario-bred, who arrives at the Valedictory off a troubled trip in a 1 1/8-mile main track race on November 14, can finish his season on a high note.
​
​"We'd definitely like to end the year with a bang. We took him to Florida last year, and he did okay, and this year he's going to get the winter off. He's a good-feeling horse, nothing out of the ordinary. He does his thing, loves to train and he's good feeling when he's coming back home after he breezes. You have to be on your toes because he might drop you. But he's a horse you like to have in your barn. You know he'll always go out there and try." ​
​
​Emma-Jayne Wilson, who has four Valedictory titles on her résumé, gets the call.
​
​Trainer Kevin Attard has won three of the past five editions of the race, including back-to-back scores, 2018-19, both with Pumpkin Rumble.
​
​He'll send out Special Forces and Burning Man in this year's running.
​
​Sir Winston, the 2019 Belmont Stakes champ, will make his fourth consecutive start at Woodbine. The five-year-old son of Awesome Again, bred and owned by Tracy Farmer, was second in both the Grade 3 Durham Cup and Grade 2 Autumn.
​
​Trained by Mark Casse, the Kentucky-bred is 5-4-1 from 18 career starts.
​
​First post for Sunday is 12:55 p.m. The Valedictory, slated as Race 11, is set for 5:53 p.m. Fans can watch and wager on all the action through HPIbet.com and the Dark Horse Bets app.
​
​
​GRADE 3 VALEDICTORY STAKES
POST - HORSE - JOCKEY - TRAINER
1 – Sir Sahib – Gary Boulanger – Denyse McClachrie
​2 – Win d'Oro – Rafael Hernandez – Mark Casse
​3 – War Bomber (IRE) – Daisuke Fukumoto – Norm McKnight
​4 – Special Forces – Justin Stein – Kevin Attard
​5 – Frosted Over – Kazushi Kimura – Mark Casse
​6 – English Conqueror – David Moran – Darwin Banach
​7 – Shangassah – Christopher Husbands – Alison Crook
​8 – Jelgo (S) – Sahin Civaci – Matt Douglas
​9 – Peace Seeker – Keveh Nicholls – Nick Nosowenko
​10 – Burning Man – Justin Stein – Kevin Attard
​11 – Sir Husbands – Patrick Husbands – Mark Casse
​12 – Seventyseven Stone – Ademar Santos – Paul Lepiane
​13 – Collective Force – Steven Bahen – Rachel Halden
​14 – Theregoesjojo – Emma-Jayne Wilson – Michael De Paulo
Lindsay Bax Assoc. Manager Marketing - Wagering, Woodbine Entertainment