Wickenheiser has tough acts to follow in Princess Elizabeth
TORONTO, October 14, 2022—Wickenheiser will be trying to honour her namesake and to emulate one particular stablemate when she faces nine other Canadian-bred 2-year-old fillies in Sunday's $250,000, 1 1/16-mile Princess Elizabeth Stakes.
Owned by Clay Scherer and Al and Bill Ulwelling and Partner, Wickenheiser was named after Hayley Wickenheiser, whose many honours include membership in the Hockey Hall of Fame and who currently is an assistant general manager for the Toronto Maple Leafs.
The stablemate in question is Moira, who served notice by romping when making her first lifetime start in last year's Princess Elizabeth and has gone on to be by far the dominant local 3-year-old with her tours de force in the Queen's Plate and Woodbine Oaks.
Wickenheiser, the horse, still has much to prove while making her fourth lifetime start and trying both two turns and Tapeta for the first time.
"She started off her career with a bang, and has been a little disappointing since," said Attard, who sent out Wickenheiser to score impressively in her six-furlong debut but then finish on the fringes in both the 6 ½-furlong Soaring Free Stakes and the Grade 1, one-mile Natalma. "She just hasn't quite taken that kind of step forward we were expecting her to.
"We're putting blinkers on for this race. She hasn't been popping out of the gate, and we're just kind of hoping this will help put her into the race a little earlier as well. I think she's a horse that has a lot of talent—it just kind of hasn't really transferred to the track yet."
Attard is reasonably confident that the longer distance and new surface will not be a disadvantage.
"Two turns shouldn't be an issue, looking at her pedigree," said Attard (Wickenheiser's full siblings include Belichick and Season Ticket, both effective going long here and both turf and Tapeta). "I think it actually might be a little bit of a benefit to her. And the Tapeta, she's worked well over it and I'm kind of looking forward to seeing her race on it."
Courtly Ro, also trained by Atttard but owned by Raroma Stable Inc., comes into the Princess Elizabeth in a similar situation with her three career starts coming around one turn on turf.
After closing for third money behind subsequent Soaring Free winner Cairo Consort in her 6 ½-furlong debut, Courtly Ro graduated at seven furlongs before ending seventh in the Natalma, 4 ¼ lengths in arrears to the fourth-place Wickenheiser.
"I thought she'd run better in the Natalma as well—she kind of flattened out," said Attard, whose Last Call won that Breeders' Cup Juvenile Turf Fillies "Win and You're In" race.
"I think she's a horse that's definitely going to appreciate two turns. She's another filly that has worked good over the Tapeta surface and we're looking forward to seeing her run on it. We're hoping to see her take that next step."
Me and My Shadow, who is back at Woodbine following an encouraging fourth-place finish in Saratoga's Grade 3 Schuylerville at six furlongs, should be well supported in the Princess Elizabeth.
Owned by D J Stable LLC and trained by Mark Casse, Me and My Shadow was making just her second start there after debuting with a sharp five-furlong score over Woodbine's synthetic surface.
"She's a talented filly," said Casse. "She missed some time. It just took her a little time to get her act back together. She's training well, but I'm asking her to do a fair amount. Hopefully her talent outweighs possibly some of her fitness."
On the two-turn question, Casse is ambivalent. "I'm not sure, but looking at her physique I think she'll be fine," he said.
"You never know until you try."
Post--Horse—Jockey—Trainer
1—Flysofreeashleeb—Juan Crawford—Patrick Dixon
2—Fortyfiveseventy—Patrick Husbands—Barbara Minshall
3—Bijou Baby—Declan Carroll—Catherine Day Phillips
4—Courtly Ro—Justin Stein—Kevin Attard
5—Meritamen—Leo Salles—John Mattine
6—Me and My Shadow—Emma-Jayne Wilson—Mark Casse
7—Wickenheiser—Rafael Hernandez—Kevin Attard
8—Friends for Live—Gary Boulanger—Stuart Simon
9—Jumpin Junie—Kazushi Kimura—Danny Vella
10—Souper Sinclair—Keveh Nicholls—Philip Hall
Bill Tallon, For Woodbine Communications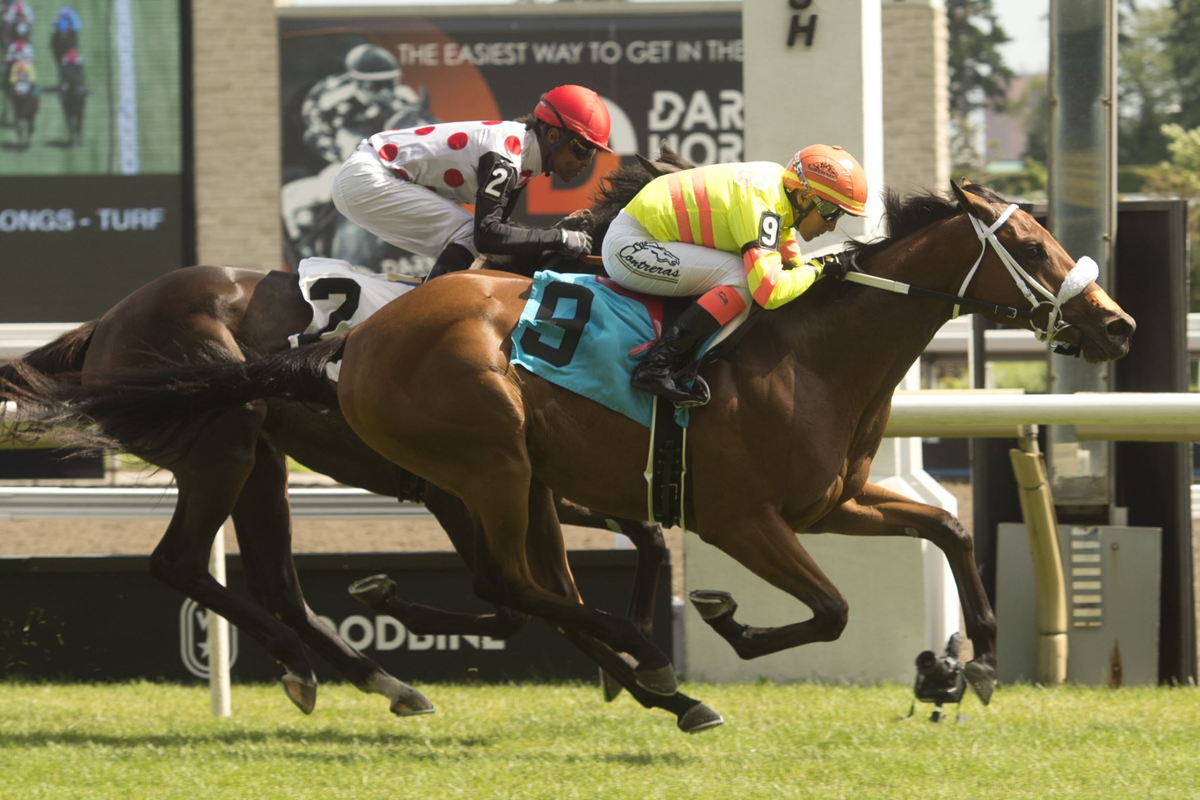 Grace Martin Communications Specialist, Woodbine Entertainment