Woodbine Entertainment Adds Three Directors
Long-time Executive and Director Nick Eaves Retires from Board
TORONTO, August 2, 2023 – Woodbine Entertainment announced today that it has appointed long-time leading Standardbred owner and breeder Brad Grant, and Canadian sports business executive Scott Mitchell to its Board of Directors. ​
It was also announced today that Mark Saunders has been re-elected to Woodbine Entertainment's Board of Directors after taking a short leave of absence to run in the recent By-Election for Mayor of the City of Toronto.
"We are very pleased to welcome Brad and Scott, and welcome back Mark, to our Board," said Hugh Mitchell, Chair of Woodbine Entertainment's Board of Directors. "Their diverse wealth of business acumen, knowledge, leadership and experience bodes well to contribute to our complex and growing business. Our Board very much looks forward to working with each of these exceptional individuals."
Grant has been the leading Woodbine Standardbred owner for six of the last seven seasons and currently sits atop the standings for 2023. The Milton Sports Hall of Fame inductee (builder), was also named 2022 Owner of the Year by the United States Harness Writers Association (USHWA) and has owned several prominent horses in recent years, including part ownership of Bulldog Hanover and Atlanta.
A successful business leader and entrepreneur, Grant was honoured with a Hockey Canada Order of Merit in 2017 for his involvement in grassroots sports which included being Finance Chairman of the Ontario Hockey Association (OHA) for 10 years, Chairman of the OHA for four years, and a past owner of the Milton Merchants, a Tier II Junior A hockey team. He is also a past Chair, and current Vice Chair, for the Milton District Hospital Foundation and sits on the Board of Directors of the Ontario Trucking Association (OTA).
Mitchell is currently the Managing Partner and CEO of the Hamilton Sports Group (HSG), the ownership group that operates the Hamilton Tiger-Cats of the CFL and Forge FC of the Canadian Premier League (CPL). He is also the co-founder and Chairman of the Canadian Premier League (CPL) and co-founder and Chairman of Canadian Soccer Business (CSB). The Canadian Premier League played its inaugural season in 2019 and is sanctioned as Canada's top professional domestic soccer league.
A native of Calgary, and resident of Toronto, Mitchell sits on several boards and advisory groups, including the Canadian Athletic Foundation, the CFL Board of Governors, CFL Ventures, CPL, and CSB amongst others. He and his extended family also have a deep passion for horse racing, both as dedicated fans and successful owners in both Thoroughbred and Standardbred racing. Mitchell's father-in-law, the late Robert Harvey, was a prominent Thoroughbred owner and breeder who won two Sovereign Awards with Woodbine Mile winner Numerous Times and Coronation Futurity winner Hollinger. His father, the late Doug Mitchell, campaigned several Western Canadian Champion Standardbreds in Alberta including Nat Christie Memorial Pace winner Conditional.
Saunders is a retired police officer and most recently, the Chief of Police for the Toronto Police Service. As Chief of Police, Saunders successfully led the largest municipal Police Service in Canada and fourth largest in North America, helping to keep Toronto safe. As Deputy Chief, Saunders created and operationalized the "C3" Unit, a unit whose mandate is to investigate cybercrime and provide technology based investigative support throughout the Service.
"We welcome back Mark and look forward to benefiting from his experiences and leadership, as we do with Brad and Scott," added Lawson. "All three individuals will add a breadth of knowledge and experience that will complement and support our existing directors as we continue to build our business and industry for future growth."
Woodbine Entertainment also announced today that former CEO and long-time Director Nick Eaves is retiring from the Board.
"I would like to thank Nick for his countless contributions to our organization and industry over the past several decades," said Jim Lawson, CEO, Woodbine Entertainment. "His leadership and steady hand during challenging times served Woodbine well and our organization and industry continue to benefit from his leadership through the years."
Grant, Mitchell and Saunders' appointments to Woodbine Entertainment's Board of Directors are subject to regulatory approval.
-30-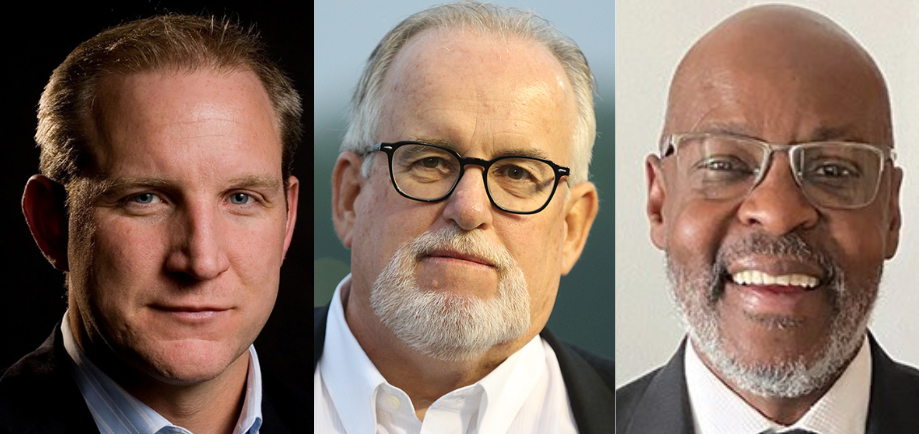 Grace Martin Communications Specialist, Woodbine Entertainment