Woodbine Winter Report
Woodbine Communications
TORONTO, February 9, 2022 – Each week, in the lead-up to Opening Day (April 16) of the 2022 Woodbine Thoroughbred season, we'll look at key Woodbine-based horses and horsepeople, and also share other important news and notes.
​
​From horses on the Queen's Plate trail, to catching up with Woodbine trainers, the weekly report keeps racing fans and the racing community in the loop.
​
​In this week's report, trainer Bill Tharrenos talks about his 2022 prospects, while Gail Cox shares her thoughts on her 2021 season and this year's Woodbine meet, plus much more.
​
​Tracking Success: Bill Tharrenos
278 career wins

4 stakes victories

Top horses include Shesanaturalblonde, Money Talks, Lucky Be Me, Tree Pose, and Sarah Her Highness

Won a career-best 31 races in 2015

​On his 2021 season…
​"We won a fair amount of races, which we obviously liked. I think the key to success to winning so many races last year was running the horses where they belonged. It was a good year overall, and some of my best babies never got to the races. So, when you look at how it all panned out, it's definitely a good year." ​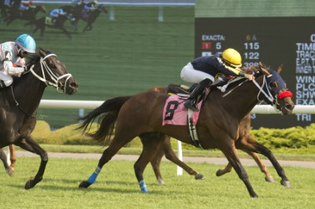 On a tough year for his two-year-olds…
​"The young ones that I really expected to make an impact had some injuries, so that was tough, considering that we had some pretty high expectations for some of them."
​
​A pair of aces…
​"Summer Sunset, he ran in the Yearling Sales stakes race, but he had an injury, and didn't perform the way we were anticipating. We put him away and he's down here with us at Gulfstream, and he's doing very well. We really like him. We have a two-year-old filly, who I think is one of the best Ontario-sired two-year-old fillies out there. When she makes her debut this year, I really think that will be the start of putting together a strong season. Her name is Tale of Perfection, who is by Perfect Timber. We bought her out of the CTHS Sale. She was a big favourite first time out and things didn't go very well. She was getting out and sure enough, we found out what was bothering her. So, we gave her the time following that injury, and she's doing exceptionally well." ​
​
​Reason for optimism…
​"We have lots of new clients and I have to say I'm also grateful for the other clients I've had along the way. I think we're going to have a good year. I really do believe that. I'm excited about this year and getting things going at Woodbine. I probably have a total of 40-something horses. I want to concentrate on a number rather than overwhelming the stable. I don't want to go too big because then you can't give 120 per cent to your horses. And that's what they deserve. I have 22 with me at Gulfstream, which is the most I have ever had down here, and I'll be sending 20 into the barn at Woodbine as soon as it opens." ​
​
​Top of the list…
​"I think Woodbine is the best horse racing facility out there. I really do. I'm looking forward to another great season of racing there and I can't wait to get started."
​
​Final thought… ​
​"I try to set goals, but this sport, it's difficult to always know what to expect. Things can change from day to day. Every day is different. I just have to do what I do best. I like working with the young horses and I think I have the best crop of two-year-olds I've ever had this year. They have all been training for months now and we're going to have some good ones. We have some good names too – Give Me My Money, Top O the Morn, Talk Too Much, and Ring It Up."
​
​
​Trainer Talk: Gail Cox
​
​Need to know...
​Gail Cox, born and raised in the Toronto neighbourhood of Willowdale, was an early participant in the show horse world and opted to pursue that vocation following high school, riding for Sam-Son Farm when that outfit was a major player in the field. When Sam-Son made their move into Thoroughbred racing, Cox continued with the show horses while also starting to gallop Thoroughbreds. Her first employer at Woodbine was trainer Jim Bentley and she went on to work for Dave MacLean and for Sam-Son at the racetrack when Jim Day was their trainer. Later, while an exercise rider for trainer Danny Vella, Cox took out her trainer's license and started out with one horse, saddling her first winner at Woodbine in the fall of 2006. One of her most accomplished performers was Something Extra, whom she also owned in partnership with John Menary and was a winner of five stakes races and $1 million. Another crowning moment for Cox came when El Tormenta won the 2019 edition of the Grade 1 Ricoh Woodbine Mile.
​
​Thoughts on 2021/2022...
​"Tio Magico winning the Queenston Stakes for Sam-Son Farm was very exciting. Him getting hurt was hugely disappointing. He will be back this year. Dancin in Da'nile, also a Sam-Son horse, is very exciting too. He broke his maiden and then he was second in the Coronation Futurity. We will be looking at him for the Plate this year. I'm really looking forward to him too."
​
​Another to keep an eye on...
​"I have Swoop to Finish [also Sam-Son], who was second in her first start and then had some time off. She's back with me in Florida and I think she's very special."
Swoop to Finish training video
Looking forward...
​"I have a couple of horses I own in partnership, one I didn't get to start, No More Diamonds, a More Than Ready filly. She's quite fast. She will probably have a start here at Gulfstream and so will Winston Blue. He's an Ontario-bred, and if he proves to be good enough, he could also be a Plate horse. There is also a nice Honor Code I have too, which could be a Plate horse. He never got to start last year. His name is Guard of Honour." ​ ​ ​
​
​Winston Blue training video
No More Diamonds training video
Staying grounded...
​"I think because I have horses here in training with me – there are 15 – I'm seeing how they are coming along as three-year-olds. I'm hoping that all of the time and effort you put in with them at two, you are able to reap the rewards at three. It's always nice to have older horses in the barn. Tidal Forces, we ran him in the toughest races there were at Woodbine, but he did win to start off things there. He's very nice. But it is nice to have young horses because you don't exactly know what's going to happen. I have three two-year-olds here with me in Florida. One of them was the sales topper at Woodbine. She's a Practical Joke filly, Trick and Treat. She's a half to Sweet Bombolini. I like her. I also have another More Than Ready colt and a Nyquist Ontario-bred filly that I bought at Fasig-Tipton. They're with me and I have some other pretty nice ones in Ocala with Paul Sharp. Debra and Barry Holmes have a nice Medaglia d'Oro filly, who they bred."
​
​Patient hand...
​"With young horses, you have no other choice but to be patient. It's never that easy, but I think I'm fairly patient. My owners, they want to do what is best for the horse, so that makes my job a lot easier." ​ ​ ​ ​
​
​Final furlong...
​"I'm looking forward to having some stakes horses, hopefully, and have that pan out. The Plate, that's exciting, and last year was my first year running it, but there are lots of other nice stakes at Woodbine."
​
​
​2021 Race Rewind...
​
​Watch Gretzky the Great gut out a game and gritty gold medal effort in the $125,000 Greenwood Stakes Presented by Stella Artois, on August 14, 2021.
Key Woodbine Dates
Monday, February 14, 2022 – Backstretch re-opens for set-up
​Tuesday, February 15, 2022 – Horses begin shipping in
​Wednesday, February 16, 2022 – Sand Ring and Training Track Open - weather permitting
​Saturday, April 16, 2022 – Opening Day

Chris Lomon Sr. Writer, Managing Editor, Woodbine Entertainment