Woodbine Winter Report - Mike Mattine and Harold Ladouceur
TORONTO, March 9, 2022 – Each week, in the lead-up to Opening Day (April 16) of the 2022 Woodbine Thoroughbred season, we'll look at key Woodbine-based horses and horsepeople, and share other important news and notes.
​
​From horses on the Queen's Plate trail, to catching up with Woodbine trainers, the weekly report keeps racing fans and the racing community in the loop.
​
​In this week's report, trainer Mike Mattine and Harold Ladouceur talk about their respective 2021 campaigns and upcoming 2022 seasons, plus more.
Tracking Success: Mike Mattine
394 career wins

Top horses include Bimini Blues, Showering, Stormfuhr, Santerra, Souper Hot, Mekong Delta, Uncatchable Fire, Sugar Jones, Tejabo

Won a career-best 22 races and $930,598 (U.S.) in purse earnings in 2002

​On his 2021 season:
​"We were able to have some success last year. Secret Reserve (winner of the Elgin Stakes and Lake Superior Stakes) was the big horse for us. He had a great year and he showed that he is a very nice horse."
​
​More on Secret Reserve:
​"You could tell he had talent early on in his breezes, but he was all about speed. As he went along and learned more, he was able to relax and harness his speed. We feel very fortunate to have him in our barn and knock on wood, he's able to have a good four-year-old campaign."
​
​Good mix:
​"This year, we'll have a good balance of horses, from young ones to older competitors. It's nice to have that mix, to have ones that have been around for a while and for those who are just starting out. It makes things interesting when you are able to have a little bit of everything in your barn. And I've been very lucky over the years to have such great help in the barn, which is essential to your success."
​
​Young guns:
​"I've always enjoyed working with young horses. It's something that I liked right from the start of my career. There are always ups and downs when you have young ones, but I do like that challenge, and I do like working with them to bring out the best they have. I have some nice two-year-olds for this year, but the key, for now, is working closely with them to continue their development as they lead up to their first race. I was able to work with and have success with young horses for owner Ted Burnett. He gave me a lot of opportunities and I'm grateful for that."
​
​Staying in the moment:
​"I think it's important to not get too carried away or to dwell on past successes. This is a tough sport and things don't always go as you plan. A horse that you had high expectations for might not turn out as you anticipated, or one you thought might be just okay turns out to be a star. I like to stay humble when it comes to my horses."
​
​The start of a new season:
​"Obviously, it's an exciting time of the year. The closer it gets to opening day, the more you get excited about the season. It's a lot of work that goes into getting your horses ready for their first race of the year and keeping them safe and sound throughout the campaign."
​
​Final thought… ​
​"Being able to work with the horses and be around them is still a big thrill for me. I look forward to spending that time with them, helping them to bring their talent and skills to the races. Hopefully, we can have a good year and win some more races."
​
​
​Trainer Talk: Harold Ladouceur
Need to know – A graded stakes winning trainer, Harold Ladouceur guided Ontario-bred Paladin Bay to a sensational career. The bay daughter of Sligo Bay (IRE) went 4-4-4 from 18 career starts, including three stakes scores. After winning the Princess Elizabeth and Ontario Lassie Stakes in 2013, Paladin Bay, owned by Ladouceur's wife Jessie, and bred by Ericka Rusnak, won the Grade 3 Selene Stakes the following year. Other notable names from the Ladouceur barn include Jurojin, Wake Up Maggie, Splendid Glory and Primo Touch.
​
​On a strong 2021 season:
​"It was very good. We had a really good year and we were really happy. One of the highlights was finishing third with Primo Touch in the Grade 1 [Pattison] Canadian International. Another highlight was finishing second in the Ashbridges Bay Stakes with our homebred Jolene Jolene. We also had Orbaline, who won the last day of the meet. She actually won her last four starts. That was a pretty big highlight too. We claimed her for [owner] Kirk Sutherland. I claimed another one for him, O'Kratos, and he won first time back. We liked him too. I found out you have to wait to run him. I learned from him that the longer you wait [in between races], the better."
​
​Excitement building:
​"It's that time of the year when you really start getting excited, waiting for the races to start. We're really looking forward to it."
​
​New addition:
​"O'Kratos is back out west with Mr. Sutherland. I'm hopefully getting another really nice horse from Mr. Sutherland, Tony's Tapit, who is a multiple stakes winner. He was nominated for the Ontario Derby last fall here at Woodbine but didn't come. He ran in the Canadian Derby in Calgary, but he had a troubled trip. We're looking forward to him coming here."
​
​Mark the calendar:
​"Primo Touch, we have a race set for him, on July 23, the Niagara. That horse is going to win it this year, I hope. That's one of our goals in 2022 for this horse. He's a really nice one. He came up huge in the International, and that third-place finish felt like a win for us. We were over the moon. He ran so hard and gave everything he had." ​
​
​Barn banter:
​"Right now, we have 14 horses. We have 16 stalls, so we can always claim a couple others. We have a two-year-old in Florida, who I put in the sale. If he doesn't sell, he'll be here. He doesn't have a name right now, but if he's with us, I'm going to call him – he's by Army Mule – Code Talker. That's the name I want. My grandfather and Jessie's grandfather both served in the war, so I thought that would be a nice name to pay tribute to them." ​
​
​Final furlong:
​"I'm proud to have my wife, Jessie, who owns a lot of horses, working with me. She's my partner in work, and I'm so fortunate to have her in my life, in and out of racing. I'm also proud of our groom, Teaon Walker, who rubbed Orbaline. He started grooming last year and he came back again this year. He was really happy to be in the barn and he's a very hard worker."
​
​2021 Race Rewind:
​Watch Our Secret Agent speak volumes in the Grade 3 $150,000 Hendrie Stakes, on October 23, 2021.
Watch Secret Reserve capture the $80,000 Lake Superior Stakes at Woodbine.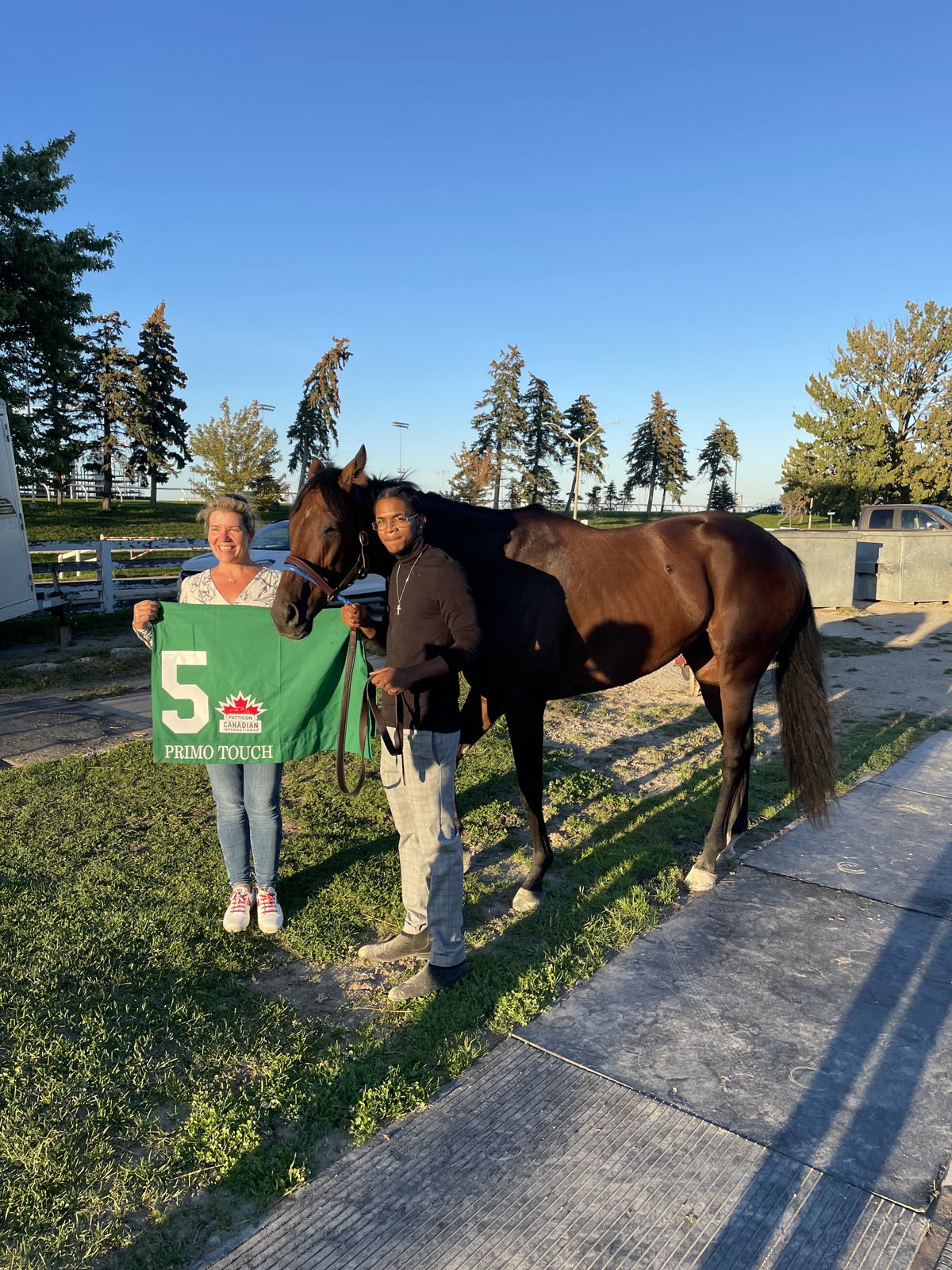 Chris Lomon Sr. Writer, Managing Editor, Woodbine Entertainment