WOODBINE WINTER REPORT – NOSOWENKO & SMITH
TORONTO, March 23, 2022 – Each week, until the end of March, we'll look at key Woodbine-based horses and horsepeople, and also share other important news and notes.
​
​From horses on the Queen's Plate trail, to catching up with Woodbine trainers, the weekly report keeps racing fans and the racing community in the loop.
​
​In this week's report, trainers Nick Nosowenko and Andrew Smith talk about their respective 2021 campaigns and upcoming 2022 seasons, plus more.
​
​Tracking Success: Nick Nosowenko
148 career wins

Top horses include Cooler Mike, Run to the Bank, She's a Ringer, Peace Seeker and Full of Wisdom

Recorded a career best 17 wins and $642,401 (U.S.) in purse earnings in 2019

​2021 Highlights: "We needed the meet to go a little longer, but isn't that always the way? We went through a few different issues and injuries, maturing, things like that. The last month, though, we were really picking it up and things were going very well. We won some races and the next thing you know, you have to stop and rest."
​
​Fleet-footed filly: "She [Ms Vancougar] is just a massive filly. She's 17.2 hands. She's the biggest horse I've seen. Zenyatta is 17.2 hands too. Ms Vancouger is big, athletic and kind. In her first race, we thought we had a really top filly. She ended up getting knocked around down the lane and hurt herself. She came back roughed up, so we just hand-walked her for three months and got her regrouped. We were pressed for time and we basically got her ready in 35 days. She ran third her first start back and got a little weary down the lane. Then, she exploded and won her next two starts. She's a pretty nice filly, probably the best one I've had."
​
​An eye for talent: "Ms Vancougar was part of a dispersal sale. The gentleman had passed away. When I saw her for the first time, she was a gangly two-year-old turning three. People that looked at her thought she was too big and awkward. I look back at the videos of her at the sale and I'm surprised I bought her. I went back – I never had to do this because I usually look once or twice tops at the sales – five or six times. They kept bringing her out and told me I was the only one looking at her. I kept looking at her, looking at her, and I finally said, 'Let's take a shot.' She looked athletic enough and we figured she's going to grow into herself. We got lucky." ​ ​ ​
​
​I like 'Mike': "We've got [multiple stakes winner] Cooler Mike back. He's been in Kentucky at Crestwood Farm. We brought him back last year and got one work into him, and he just wasn't himself. We rested him here at the track, and then the vet gave us the okay to start training him. We decided we'd turn him out instead and give him his best shot. He's come back in and everything has gone beautifully. We're looking forward to seeing him taking on the older males this year and making a name for himself again." ​
​
​Barn count: "I have 18 right now. We have [older mare] Peace Seeker back and we have Scoot Daddy, who ran well last year at the end. He was third in his second last start of the year. We took him to Turfway and thought he would run well, but he had a bad trip and finished fifth. So, we turned him out. We also have Winyah Bay, who is a nice filly. She got hurt at the end of the year, so we had to stop on her. I have seven new ones, either bought privately or through the sales. I have a nice American Pharoah filly, Dawn Pharoah. I really like her. I also have a nice Violence filly, an Into Mischief filly, a Not This Time filly and a Speightstown filly. We've got all the top sires, so we're just hoping some of them can run. We've got sire power, we just have to see what the trainer can do with them. We have a lot of nice horses in the barn."
​
​Final furlong: "My orange and black silks, they were my dad's, and I actually designed those for him 45 years ago. I had partners with different groups of people, and I had my own silks, and eventually we took them over and made it dad's and mine, and they live on."
​
​
​Trainer Talk: Andrew Smith ​
​
​Need to know – Andrew Smith, who attended John F. Ross High School in Guelph, Ontario, has 40-plus years of experience in Thoroughbred racing, training and development of horses, farm management, including breeding, foaling, maintenance and crops, as well as the purchasing and selling of Thoroughbreds of all ages. He has 128 career wins, including six stakes scores. In 2021, Smith, who was an assistant to trainer Glenn Magnusson, posted nine wins and 36 top-three finishes from 92 starts. The 36 top-three finishes were a career-best mark for the veteran conditioner. Top horses he has campaigned include Becky Sharp, Line of Vision, Simply Again, Simply Bold and Paradise Cat. Line of Vision won three stakes, including the 2017 editions of the Victorian Queen and South Ocean. ​
​
​On his 2021 Woodbine season: "It was a decent year. We were kind of regrouping. We had a lot of two-year-olds and I was pretty happy with them. We had 17 and we got 13 to the races, and four of them won first-time out. A couple of others I had ready, but they ended up on the also-eligibles on the last weekend and didn't get to run. We lost six or seven through the claiming box, so we were sorting through them, trying to improve our stock. We sold four privately at the end of the year. Hall of Dreams is a nice horse. I don't have him this year. We sold him. He was a private sale at the end of the year. He ran third first time but got disqualified and then he was second in his next start. The other one was Warp Ride, who was second on the second-last day of the meet. We are really happy with him." ​
​
​Thrill 'Ride': "We are really excited about all of our horses and how they will develop over the year prior. We expect good things from this year. Warp Ride, I think he's a sprinter, so I don't believe, at this point, that he will go long. Sometimes they fool you. He's quite a nice horse and he just has to improve a little bit to be a solid horse this year. We have three or four nominated to the Queen's Plate. Warp Ride is one of them, but I don't know if he'll go a mile and a sixteenth, let alone a mile and a quarter." ​
​
​Another standout: "We have a nice filly, Sacred Dancer, who finished second twice last year. She's Ontario-sired, and I think she'll stretch out. We've nominated her to the Woodbine Oaks, and we're really excited about her too."
​
​Onwards and upwards: "We're looking for some more strong results from the horses that we have now. We're working to help them progress. There will be some that will disappoint, but hopefully, some will surprise." ​
​
​High five: "I have seven two-year-olds altogether, but five of them are by Seattle Serenade, which is [owner-breeder] Joey Gee's own stallion. I'm impressed with them so far. We haven't done that much with them yet, but they have good minds, and a good physical look to them. I'm looking forward to them. I also really like working with the two-year-olds. It gives you hope and keeps us going."
​
​Final furlong: "I set goals last year and we met most of them. Usually, it's not in dollars and cents, or even in wins. It's getting a certain number of the horses to the races, limiting injuries – those kinds of things."
​
​2021 Race Rewind:
​Watch as Secret Reserve draws off to take the $100,000 Elgin Stakes, on August 29, 2021.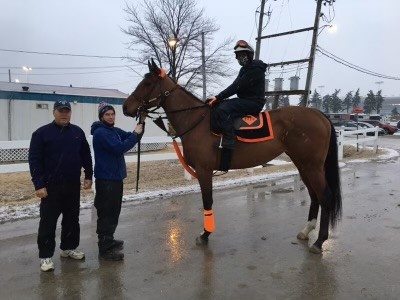 Chris Lomon Sr. Writer, Managing Editor, Woodbine Entertainment