Woodbine Winter Watch: Bill Tharrenos and Luis Contreras
TORONTO, March 28, 2023 – In the final installment of the season, trainer Bill Tharrenos and jockey Luis Contreras offer their thoughts on the 2022 Woodbine season and their goals for the upcoming 2023 Woodbine campaign.
Inside Track: Bill Tharrenos
320 career wins (as of March 26)

4 career stakes wins ​

Top horses include Lucky Be Me, Tree Pose, Money Talks, Shesanaturalblonde, Sarah Her Highness

Set several career-best marks in 2022, including wins (36) and purse earnings ($1,049,418, US). Off to a tremendous start in 2023, saddling eight winners in Florida. ​ ​ ​ ​
The 2022 campaign
"I think we knew it was going to be a memorable year around October. We didn't get to run the babies I was excited about, but it was still one of those years where we're able to get a lot of horses to the winner's circle. We're very happy with how that all unfolded."
And they're off…
"We had some babies who didn't make it to the races last year, but they are now three, and doing well. We're hoping for some exciting things from them in 2023. We have some promising ones that are down here with us in Florida, so we're hoping they can step up and have a big year. We had a record year last year and we're hoping to top that." ​ ​
A 'Sunshine State' of mind and beyond
"Things are going well here in Florida. We're being realistic in that we're running horses where they belong. It's been very promising. This [Gulfstream] is not a place where you can sleep. You have to play with both hands because it's a rapid pace here. As you know, the claiming box is very active. It's like a game of cards. What card are you getting dealt? We're looking towards the future. We've had some new owners come on board and we will have some new horses in the barn. We've got lots of horses and lots going on. A lot of doors have opened here, and I'm hoping I can bring all of that north."
Home, sweet Woodbine home
"We have 30 at Woodbine right now and we're looking to have some running on opening weekend. It will be exciting to get back home. To tell you the truth, there really is no better racing than at home. There really isn't. It's great to be here, in the sun, but there really is no better racing than at Woodbine."
Finish line
"I don't set goals. I've been trying to get horses to the big races, like the King's Plate. It would obviously be nice to have one there. We have a few that we haven't run yet, who are now three, so we're going to put a lot of energy into them because they've shown promise. We're looking for an exciting year there. There are a lot of things happening at Woodbine with the property development and the racing, so there is a lot to look forward to. It's one of the best racetracks and facilities in the world, so let's get 2023 going and move forward." ​ ​
Jock Talk: Luis Contreras
Stat pack
2,439 career wins (as of March 26)

212 stakes victories

Posted 82 wins in 2022, including seven stakes scores

Finished sixth in the Woodbine rider standings in purse earnings ($3,169,472) and sixth in wins (66)

Top horses include Pender Harbour, Inglorious, Amis Gizmo, Amis Holiday, Holy Helena, Ami's Mesa, Avie's Flatter
Goes by fast
"I came to Woodbine in 2009, but it doesn't seem that long ago. It has gone by pretty fast. There have been some great moments, winning two Queen's Plates (in 2011 with Inglorious and 2017 with Holy Helena), and Sovereign Awards (Canada's champion rider in 2011 and 2012). I remember coming here and seeing the track for the first time, and how nice it was. I was really happy to start riding here and hopefully I can ride for a long time at Woodbine."
An ideal pairing
"Having Gerry [former rider, Olguin] as my agent has been really good. He knows the business and he can understand what we go through as a rider. It's not an easy change to go from a rider to an agent. There is a lot to learn. But Gerry works hard and is respected by so many people."
A Plate 'trifecta?'
"Winning the Queen's Plate twice was an amazing feeling both times. It is a very big race and there is a lot of history behind it. The day itself is always great because there are so many fans here and the crowd really enjoys it. I was lucky enough to win the race two times, but I would love to say I won the first King's Plate. No matter how many times you win it, when you do, it's a special feeling." ​ ​ ​
The extra mile
"Each year, I want to do better than the year before and to win the big races. It's been a good start to the year riding out in California and hopefully that continues through to the Woodbine season. You always want to start the year out strong and carry that throughout the whole season."
Finish line
"When I'm not riding, I enjoy just spending time with my family. When the season starts, you have to be focused from the very first day, so when I'm done at the racetrack, the best way for me to unwind and relax is to be with my family and enjoy our time together."
2022 Race Rewind:
Watch jockey Luis Contreras win the $125,000 Duchess Stakes with Loyalty on October 1, 2022.
Click here (www.youtube.com/watch?v=U6Bn7UYJCt8) to watch the race.
Chris Lomon, Woodbine Communications / @WoodbineComms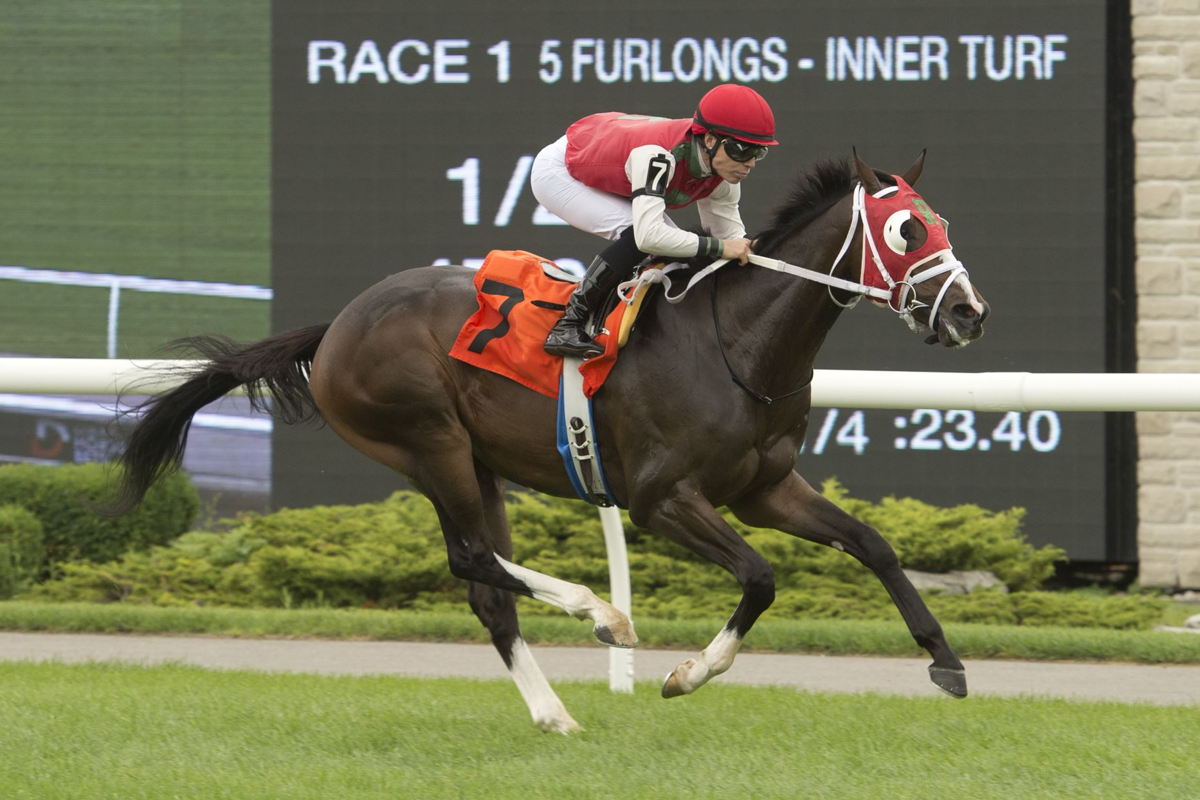 Grace Martin Communications Specialist, Woodbine Entertainment