Woodbine Winter Watch: Darwin Banach and Emma-Jayne Wilson
TORONTO, March 13, 2023 – Each week, in the lead-up to Opening Day (April 22) of the 2023 Woodbine Thoroughbred season, the Woodbine Communications department will spotlight Woodbine-based horses and horse people ahead of the new season. ​
From horses on the King's Plate trail, to Woodbine trainers and jockeys sharing their views on 2022 and the upcoming campaign, to some of the stars to keep tabs on 2023, the Woodbine Winter Watch will cover key players, horses and horse people, at Canada's Showplace of Racing.
In this week's report, trainer Darwin Banach offers his thoughts on the 2022 Woodbine season and looks ahead to the upcoming 2023 campaign.
Inside Track: Darwin Banach
316 career wins ​

18 career stakes wins

Top horses include Sky Conqueror, Executive Flight, Executive Allure, English Conqueror, Classic Stamp, Classic Bryce, Palace Pier, O'Kratos, Bushido ​

Won two stakes races in 2022, the Ontario Racing Stakes with Bushido and the Display Stakes with Hal. English Conqueror was third in the Grade 3 Valedictory. Went over the $12 million mark in career earnings last year.
The 2022 campaign
"We started off very slowly. It was a long time before we were able to get that first win. Obviously, we finished up better. For whatever reason, bad luck gets in your blood and it's tough to get rid of it sometimes. We had some very nice 2-year-olds, Bushido and Hal come to mind, that finished up the season on a strong note. So, hopefully they are now able to come back and move forward from what they were able to accomplish in that first year. Until that happens, I don't want to say too much. The hope is that we can build off the ending of 2022 and carry that into this year."
Momentum
"You always go into each year thinking optimistically and it's no different this time around. There is a lot that has to happen for things to go as you hope, but we're focusing on riding the wave of the end of 2022 into 2023. With the 2-year-olds that are now 3, we have to be patient with them. It's hard to convince others that it is the best approach, but we want to make sure we develop them properly. You want to see these young horses mature, and the reality is that some do, and some don't. It's funny how that works." ​
April 22
"We're down in Florida right now and we'll take some of the ones here to Keeneland and get them started there before we head back to Woodbine. Obviously, the goal is to get off to a better start at Woodbine when the meet begins on April 22. The main thing is that we will make sure the horses are fully prepared before they make those first starts of the year. You're eager to see what they can do, but the top priority is to make sure they are ready, whenever that happens to be. It's that tough balance because you want to ensure the horses are fit and that means you might miss a few of the earlier races. It's a little bit of a juggling act, but you always have that optimism and that keeps you with sails to the wind."
Finish line
"We like just relaxing at home and also spending time with our families. Even if it's for a couple hours, it's just nice to be able to unwind from the hectic pace of the racetrack. We have a hot tub now, so it's great for Erika [wife and assistant trainer, Smilovsky] to get in there after getting on nine or 10 horses in the morning. Erika and I also like spending time with our son, who is really into baseball now. It's all about spending that quality time together."
Jock Talk: Emma-Jayne Wilson
Stat pack
1,797 career wins

126 stakes victories

Grade 1 wins: Interpol, 2015 Northern Dancer Turf Stakes; Lady Speightspeare, 2020 Natalma Stakes; Say the Word, 2020 Northern Dancer Turf Stakes

Top horses include Mike Fox, Just Rushing, Hunters Bay, Lady Speightspeare, Brooklynsway, Knocker, Magic Broomstick, Excaper, Count to Three, Tell It as It Is, Stunning Stag, Llanarmon, Shakhimat, Interpol

Posted 87 wins, including 13 stakes, in 2022, and recorded $4.1 million in earnings. Finished fourth in the Woodbine standings in both earnings and wins. Won four stakes with Who's the Star (Grade 2 Autumn, Grade 3 Valedictory, Grade 3 Durham Cup, Niagara), a trio of stakes with Lady Speightspeare (Grade 2 Nassau, Grade 3 Trillium, Grade 3 Seaway), and Grade 3 Tampa Bay with Shirl's Speight. Wilson is a finalist for the 2022 Sovereign Award as Canada's champion rider
A banner season
"We were fortunate to have a lot of highlights from 2022. Looking at the Sovereign nominations list was a testament to that and to see so many of the horses I had success recognized. That was very humbling, to be part of those teams and see multiple horses up for year-end championship awards. Lady Speightspeare, Who's the Star, Ready for the Lady, just to name a few. I think 2022 was an important season. It was the first full season where we've gotten back to the swing of things, post Covid. To have the year we did, to win the number of stakes we did, and stakes win percentage, it was a fantastic season. When I got the email to let me know I was a finalist for the jockey Sovereign Award, I was honoured. It's something you work very hard for, to get that recognition, so to be on that shortlist, it's pretty amazing." ​ ​
Hard work, strong will
"There were a couple times during the season that reminded me of how long I've been doing this. In 2018, it was bash and crash, and in 2019, it was the same thing. Then, in 2020, we had to deal with Covid, so there were a lot of hiccups along the road the past few years. I've been riding since 2004, so it's been a while. I've won the Woodbine riding title twice, which obviously meant a lot. Any time you have a big season, you fight for it every chance you get. We have a deep and powerful riding colony, so it's not easy. Those challenging years – we always say as jockeys that injuries are 'when' not 'if' – I hope they are behind me. I'm looking forward to having another big season and carrying over that momentum from 2022."
Bouncing back
"I remember when I broke my arm, the first major injury I had. I had a liver laceration in 2010 and had to take time off. It was just giving my body time to heal. It took time, but it wasn't that difficult, to be honest. When I broke my arm in 2019, that was very close to being career ending. I essentially shattered my arm and shoulder. At the time, you think you're okay, that it's just a separated shoulder. There's a lot of hardware in there! In hindsight, you realize all the work you had to put in, the rehab, and the time you had to put in to get back. Going through that, it's a part of the game just like it is for any professional athlete, you have a greater appreciation for the time it takes to get back in action, and what it means to stay fit and primed to compete at the top level."
Looking ahead
"I'm really looking forward to being around the horses, good, fast horses. The top-level animals we get to throw our legs over, they are the greatest athletes I've ever been around, the ones who know what this game is all about. I find working with young horses fascinating as well. Being down here at Payson Park and Gulfstream, having that opportunity early in the season to watch horses develop and contribute to their education is really great. When they are 2, you have to teach them to be a racehorse. It's the fine-tuning to help them reach their highest potential. That is just rewarding to be part of." ​ ​
Finish line
"As a woman in the racing game, the questions are often brought up to me surrounding my role in a male-dominated sport. Typically, it's not a focus of mine, but I do recognize what it means to be a role model over the years to young girls everywhere. That's an important thing I take very seriously. Having my own family, my own two girls, they are six and they understand the sacrifices we have to make. I'm in Florida and they are at home at school. We make the choice to go back and forth, here and there. They watch the races, they see the races, even when I'm at Gulfstream. Those two kisses I blow into the camera after I win are for them. It signifies the understanding of what they mean to me. Even though Mamma isn't home to pick them up after school, they are on my mind and with me every single day. It's important to be that role model for them as well."
2022 Race Rewind:
Watch Darwin Banach trainee Bushido take top spot in the Ontario Racing Stakes at Woodbine on October 8, 2022.
Click here (https://www.youtube.com/watch?v=yT1D_iUKSVc&t=24s) to watch the race.
Chris Lomon, Woodbine Communications / @WoodbineComms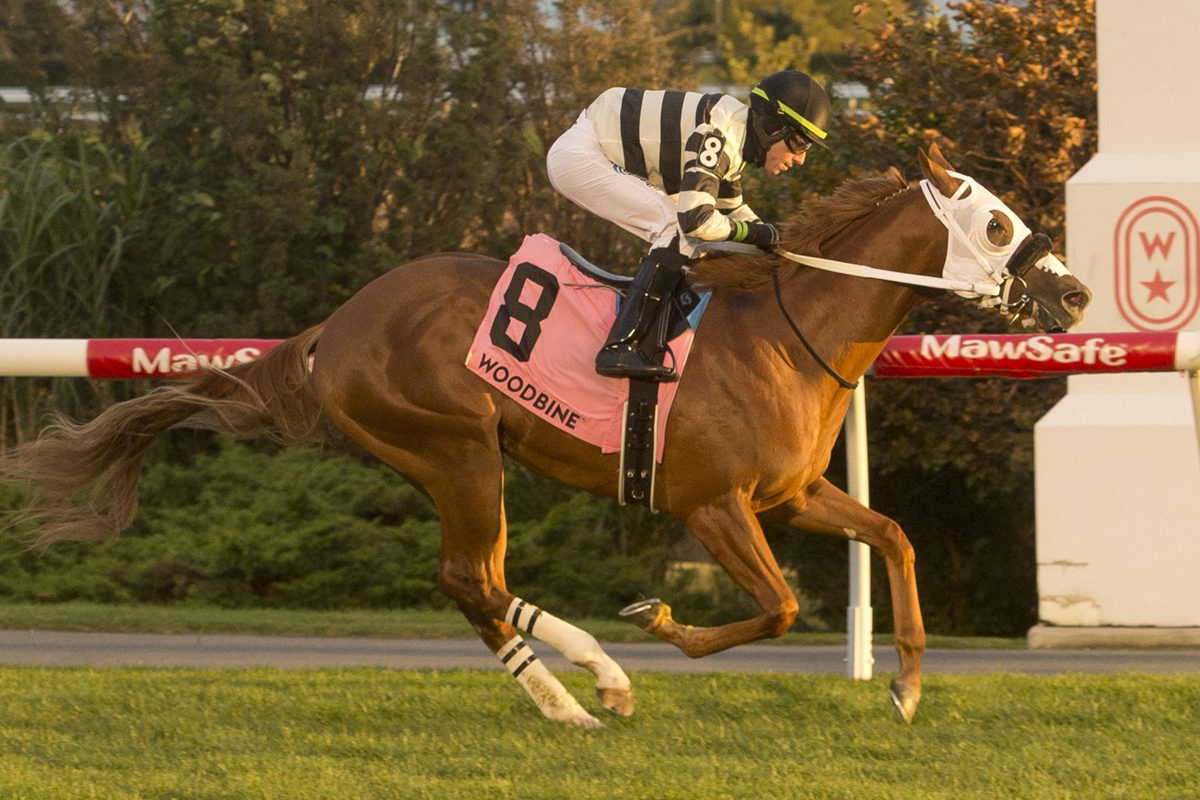 Grace Martin Communications Specialist, Woodbine Entertainment