Woodbine Winter Watch: Kevin Attard and Justin Stein
TORONTO, February 6, 2023 – Each week, in the lead-up to Opening Day (April 22) of the 2023 Woodbine Thoroughbred season, the Woodbine Communications department will spotlight Woodbine-based horses and horse people ahead of the new season. ​
From horses on the King's Plate trail, to Woodbine trainers and jockeys sharing their views on 2022 and the upcoming campaign, to some of the stars to keep tabs on 2023, the Woodbine Winter Watch will cover key players, horses and horse people, at Canada's Showplace of Racing.
In this week's report, trainer Kevin Attard looks back at his career-best year and what it will take to surpass those lofty numbers in 2023.
Inside Track: Kevin Attard
* 671 career wins
* 82 stakes victories
* Top horses include Moira, Starship Jubilee, Melmich, Calgary Cat, Philip My Dear, Alezzandro, Leonnatus Anteas, Munnyfor Ro, Pumpkin Rumble, Merveilleux
* Set personal-best numbers in 2022, including wins (95), top-three finishes (220) and $5,322,837 (U.S.) in purse earnings
A dream 2022 season
"I'm very grateful and appreciative to have had the season we did. We were able to win some big races and go to the Breeders' Cup with a couple of horses [Moira and Last Call], and to be able to win the Plate was the pinnacle of the year. You never really get time to really reflect and think about what we were able to accomplish, but it doesn't go past me with what we achieved. We had a pretty strong season, a career year in wins, and some memorable wins. I'm cognizant of that and in knowing that it takes a lot of hard work from a lot of people to see make it all a reality. It's a funny game. When things go well, it seems you just can't lose, but when it goes the other way, it can be very frustrating. That's why you have to take those good moments when they come and be grateful."
The moment
"I think we knew it could be a good year the year before when Moira won the Princess Elizabeth the first time out. It takes a special horse to do that, let alone everything else that goes into getting a horse started. She's a special horse and at that point, I thought, 'This is a Woodbine Oaks horse.' She could run all day and I thought the Plate was a possibility, even though she's a filly. Going from 2 to 3 is a tough transition, but she checked off all the boxes. After the dominating win in the Oaks, I was pretty confident going into the Plate."
Supporting cast
"I have a really great base of clientele now, who every year seem to be upping in the ante with the horses they breed or buy. I think this year will arguably be the strongest contingent we've ever had. For me, at this stage in my career, it's the young horses that get me excited. I love working with them to help them grow and develop, and hopefully, they turn out to be the horses we would like them to be, and to be in the races we want them to be in. This year, we have a strong hand, and hopefully, with a little luck, they get to the races and do something special." ​
Finish line
"We have a lot of nice horses, 2-year-olds, who we are looking forward to this year. For 3-year-olds, we have Moon Landing, who won first-time out last year, and he came back and ran fourth at Gulfstream in an allowance race on January 14. He looks like a horse that could be a King's Plate candidate. We have an unraced horse for the Ulwellings, Gold Magic, who has been showing some talent. He's getting close to racing and we're excited to see if he can run to the way he's training. There is also Velocitor, bred and owned by the Ulwellings, who won the Coronation Futurity. He's in Kentucky getting ready to start training. Maybe we can break the Coronation/Plate curse (Overskate was the last horse to achieve the double, in 1975-76). We have the filly for Terra Racing, Fashionably Fab, who is a really nice one and looks like she has some potential too. Wickenheiser is better than she's shown so far. I'm hoping that from 2 to 3, she's going to show us what I believe is in her. There's a long way to go, but it's that time when you start getting excited."
Jock Talk: Justin Stein
Stat pack
* 1,374 career wins
* 92 stakes victories
* Top horses include Starship Jubilee, Silent Poet, Fifty Proof, Strait of Dover, Phil's Dream, Munnyfor Ro, Stormy Lord, Academic
* Won 2012 Queen's Plate with Strait of Dover, Grade 1 Ricoh Woodbine Mile with Starship Jubilee, 2015 and 2021 Woodbine Oaks Presented by Budweiser with Academic and Munnyfor Ro, respectively, and the 2022 Prince of Wales with Duke of Love
2022 highlights
"Winning the Prince of Wales [with Duke of Love] was certainly a big win and a big moment in my career, adding that to the Canadian classic wins. My mom was there – she had never seen me win any of the big Canadian races live – so that made it extra special. She was super proud. And then, of course, working with [wife, trainer] Jenn on her 2-year-old [Thebackstretchdude], who we won with the first time out, her first career win. It was a very special moment. Working with that horse was really rewarding, and to see Jenn succeed, I was thrilled. We have a bond with that horse, and each bond is unique. It was one of the more special wins I've had and I know Jenn is going to be very successful."
2023 goals
"For the first time ever in my life, near the end of the racing season, around late November, I began mentally preparing for this season coming up in April. Basically, my goal throughout the winter and spring is to take those steps, to be very prepared and physically at my best. I want to show everyone that I am hungry to win and ready to compete. I love my job and I love riding horses. It's the best job in the world."
Finish line
"I enjoy doing indoor climbing, especially in the off-season. Climbing requires serious mental focus, more so than the physical part, at least for me. You have to get over your fear. Even though you have a rope to catch, the thought of an unexpected fall is scary. When you push past those uncomfortable feelings, it's good to push yourself and overcome that. I guess it's like race-riding in some ways, and I think it transfers over into what I do for a living."
2022 Race Rewind:
Watch Moira romp to Queen's Plate glory on August 21, 2022.
Chris Lomon, Woodbine Communications / @WoodbineComms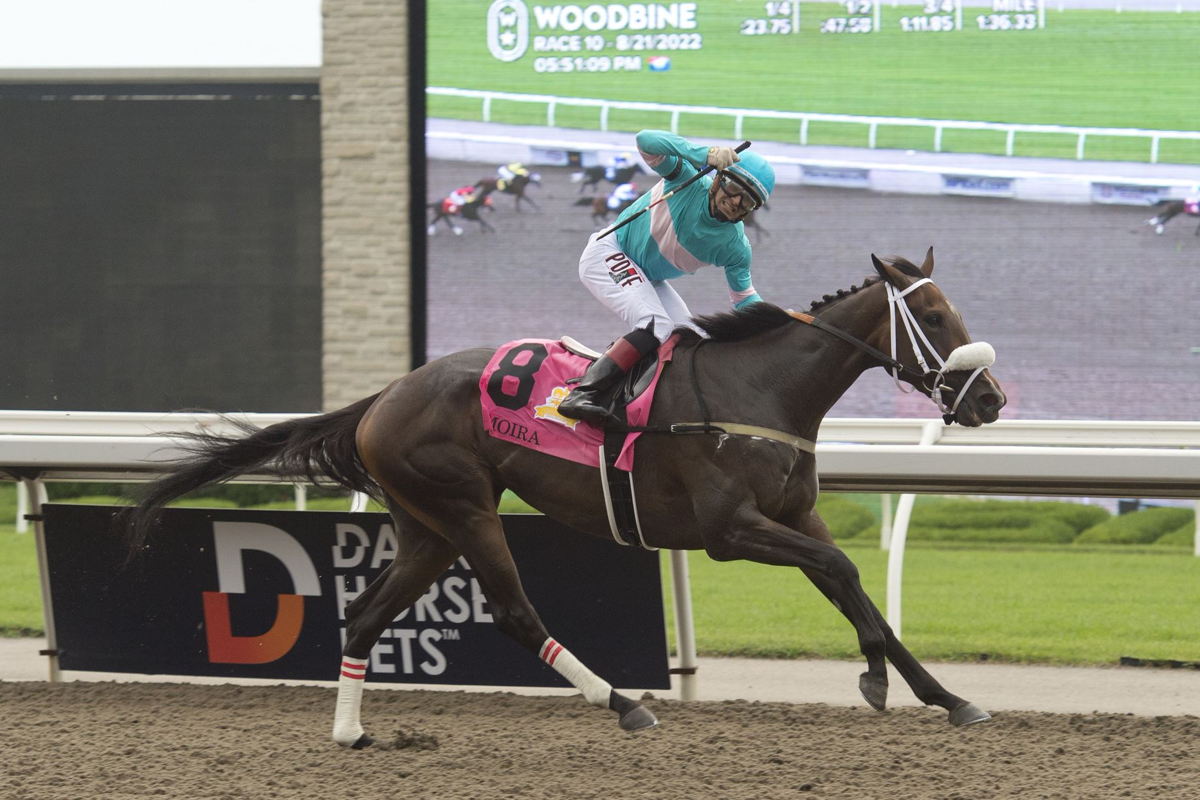 Grace Martin Communications Specialist, Woodbine Entertainment